Talent Acquisition CV
Emma, a skilled Talent Acquisition Specialist holding a Certified Recruitment Professional (CRP) credential, has utilised the simple Otago CV template.
Start now
"Highly motivated and results-driven Talent Acquisition Specialist with over 7 years of experience recruiting top-tier talent across diverse industires."
Emma Johnson
- Talent Acquisition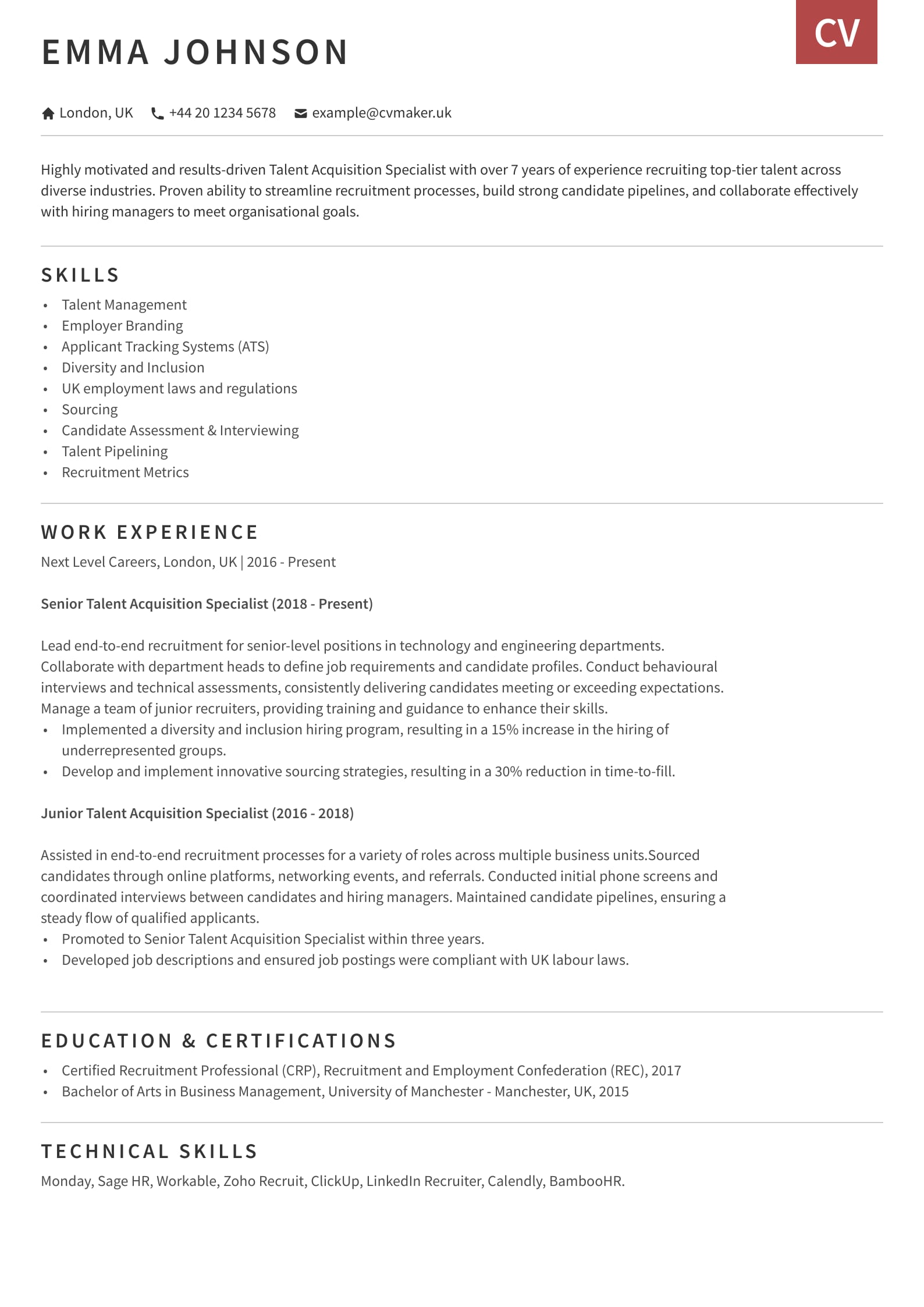 How to Write a Talent Acquisition CV (Guide with Examples)
As a Talent Acquisition Specialist or Manager, your primary responsibility is identifying and securing the right individuals to fill specialised roles. Key attributes for success in this role encompass effective communication, meticulous organisation, adaptability, and astute decision-making.
While there may be similarities between talent acquisition and recruitment, the primary distinction lies in the strategic nature of the job. If you're keen on this career, explore our sample CV for valuable insights. Continue reading to discover how to write a modern CV that will land you more interviews while passing applicant-tracking systems (ATS).
It's worth noting that many recruitment consultants often transition into talent acquisition roles to advance their careers. This transition is popular because it demands similar skills, experiences, and qualifications. For more detailed guidance, refer to our CV example for career changers.
Talent Acquisition CV example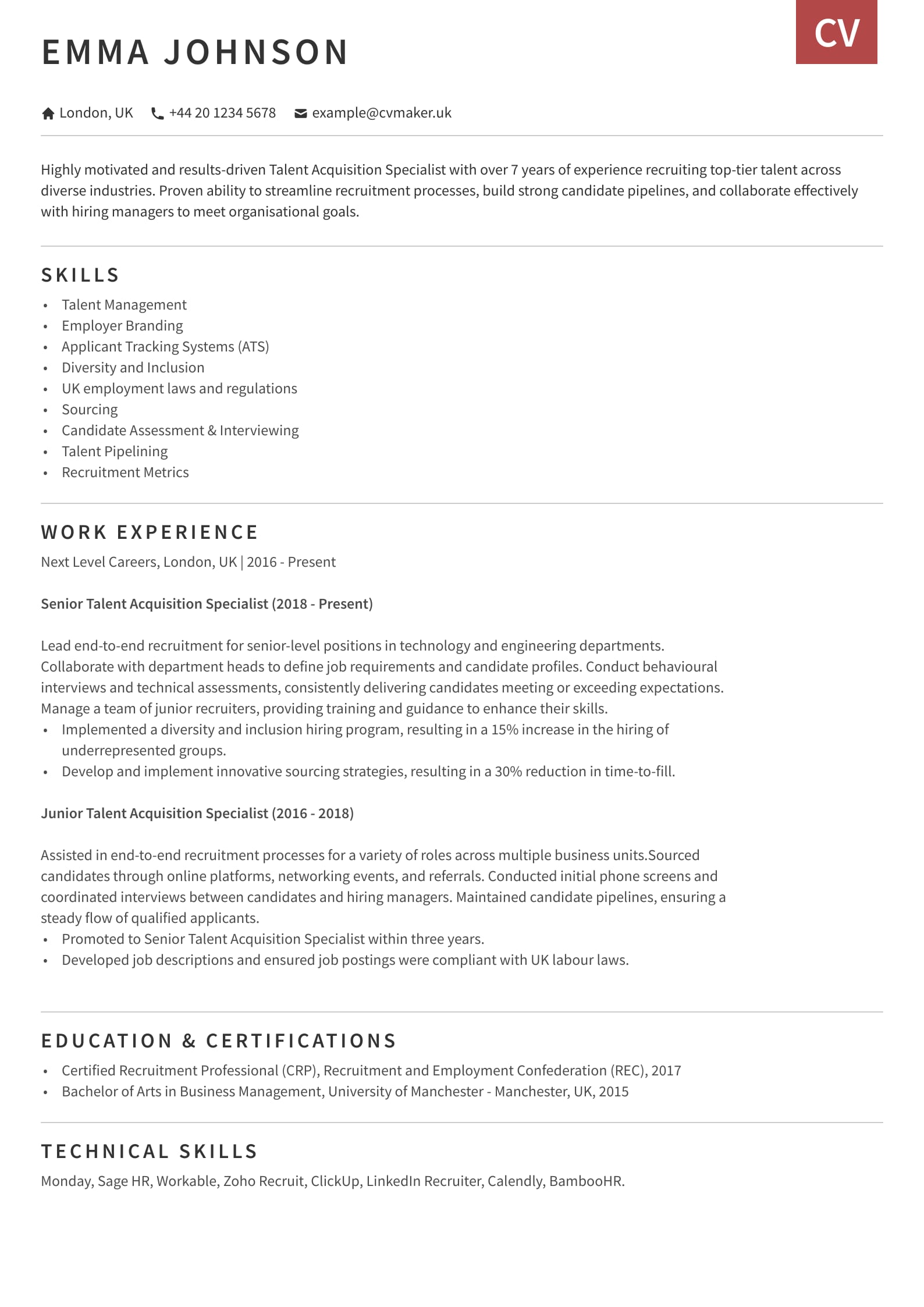 Download this sample of a talent acquisition CV in PDF
Emma, a skilled Talent Acquisition Specialist holding a Certified Recruitment Professional (CRP) credential, has utilised the simple CV layout by using our Otago template. Since 2016, she has advanced through various positions, and she is currently aiming to secure a job in a different industry with her updated, contemporary, and reader-friendly CV.
We provide examples in 20+ different CV templates that can be easily customised to your job preferences. If you have little to no experience, refer to our article on how to write a CV with no experience.
For more CV example layouts and job-related scenarios, check out the following CV examples:
What to include in a talent acquisition CV?
A CV acts as the gateway to opportunities, the first impression you leave on potential employers, and the key to unlocking doors in the competitive world of talent acquisition. It should contain personal details, a LinkedIn profile, and a current location. Following this is a concise personal profile, work experience, education, and skills. Let's dive in and unravel the secrets to capturing the attention of potential employers and landing your dream job.
For more information on creating a job-specific CV, consult our in-depth CV writing process article.
Showcase your talents in a personal profile
This brief summary at the top of your CV is important for showing potential employers a brief overview of your experience, skills, and relevant qualifications. This includes but is not limited to talent acquisition partners, advisors, business development officers, or talent management.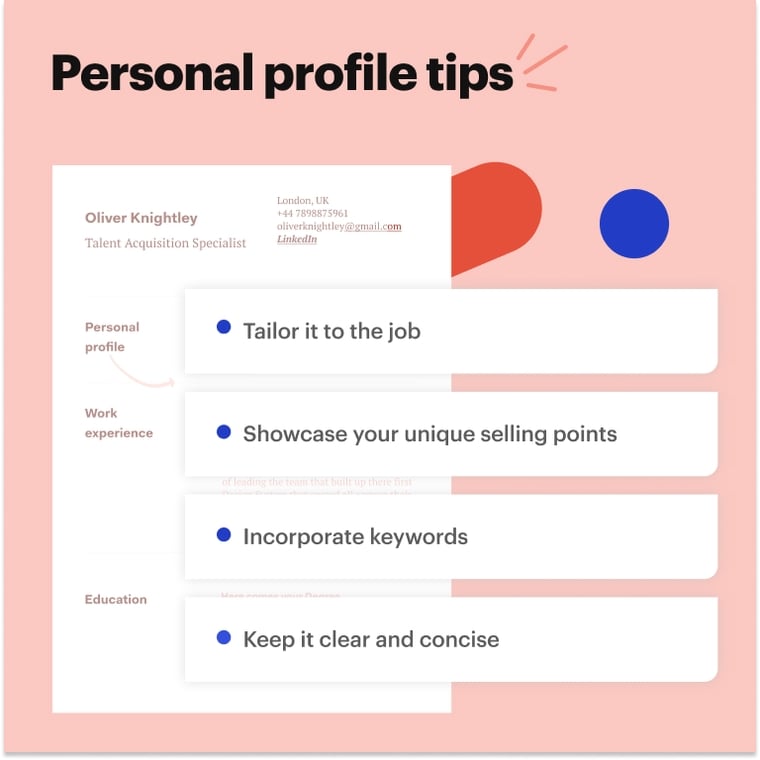 Talent Acquisition Specialist CV Personal Profile Example
Experienced Talent Acquisition Specialist with 10+ years of experience in identifying top talent and fostering strong candidate relationships. Proven track record in sourcing and recruitment across diverse industries. Tech-savvy and results-driven professional committed to exceeding goals.
Talent Advisor CV Personal Profile Example
Experienced Talent Advisor with over a decade in HR and talent management. Skilled in talent strategy development and data-driven decision-making. Expert in assessing cultural fit and championing diversity and inclusion. Excellent communication skills with proven success in creating and implementing goals in partnership with key stakeholders.
Global Talent Acquisition Director CV Personal Profile Example
Seasoned Global Talent Director with 15+ years of experience in international talent acquisition. Proven expertise in leading global teams, aligning talent strategies with organisational goals, and navigating international labour laws. Passion for continuous learning and industry trends.
For more examples and tips, refer to how to write a personal profile on a CV.
Pro Tip
Tailoring your CV to the specific talent acquisition position you're targeting will maximise its impact and relevance. Include soft skills from the job description to differentiate yourself from other candidates.
Boost your CV with talent acquisition skills
A good talent acquisition manager should have strong interpersonal, technical, and marketing skills. In order to successfully showcase this on a CV, we recommend creating different sections or strategically incorporating them throughout. By doing this, you provide potential employers with insights into your areas of expertise and qualifications while ensuring it is ATS-friendly.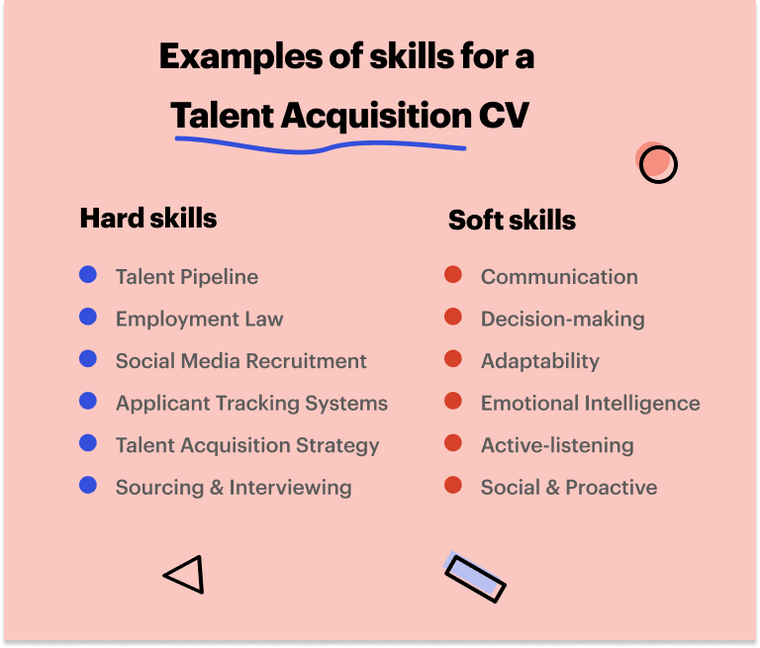 For more examples and tips, refer to what skill to put on a CV.
Include relevant talent acquisition work experience
Whether you started your career as a recruiter or you are hoping to find a different role, it is always challenging to write your experience in just a few lines. Nonetheless, we recommend being strategic when writing this section. One way is to list your key day-to-day duties, followed by a few key achievements. In the end, the goal is to provide a comprehensive account of your responsibilities and contributions in the form of achievements. 
For more tips, refer to our article on how to list achievements on a CV.
For additional guidance, see our example below or refer to our article on how to write work experience on a CV.
Junior Talent Acquisition Specialist, Recruitee, London, UK | 2019 - 2023
Spearheaded full-cycle recruitment processes, including sourcing, screening, and interviewing candidates for various positions within the organisation. Collaborated with hiring managers to define job requirements and ensure a strong alignment between candidate profiles and company needs. Utilised ATS to manage candidate pipelines and streamline the recruitment process. 
Co-developed talent acquisition strategies and participated in talent planning sessions to support the company's growth. 

Coordinated and attended 15+ career fairs and networking events to build a strong talent network. 
Talent Acquisition Manager, CX Solutions, London, UK | 2019 - Present
Lead a team of junior talent acquisition specialists in executing recruitment strategies and meeting hiring targets. Conduct regular training sessions for the team to enhance their recruitment skills and knowledge. Managed the employer brand and oversaw the company's presence on job boards, social media, and other platforms. Collaborate closely with senior leadership to understand the long-term talent needs of the organisation. 
Developed a comprehensive recruitment plan for various departments, ensuring alignment with the company's goals and culture.

Implemented workforce planning strategies aligned with the company's long-term goals, ensuring a stable and highly skilled global workforce.
Global Talent Acquisition, Aldo, London, UK | 2018 - 2022
Played a key role in the global talent acquisition team, supporting recruitment efforts across multiple offices and regions. Collaborated with regional talent acquisition specialists to share best practices and ensure consistent processes. Conducted market research and analysis to stay updated on industry trends and competitor practices. Participated in cross-functional project teams to improve HR processes and candidate experiences.
Expanded talent acquisition efforts into new global markets, resulting in a 60% increase in the company's international workforce within two years.

Implemented data-driven recruitment strategies and streamlined the hiring process, reducing time-to-fill by 20% and cutting recruitment costs by 15%.

Led a global talent acquisition team, achieving higher levels of productivity and engagement, resulting in a 15% increase in team performance and a lower turnover rate.
Feature talent acquisition education or certifications
Since talent acquisition is closely related to human resources, a degree is preferred, but also, with relevant recruitment experience, you can progress into this role. Remember that listing education on a CV, whether formal or informal, is essential. 
To find additional guidance on enhancing your video editor CV, consult our article about effectively presenting courses and certificates on a CV.
Talent acquisition courses in the UK:
If you are interested in a career in human resources, check out our HR CV example for more tips!
Pro Tip
Customise your education section to emphasise qualifications aligned with your target role. Incorporate courses or projects to enhance your degree or professional training.
Key takeaways
Writing an effective talent acquisition CV requires a delicate balance between showcasing key skills and how you can translate a vision into reality. By structuring your CV to include a targeted personal profile, work experience, and skills sections, you can present yourself as a strong candidate for the position. For more information, refer to how to write a good CV. 
Next steps?
We provide a wide range of CV templates and CV examples that can be customised to your specific preferences. If you would like expert guidance on CVs or cover letters, explore our professional CV Writing Services.
For more information on additional CV sections, refer to the following articles:
FAQ
How do you write a talent acquisition CV?
Focus on highlighting your recruiting and sourcing skills, experience with applicant tracking systems, and your ability to identify and attract top talent. Include specific achievements and metrics to showcase your success.
Is talent acquisition the same as a recruiter?
It typically encompasses a broader range of responsibilities, including strategic workforce planning, employer branding, and developing talent pipelines.
What skill is talent acquisition?
Skills include but are not limited to sourcing, candidate assessment, relationship building, negotiation, and a strong understanding of the industry and job market trends, specifically in the UK.
Is talent acquisition better than HR?
It is a subset of HR, focusing specifically on finding top talent. Both functions are essential for effective human resource management.
Land the interview for your dream job with CVMaker
Effortlessly create your professional CV within 10 minutes and download it whenever and wherever you want!
Create your CV
Increase your chances landing your dream job with CVMaker.