Call Centre CV
The Toronto CV template is well-formatted and presents Elizabeth's professional background effectively. The simple design with clear headings allows for information to be easily found by any hiring manager.
Start your CV now
"Customer-centric Call Centre Agent, fluent in both English and French, with a demonstrated history of providing outstanding service. Adept at leading a team of junior agents and turning dissatisfied customers into brand advocates."
Elizabeth Miller
- Call Centre Agent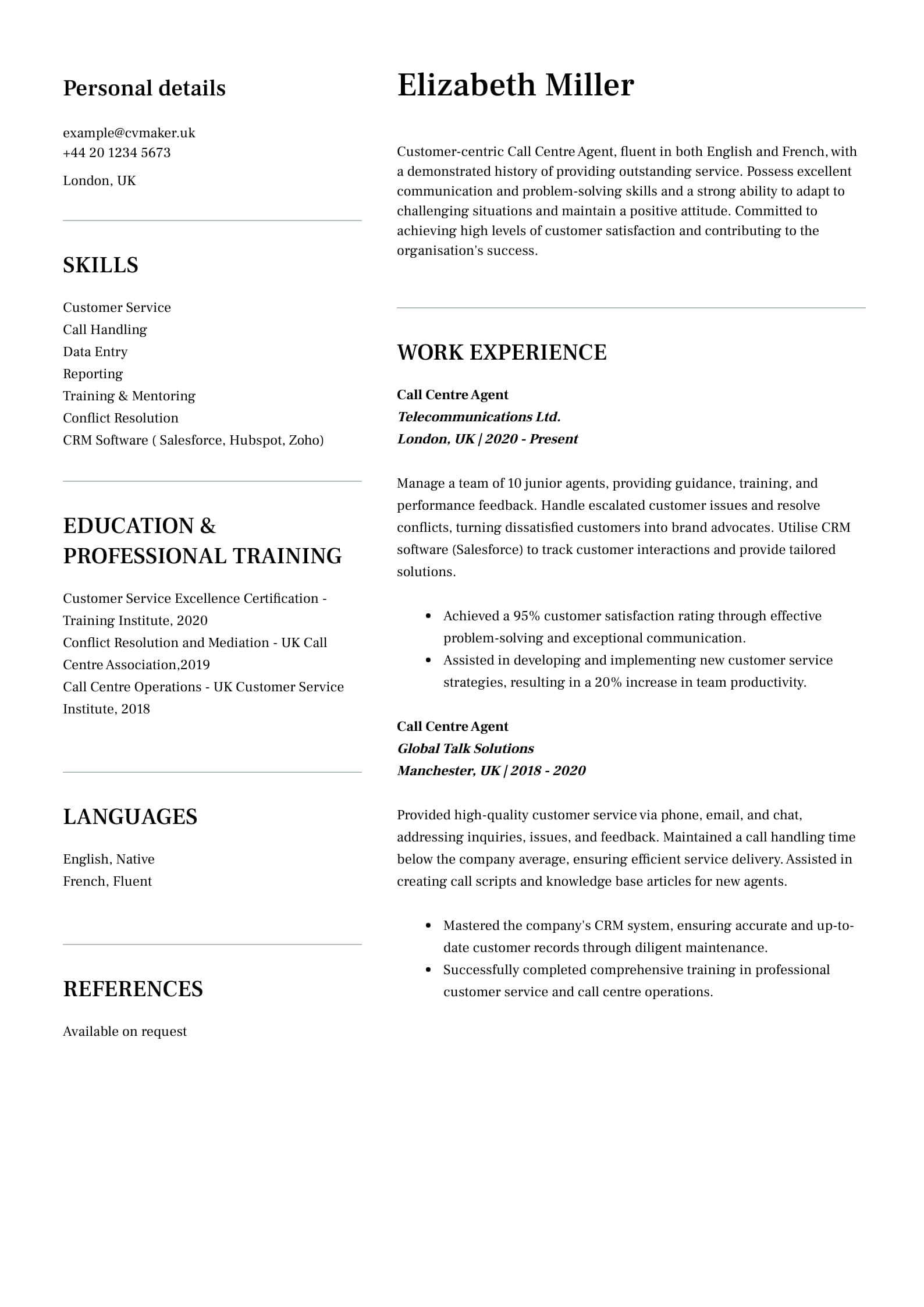 How to Write an Effective Call Centre CV (Free Writing Guide With Examples)
In the fast-paced and ever-evolving sector of call centres across the UK, your ability to stand out is the key to success. With 4% of the UK's workforce in call centres, this role is becoming more in demand, with many professionals progressing from entry-level agents to team leads, advisors and managerial roles. 
Whether you are looking for your first role in customer service or aspiring to climb the ranks, writing a good CV is your ultimate tool to showcase your communication skills and passion for customer service. To start, use an appropriate professional CV template, as this not only captures the interest of prospective employers but also ensures compatibility with application tracking systems (ATS), a crucial aspect for the hiring process and securing a job interview.
Call centre CV example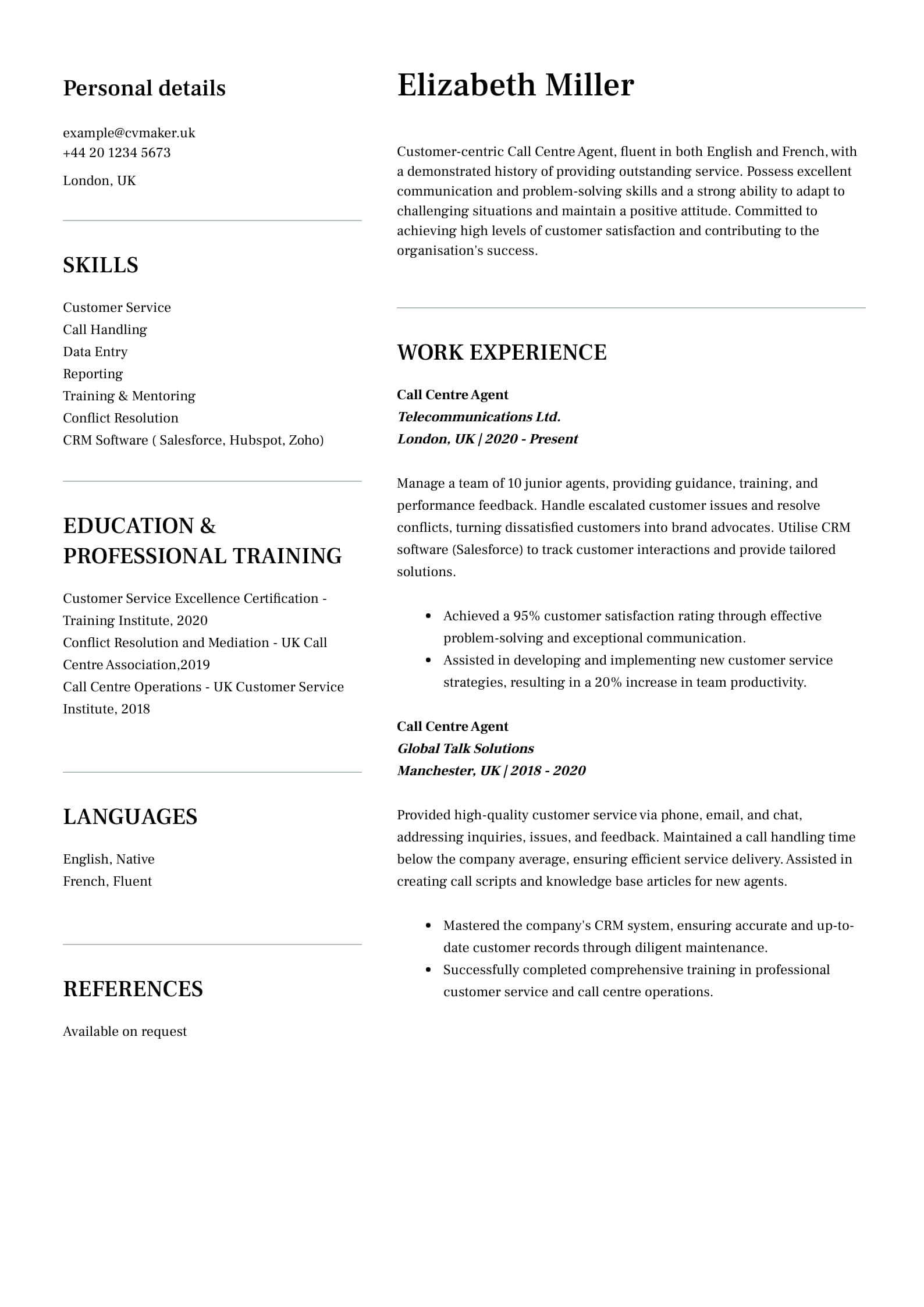 Download this sample CV for a call centre job in the UK.
In this CV example, Elizabeth is a customer-centric and highly skilled professional. With a background in team leadership and call handling, her work experience showcases her achievements in enhancing customer satisfaction and team productivity. She is a well-rounded agent committed to advancing her career to a managerial or team-leading role. The Toronto CV template is well-formatted and presents her professional background effectively.
To find more CV examples, formats, or templates for different job scenarios that can help you to write your call centre CV, browse the following:
What to include in a call centre CV? 
To create a compelling call centre CV, begin with your contact details, following a concise personal profile highlighting your passion for customer service. List relevant skills, showcasing an ability to handle various tasks efficiently. Include your work experience, outlining any roles and achievements demonstrating your contributions.  Add relevant education and certifications whilst mentioning any additional languages spoken, as multilingual abilities are highly valued in this role. Refer to our article on how to present language skills on a CV for more information.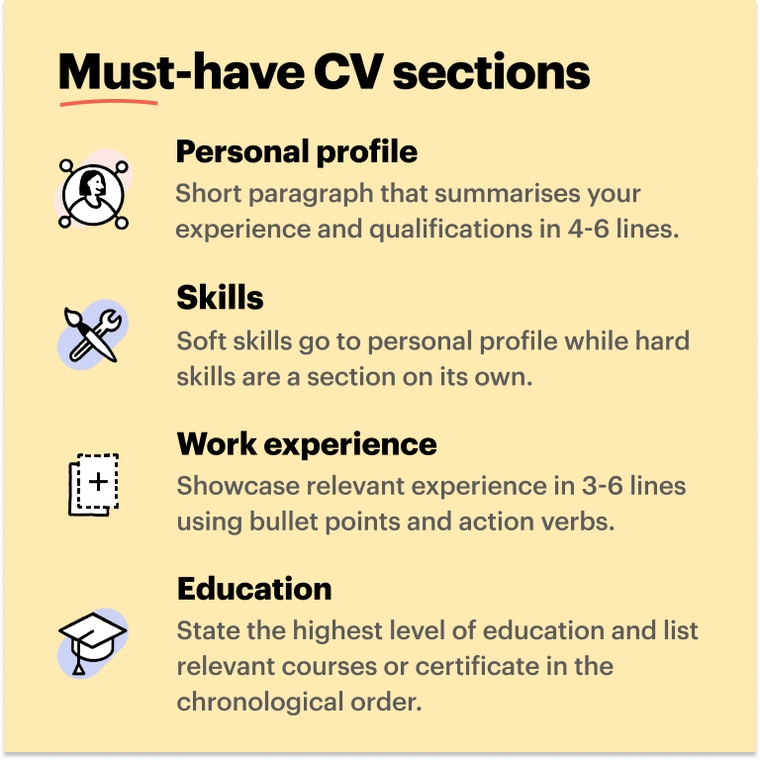 We recommend reading our article to find a comprehensive overview of the CV writing process to get started.
Create a captivating personal profile
Your personal profile is an opportunity to grab the recruiter's attention by introducing yourself and your career aspirations. Consider this a brief, impactful summary that expresses your enthusiasm for the role. Showcase the skills and qualities that make you an ideal candidate.
Pro Tip
Ensure you tailor your profile and create a job-specific CV. Use keywords from the job posting to demonstrate that you're the perfect fit.
Call Centre Agent CV Personal Profile Example
A customer-centric Call Centre Agent, skilled in English and Spanish, with a two-year proven track record of delivering exceptional service. Demonstrates excellent communication and problem-solving abilities, with the flexibility to navigate challenging situations while maintaining a positive attitude. Committed to consistently achieving high levels of customer satisfaction and contributing to the organisations success.
Call Centre Team Lead CV Personal Profile Example
Dedicated Call Centre Team Lead with four years of experience motivating and guiding agents to deliver top-notch customer service. Known for exceptional leadership skills, fostering a collaborative and high-performance environment. Proficient in call centre operations, focusing on optimising workflows and ensuring team productivity. Committed to driving customer satisfaction and achieving team objectives.
Call Centre Advisor CV Personal Profile Example
Highly organised and dedicated Call Centre Advisor, fluent in English and Mandarin, offering a three-year track record providing excellent customer support in a fast-paced setting. Possesses excellent interpersonal skills, empowering effective problem resolution and customer relationship building. Dedicated to ensuring customer satisfaction, consistently meets and exceeds service goals while upholding the organisations values.
Call Centre Manager CV Personal Profile Example
Results-driven Call Centre Manager with a wealth of experience overseeing call centre operations. Known for creating strategic plans, optimising processes, and driving team performance to achieve and surpass KPIs. Possesses strong leadership, analytical, and communication skills. Dedicated to delivering an exceptional customer experience and steering the call centre towards continuous growth and success.
For more information on how to write a personal profile for a call centre job CV, refer to our personal profile blog. 
Skills section for a call centre CV 
In this section, highlight your ability to perform tasks efficiently, such as handling high call volumes and achieving targets in a fast-paced setting. Demonstrate your expertise with tangible examples from part-time work experience or volunteer roles that are customer-focused. 
For those with little to no experience, consider adopting a skills-based CV format to emphasise your transferable skills, such as effective communication, attention to detail, and teamwork from previous jobs. Illustrate your ability to handle tasks efficiently in a fast-paced environment and stay focused in high-pressure situations.
Hard skills

Soft skills

Data analysis

Patience

Sales

Conflict resolution

Reporting

Positive attitude

Training and mentoring

Cultural sensitivity

Quality assurance

Teamwork

IT troubleshooting

Adaptability

Multichannel communication

Problem solving
To better understand call centre CV skills, read our blog on how to list skills on a CV with examples and tips.
Include your work experience 
In this section, outline your key responsibilities, achievements,  and contributions. For example, mention how you exceeded call volumes, customer satisfaction rates and sales targets. Use concise language and action verbs that match the job description.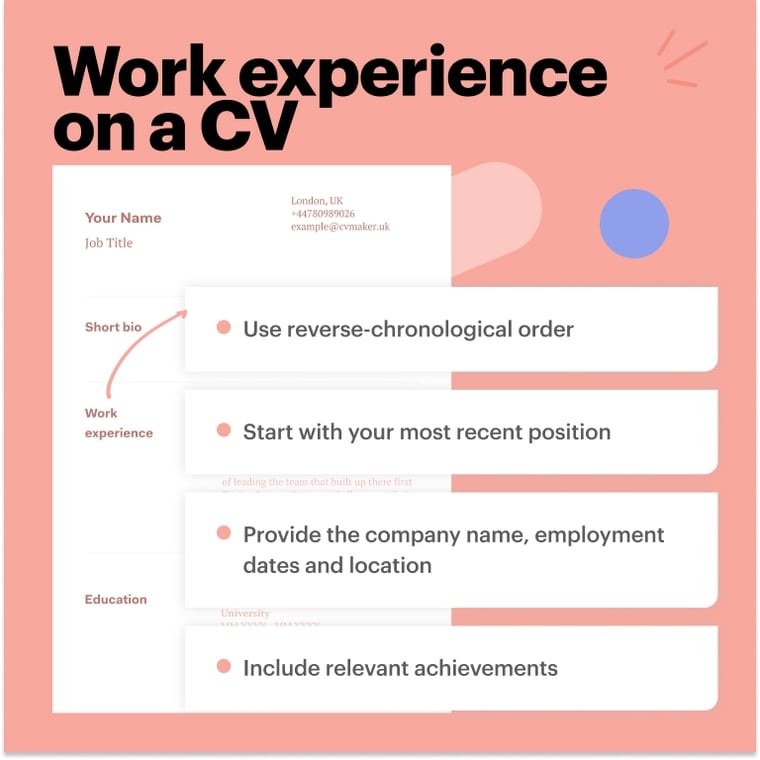 Work experience CV examples
Call Centre Team Lead | XYZ Customer Solutions, Manchester | 2019 - Present
Leading a team of 15 call centre agents to exceed performance targets consistently. Implementing innovative call handling procedures to reduce average call durations and conducting regular training sessions to improve call agent performance.
Achieved a 10% increase in team productivity within the first quarter.

Reduced call abandonment rate by 12% through improved call handling procedures.

Recognised as "Team Leader of the Year" in 2020.
Call Handler | Global Support Services, Birmingham | 2020 - Present
Efficiently manage both inbound and outbound calls while ensuring top-quality customer service. Collaborated with cross-functional teams to optimise call-handling procedures, significantly reducing customer issue resolution times. 
Achieved a 98% customer satisfaction rate through effective problem-solving and clear communication. 

20% reduction in issue resolution times. 

Implemented a new call script, which resulted in a 10% increase in first-call resolutions.
Call Centre Manager | Connect All Solutions, London, UK | 2018 - 2022
Supervised the daily operations of a call centre with 50 agents, ensuring targets were consistently met. Conducted regular staff training meetings and mentored the performance of agents. Developed and executed strategies to improve customer satisfaction, achieving exceptionally high ratings.
Implemented a new performance monitoring system, resulting in a 30% increase in team productivity.

Conducted regular staff training, leading to a 15% decrease in call handling time.

Developed and executed strategies to improve customer satisfaction, achieving a 97% rating.
Call Centre Agent CV with no experience:
On a sample CV for a call centre agent without experience, emphasise transferable skills, such as communication and problem-solving abilities, gained from work experience in administration or customer service settings. Include relevant courses and certifications related to your job targets to support your CV. Explore our blog on how to write a CV with no experience for the best tips and advice.
Sales Associate |  Retail Store, Bristol, UK | 2018 - 2019
Assisted customers in selecting and purchasing products, demonstrating excellent communication and interpersonal skills. Resolved customer inquiries and issues promptly and effectively, ensuring customer satisfaction and a positive shopping experience. Operated the cash register and handled cash and credit transactions accurately. Collaborated with team members to maintain store cleanliness, restock merchandise, and create attractive product displays.
Completed a company-sponsored Customer Service certificate program with a pass rate of 95%.

Received Employee of the Month recognition for consistent excellence in customer service and sales.
Enhance your CV with the education section 
On your call centre CV, highlight your academic qualifications, such as courses, certifications and professional training relevant to your job targets.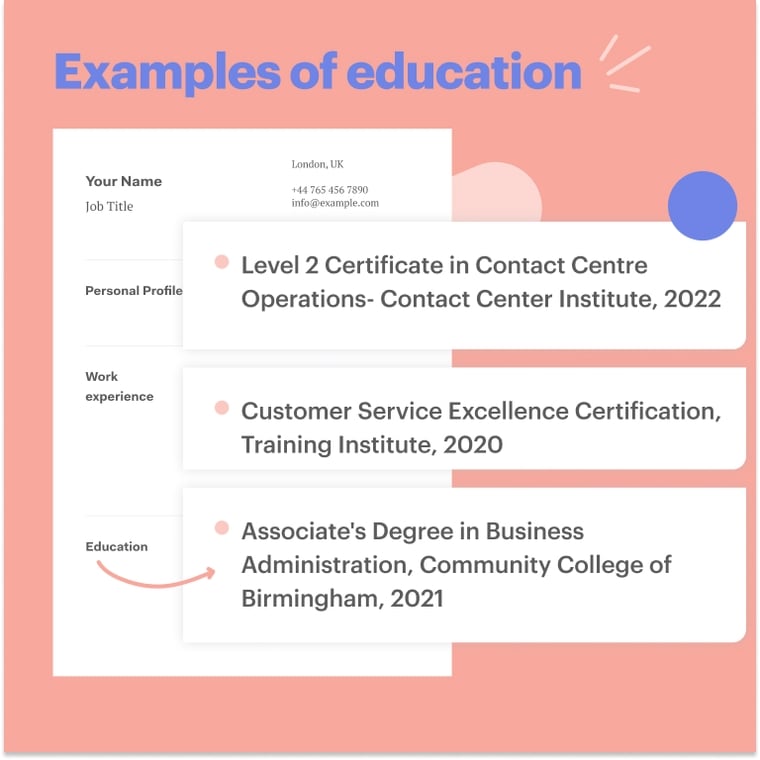 For a detailed overview of the entry requirements for this role, browse the job profile of a call operator with the National Careers Service.
Best call centre CV format 
Creating a well-formatted and error-free CV is vital to make a lasting impression. Keep your CV concise to 1-2 pages, and use a professional font throughout. Use a chronological CV format that lists the most recent entry first and works backwards. Use bullet points to highlight key achievements or accomplishments.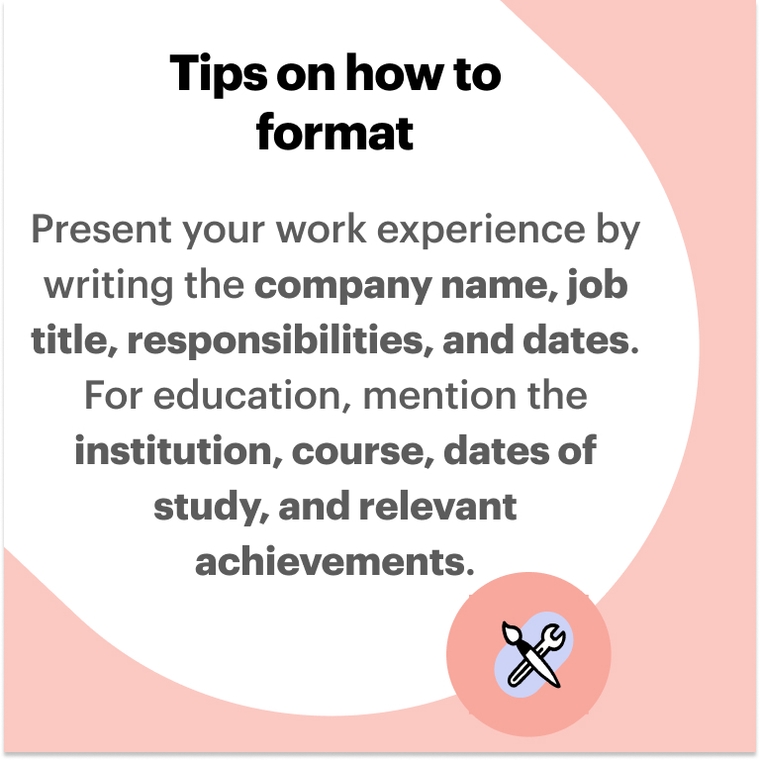 Including references can also increase your chances of landing an interview if you write a sample CV for a call centre agent without experience. Read whether adding references to a CV is optional or mandatory for your target job.
Key takeaways 
This guide shows you how to write a modern CV for a call centre job that emphasises your relevant skills, experience, and achievements. Highlight your passion for customer service and demonstrate excellent communication and telephone skills. Consider completing relevant certifications or training and adding references if you have little to no work experience to leverage your CV.
For more inspiration, read our article on how to improve your CV with expert tips and examples.
Next Steps?
Ready to write an impressive call centre CV? Maximise your chances of landing your dream job and use our expert CV Writing Service. If you're shortlisted for an interview, prepare for a hands-on assessment, including telephone and keyboard evaluations. Read our blog on tips for a successful telephone interview for more examples and tips. 
FAQ 
What qualifications do you need for a call centre job in the UK? 
Gaining qualifications is generally optional for this job. However, typically, employers prefer candidates with secondary-tier qualifications in English, Maths and IT. If you have little to no experience or are looking for entry-level roles and apprenticeships, complete a course or gain customer service and retail work experience if you lack qualifications.
Can you apply for a call centre job with no experience? 
Yes, many call centre positions offer entry-level roles, internships or apprenticeships. Instead, highlight relevant skills and qualifications to leverage your call centre CV.
How do I write a simple call centre CV in the UK?
To create a simple CV, use a straightforward and user-friendly basic CV template. Use a clear structure with sections and information relevant to your job targets. To keep it simple, just add personal details, a personal profile, work experience, education, and skills. There are optional sections to include, which depend on your professional background.
How much does a call centre worker earn in the UK?
The salary in the UK varies based on the location and the specific role. Still, this figure ranges from £15,000 for entry-level roles to £28,000 per year for more experienced agents.
Can you do call centre work from home?
Work-from-home jobs have become more prevalent in the UK job market. Many companies and employers offer flexible work arrangements, such as hybrid jobs.
Land the interview for your dream job with CVMaker
Effortlessly create your professional CV within 10 minutes and download it whenever and wherever you want!
Create your CV
Increase your chances landing your dream job with CVMaker.