Product Manager CV
Umut Yilmaz, a seasoned Product Manager, opted for the Erasmus template to highlight his extensive experience in product management. He adeptly blends strategic planning, market research, and cross-functional collaboration to drive product success.
Create your CV
"Established Product Manager with over 8 years of experience in creating and delivering exceptional products that meet customer needs and drive business growth. "
Umut Yilmaz
- Product Manager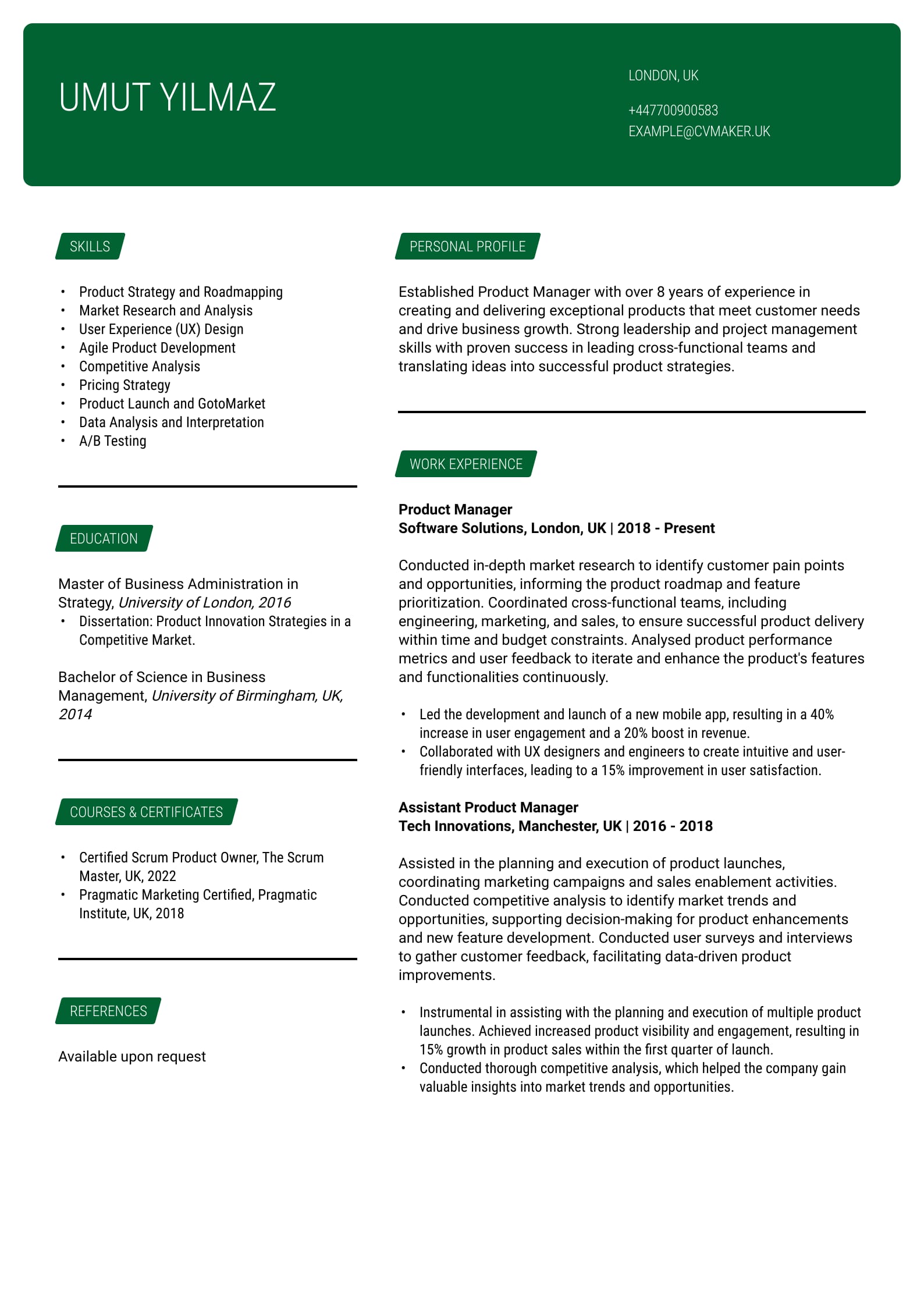 How to Write a Product Manager CV in 2023 (Guide with Examples)
Product managers, often referred to as PMs, are often underappreciated heroes in the modern business landscape. These individuals wield significant influence in the creation, prosperity, and longevity of products and services across a wide spectrum of industries. Their roles encompass diverse responsibilities, ranging from generating groundbreaking concepts to translating market demands into tangible features. However, despite their substantial impact, the field of product management remains somewhat unfamiliar to many.
Whether you're an aspiring product manager eager to grasp the fundamentals or a seasoned professional in search of valuable advice and strategies, this article is designed to assist you in harnessing the potential of a compelling CV. Join us as we delve into what makes product managers indispensable and unveil the journey toward crafting a CV that speaks for itself while ensuring it is compatible with applicant tracking systems (ATS).
Product Manager CV example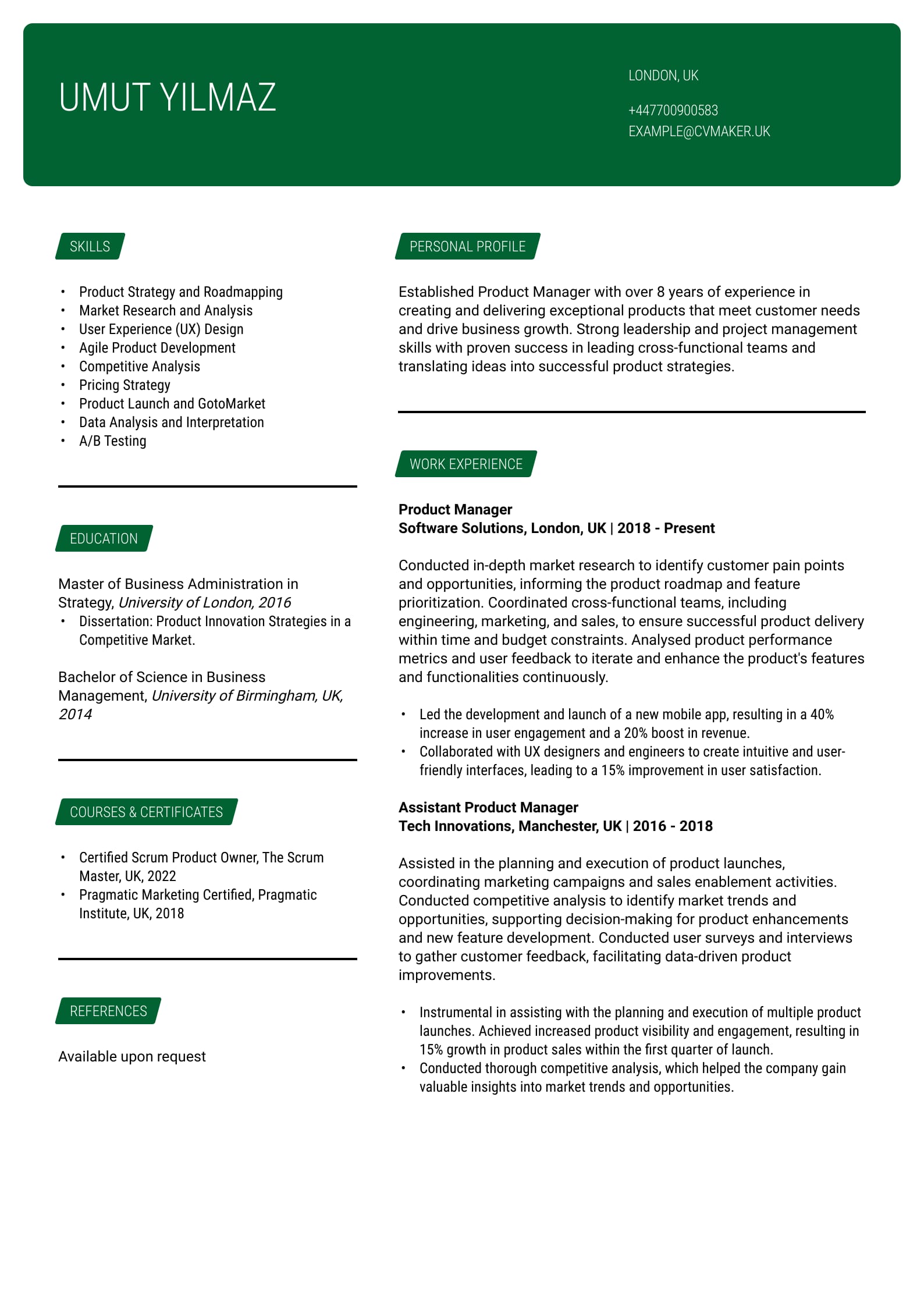 Download this product manager sample CV in PDF
Umut Yilmaz, a seasoned Product Manager, opted for the Erasmus template to highlight his extensive experience in product management. He adeptly blends strategic planning, market research, and cross-functional collaboration to drive product success. With a profound understanding of product development, Umut provides expert leadership for innovative product solutions.
What to include in a product manager CV? 
A good CV shows your skills with important certifications and your talent for building solid client connections. Keeping it neat and including relevant information increases your chances of getting an interview for a product manager position. Start by making a master CV and then customise it for specific job openings. Refer to our article on the CV writing process for more information.
Begin with your basic info, like your name, contact details, LinkedIn profile, and where you currently live. After that, create a brief but powerful personal summary that gives a snapshot of your skills, achievements, and goals. Let's explore these key sections with some examples and helpful tips!
Emphasise your product management soft skills in a personal profile
This part is important for showing potential employers a brief overview of your background, skills, and career goals. To write a good personal profile, keep the below in mind.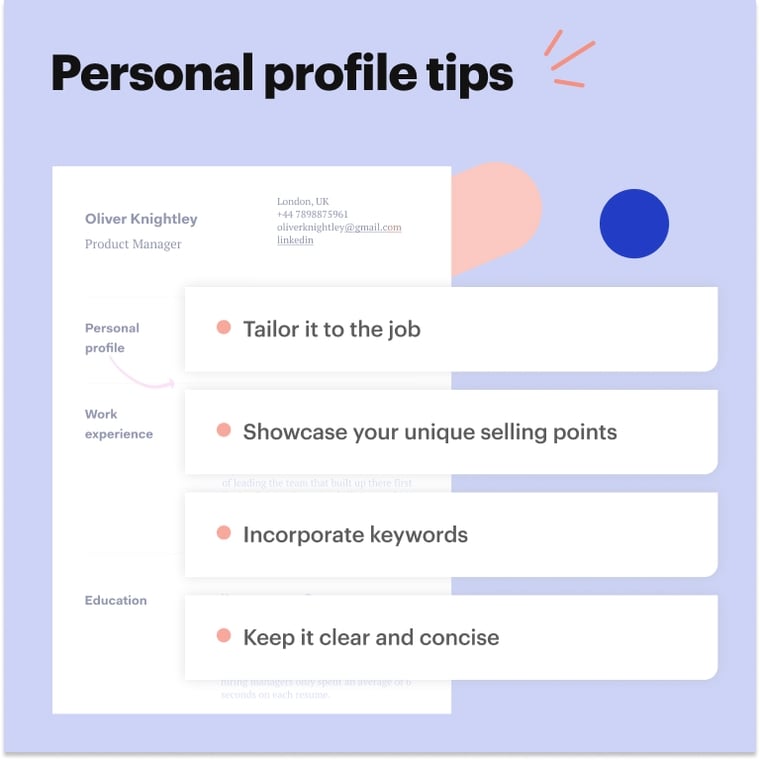 Entry-Level Product Manager CV Personal Profile
Highly motivated and enthusiastic entry-level product manager with a strong foundation in product development and a passion for delivering exceptional user experiences. Recent Business Administration graduate, eager to apply knowledge and skills to contribute to the success of innovative product teams.
Key Product Manager CV Personal Profile
Seasoned product manager with 10+ years of experience successfully leading and launching key products in the tech industry. Deep understanding of the product lifecycle, market dynamics, and customer needs. Excel in creating and executing product strategies that drive revenue growth and market expansion.
Sales Product Manager CV Personal Profile
Results-oriented sales product manager with 5+ years of experience bridging the gap between product development and sales teams. Strong background in tailoring product offerings to meet customer demands and exceeding sales targets. Adept at developing sales strategies that align with product roadmaps, resulting in increased market share and revenue.
National Product Manager CV Personal Profile
Accomplished national product manager with a 15-year track record of overseeing large-scale product portfolios for global enterprises. Proven success in consistently driving product excellence, market expansion, and revenue growth on a national scale. Excellent strategic thinking, market analysis, and cross-functional leadership skills to shape product direction and ensure successful market penetration.
Pro Tip
Tailoring your CV to the specific product manager position you're targeting will maximise its impact and relevance.
Boost your CV with a section highlighting relevant product management skills
Skills on a CV are crucial because they show potential employers what you're good at and what you're qualified for. Focus on showcasing skills like building good client relationships and finding products that suit their needs.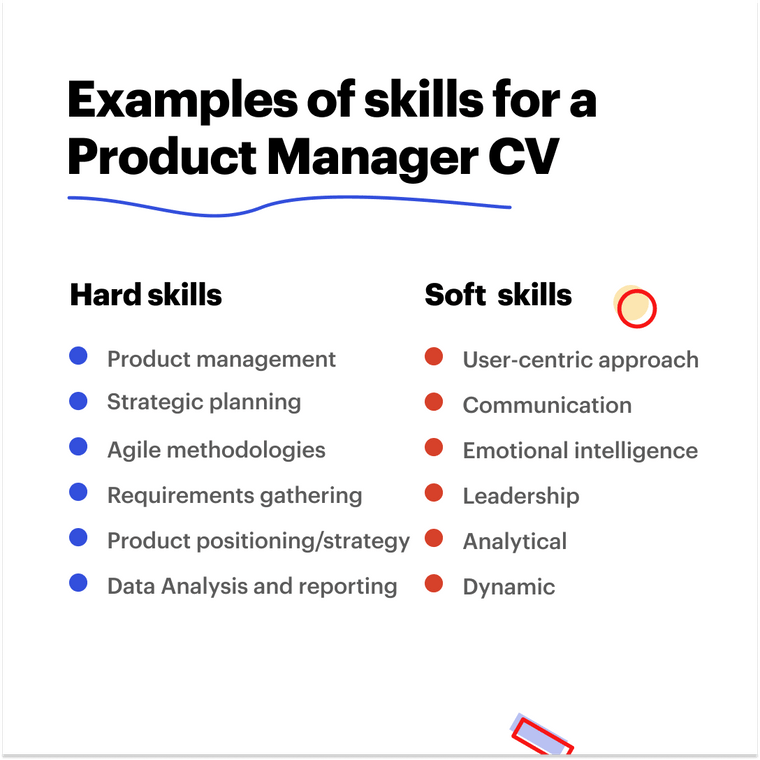 Explain your work experience on a product manager CV
Share details about your job duties, achievements, and how you made a positive difference. Talk about your past jobs, focusing on tasks that show your communication, problem-solving, and relevant account management skills. If you've received any awards, especially related to product management, mentioning them can make your job application stand out. You can find more tips on how to list your work experience on a CV in our article or see an example below.
Product Manager, Dynamics CRM, London, UK | 2020 - Present
Lead product manager responsible for overseeing the development and enhancement of Microsoft Dynamics CRM software solutions. Collaborate with cross-functional teams to define product strategy, roadmap, and feature prioritisation. Conduct market research, customer interviews, and competitive analysis to identify opportunities for product improvement. Define product requirements, create user stories, and work closely with engineering teams to ensure on-time delivery. 
Orchestrated highly successful product launches, seamlessly aligning marketing, sales, and customer support functions, resulting in a significant increase in market penetration and brand recognition.

Spearheaded a robust product performance evaluation system, actively collecting and analysing customer feedback, leading to continuous product refinement and ultimately driving remarkable user satisfaction and substantial revenue growth.
Include your educational background on your product manager CV
Listing education on a CV, whether formal or informal, is essential. While a degree isn't mandatory, it is valued. The common career path for product managers includes starting in sales or marketing and working your way up to a more technical product manager role. A bachelor's degree is a good start for those interested in product management.
Alternatively, pursuing relevant product management courses or obtaining certifications can demonstrate proactive engagement, regardless of whether you're a recent graduate or student.
For more tips and examples, check our article on how to list courses and certificates on a CV. 
Pro Tip
Tailor your education section to highlight the qualifications that best align with the role you're applying for and specify the institution name, location, and date or in progress. Additionally, include relevant courses or projects.
Key takeaways
Writing an effective product manager CV requires a delicate balance between showcasing key skills and how you can translate a product vision into reality. By structuring your CV to include a targeted personal profile, work experience, and skills sections, you can present yourself as a strong candidate for the position.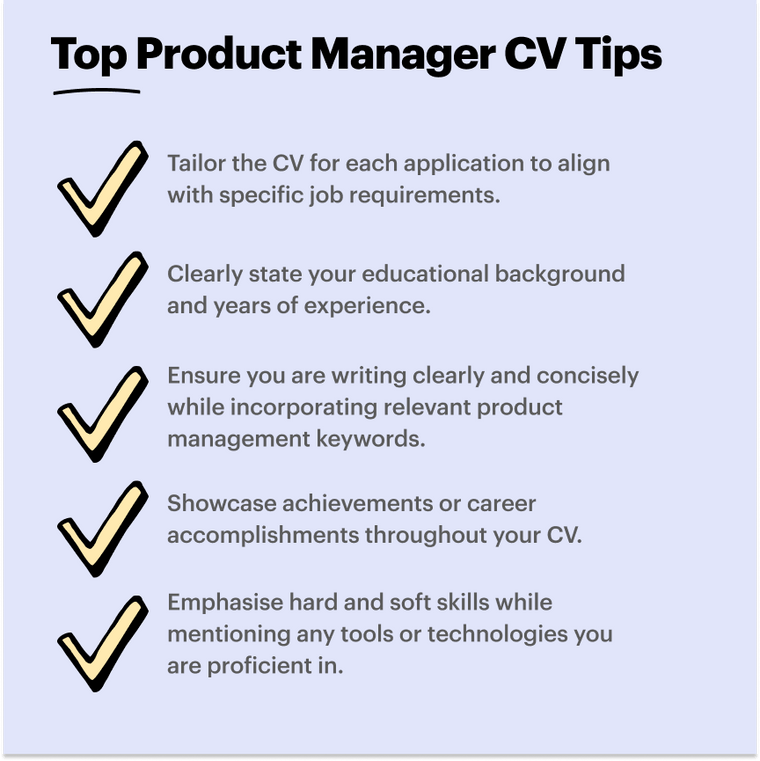 Next steps?
We offer a diverse range of modern CV templates with an extensive range of CV examples that can be tailored to your liking. If you have little to no experience or seek professional assistance, consider our professional CV Writing Services.
FAQ
What should a product manager put on a CV?
Include personal details, a concise summary, work history with achievements, education, key skills, achievements, and any awards or relevant certifications.
How do I make my product manager CV stand out?
Tailor it to the job, emphasise quantifiable achievements, showcase leadership and teamwork, and highlight your strategic and technical abilities.
How do you write product management skills on a CV?
List skills like product strategy, market research, project management, stakeholder collaboration, and proficiency with relevant tools and methodologies.
What is the best template for a product manager?
Use a clean, professional template that emphasises readability and organization, such as a chronological or combination format.
What does a product manager do in the UK?
In the UK, a product manager is responsible for developing and managing product strategies, conducting market research, leading cross-functional teams, and ensuring successful product launches.
Is product management a good career path?
Yes, product management offers a rewarding career path with opportunities for growth, leadership, and the chance to make a significant impact on product success and innovation.
Land the interview for your dream job with CVMaker
Effortlessly create your professional CV within 10 minutes and download it whenever and wherever you want!
Create your CV
Increase your chances landing your dream job with CVMaker.