Video Editor CV
Hadize Okoro, an accomplished video editor, brings a wealth of creativity and expertise to her craft. With a background in video production and over 5 years of hands-on experience, she has selected the Harvard template to showcase her experience and ability to produce visually captivating content.
Create your CV
"Seasoned video editor with 5+ years of experience in the UK media industry. Proven track record of delivering high-quality video content for diverse clients and projects."
Hadize Okoro
- Video Editor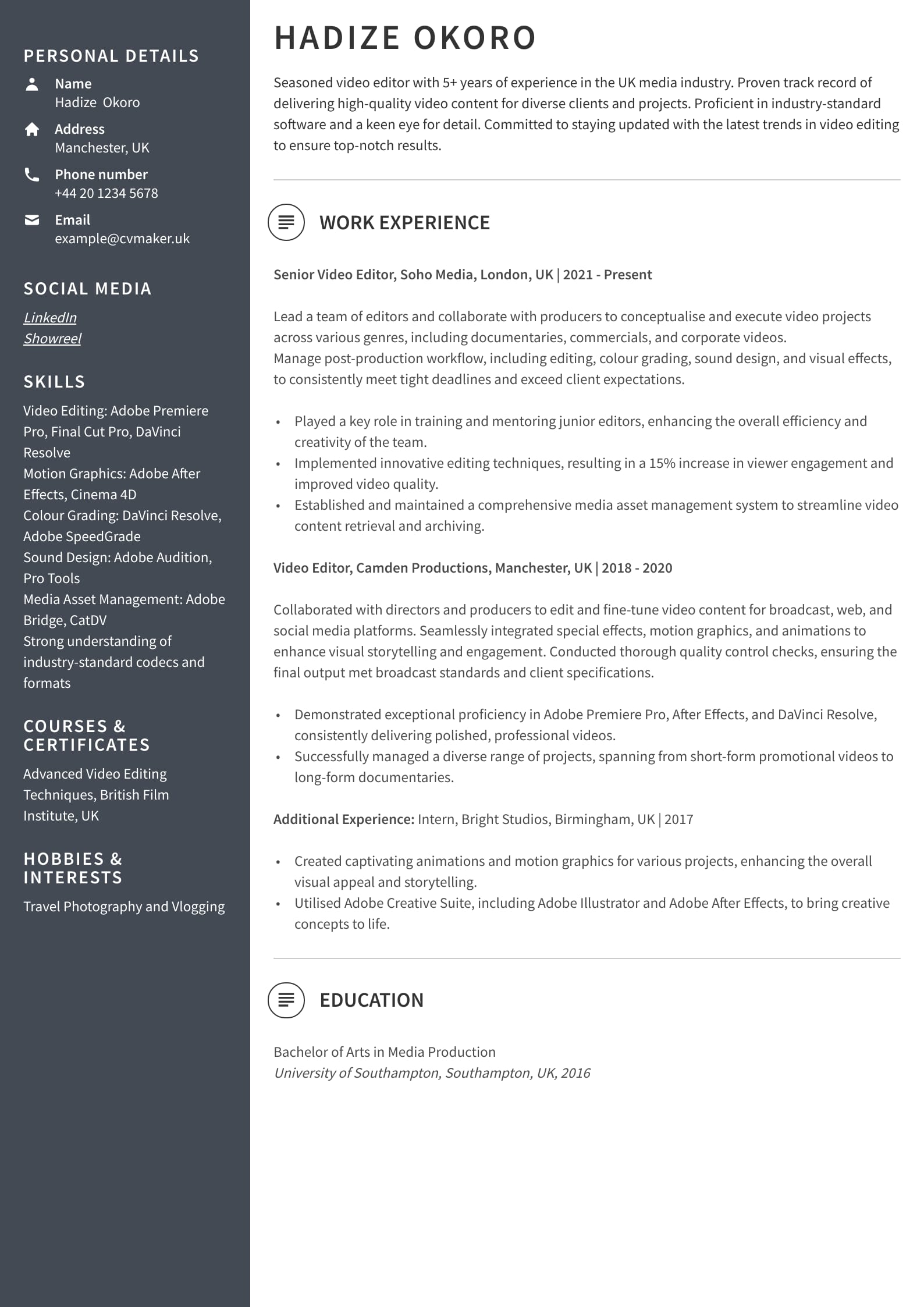 How to Write a Video Editor CV in 2023 (Guide with Examples)
As a video editor, you're the maestro of visual stories. You are highly skilled in transforming raw footage into content that tells a coherent story. But to flaunt your skills and kickstart a career in video editing, you need more than just your artistic flair – you need a good CV.
A CV acts as the gateway to opportunities, the first impression you leave on potential employers, and the key to unlocking doors in the competitive world of video editing. Whether you're a seasoned professional looking to take the next step in your career or an aspiring video editor eager to break into the industry, this guide is here to help you craft the perfect video editor CV.
Consult our in-depth CV writing process article, which provides insight into the importance of tailoring your CV, including how to optimsie your CV for applicant tracking systems (ATS).
Video Editor CV example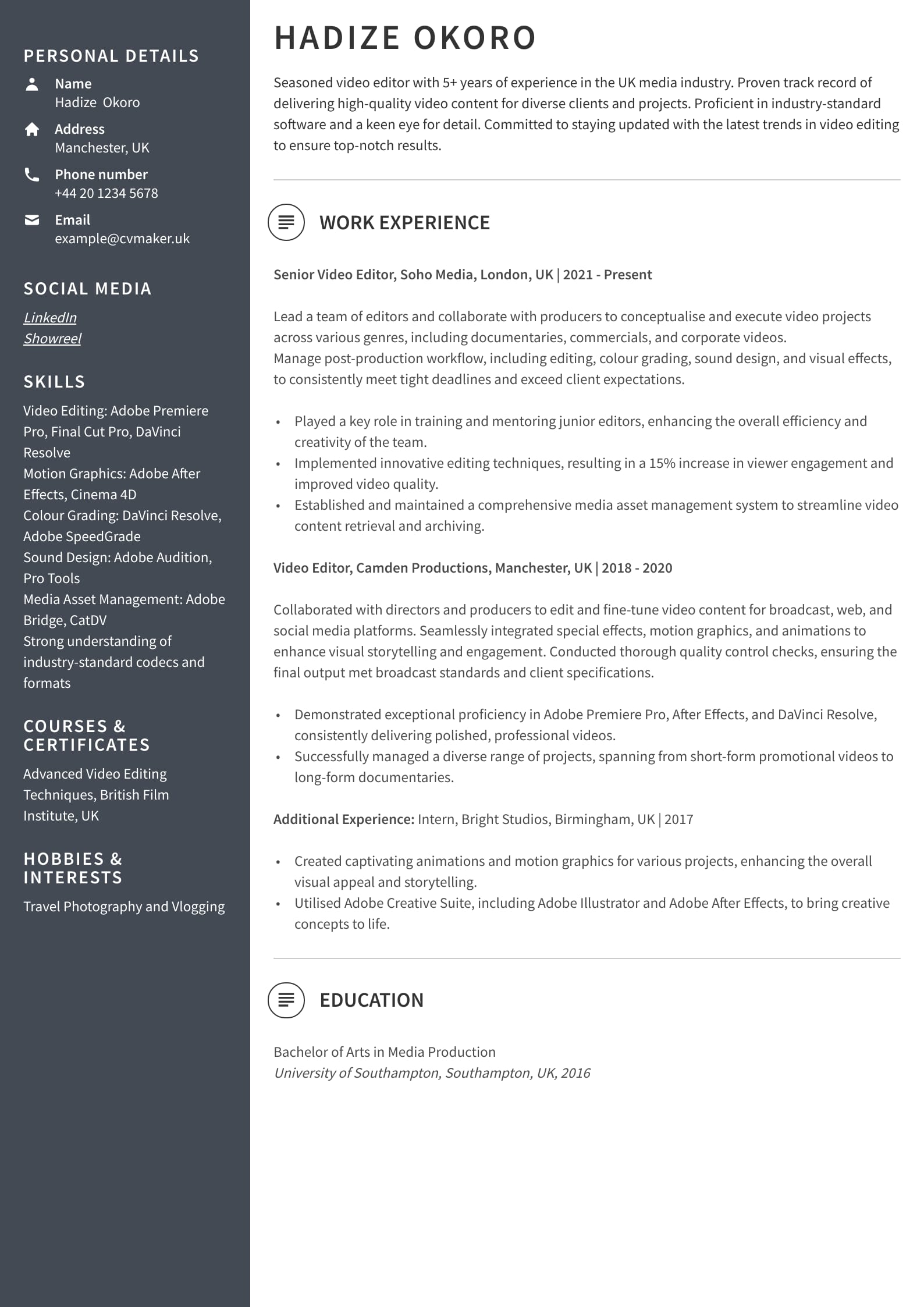 Download this sample of a video editor CV in PDF
Hadize Okoro, an accomplished video editor, brings a wealth of creativity and expertise to her craft. With a background in video production and over 5 years of hands-on experience, she has consistently produced visually captivating content that engages audiences. Her CV, meticulously designed in the Harvard template, showcases her exceptional skills and achievements in a clean and polished format.
For more CV examples, check out the following:
What to include in a video editor CV? 
A CV for a video editing job not only showcases your skills and important certifications but should also reflect your ability to tell a coherent story. A well-organised and tailored CV can significantly enhance your chances of securing that job interview. 
Your journey towards a successful video editor CV should start with the essentials: your name, contact information, LinkedIn profile, portfolio, showreel, and current location. Following this, a concise yet impactful personal profile provides a glimpse into your skills, achievements, and aspirations.
Let's dive in and unravel the secrets to capturing the attention of potential employers and landing your dream video editing position.
Indicate your video editing skills in a personal profile
This part is important for showing potential employers a brief overview of your background, skills, and career goals. Remember that career paths in video editing can be highly flexible, and many professionals move between different roles and specialities throughout their careers. This includes but is not limited to Film Editor, TV Studio Editor, Event Video Editor, Web Video Editor, or Broadcast Engineer. To write a good personal profile, keep the below in mind.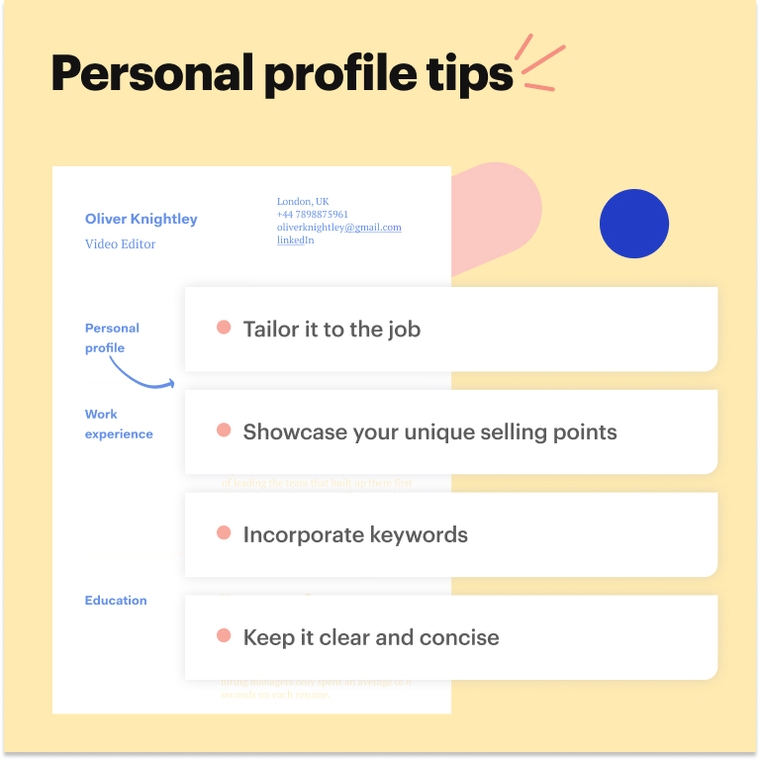 Video Editor Personal Profile Example
Video Editor with 5+ years of experience, showcasing a steadfast passion for visual storytelling. Proficient in full post-production process, from raw footage to final cut, enabling the crafting of compelling narratives across diverse platforms. Known for meticulous attention to detail and unwavering commitment to excellence, consistently surpassing expectations in creating visually captivating and emotionally resonant video content.
Film Editor Personal Profile Example
Established Film Editor with 10+ year track record, specialising in crafting compelling cinematic narratives. Adept at collaborating with directors, cinematographers, and sound designers to achieve seamless pacing, emotional depth, and narrative continuity. Known for creating immersive and unforgettable film experiences. Passionate about the art of cinema, adept at bringing creative visions to life, and a valuable asset to the filmmaking industry.
Assistant Video Editor Personal Profile Example
Enthusiastic Video Editor with a solid background in video production and post-production. Strong attention to detail, organisational prowess, and a dedicated commitment to learning. Adept at providing proactive support to senior editors, contributing significantly to on-time project completion.
Freelance Video Editor Personal Profile Example
Versatile, ambitious, and creative video editing professional breathing life into ideas through visual storytelling. Creative portfolio spanning diverse genres, skilled at customising expertise to match project-specific requirements, consistently exceeding client expectations with high-quality content.
Pro Tip
Tailoring your CV to the specific video editor position you're targeting will maximise its impact and relevance. Include soft skills from the job description to make your CV stand out.
Enhance your CV with relevant video editor skills
A CV should clearly showcase your skills in different categories, specifically soft skills, hard skills, and, in this case, technical skills. These hold significant importance as they provide potential employers with insights into your areas of expertise and qualifications. Emphasise your proficiency in cultivating strong client connections and identifying products that align with their requirements.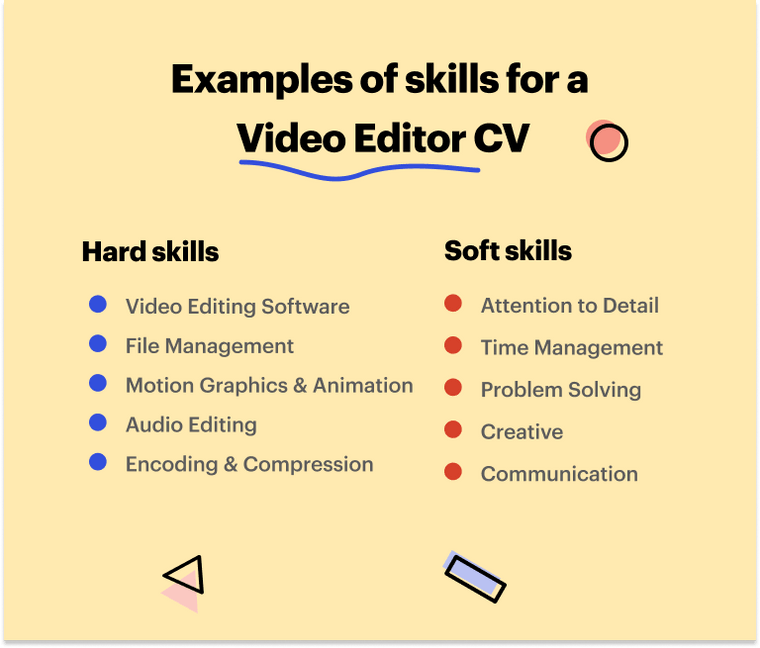 For more tips, refer to our article on what skills to put on a CV.
Showcase your video editing work experience
Writing your experience in just a few lines might be challenging, but we recommend listing only your key day-to-day duties followed by a few key achievements on a CV. The goal is to provide a comprehensive account of your responsibilities, achievements, and contributions that left a positive impact as a video editor.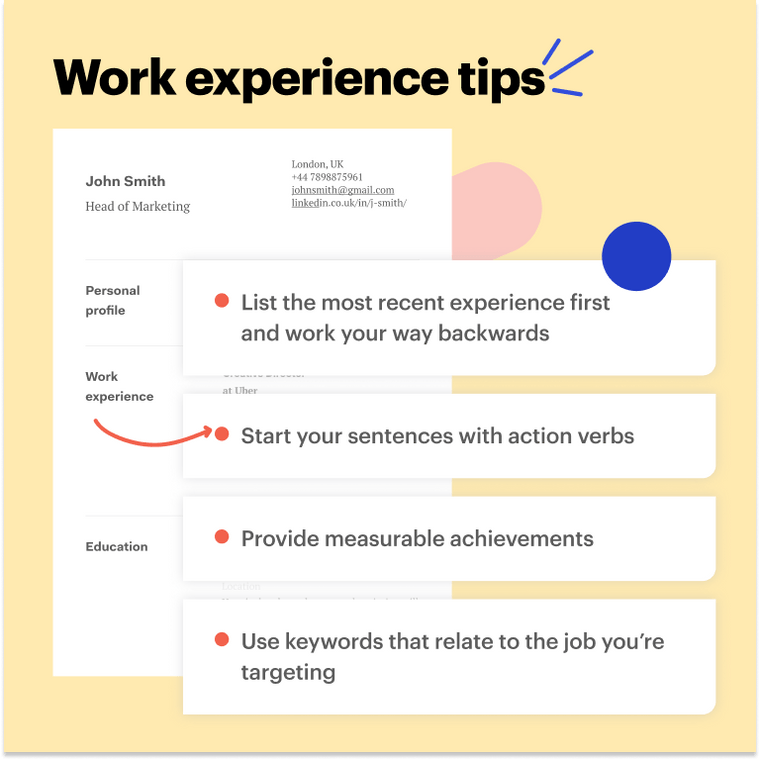 For additional guidance, see our examples below or refer to our article on how to write work experience on a CV.
Junior Video Editor, Camden Studios, London, UK | 2019 - Present
Collaborate with the creative team to edit and assemble raw footage into compelling video content. Utilise video editing software (e.g., Adobe Premiere Pro) to cut, trim, and arrange video clips, add transitions, and incorporate special effects. Assist in selecting and incorporating suitable music, sound effects, and voiceovers to enhance video quality. 
Edited and delivered 50+ video projects on time, meeting or exceeding client expectations for quality and creativity.

Collaboratedwith team to develop and implement new editing techniques, resulting in a 15% increase in video engagement on social media.
Senior Video Editor & Team Lead, Camden Studios, London, UK | 2019 - Present
Guiding and supervising a team of talented editors in close collaboration with the creative department to craft compelling video content. Harnessing advanced video editing software, notably Adobe Premiere Pro, to curate, enhance, and arrange raw footage. Skillfully implementing transitions and special effects while seamlessly integrating music, sound effects, and voiceovers to elevate video quality.
Successfully implemented creative editing techniques that led to a 20% increase in video engagement and viewership on the company's YouTube channel over a six-month period.

Introduced an efficient video production workflow, reducing project turnaround time by 30% while maintaining high-quality standards.

Consistently met or exceeded client expectations on 90% of projects, resulting in a strong client retention rate and positive referrals.
If you have no video editing experience, refer to our article on how to write a CV with no experience.
Include video editor education and qualifications on your CV
Listing education on a CV, whether formal or informal, is essential. While a degree isn't mandatory, it is valued. The common career path includes studying film or some sort of creative degree, but in most cases, a lot of video editors are self-taught. If this is the route you decide to take, learn the software well and consider an internship to gain experience.  
To find additional guidance on enhancing your video editor CV, consult our article about effectively presenting courses and certificates on a CV.
Examples of online education platforms and institutions in the UK:
The Open University offers a wide range of online courses, including video editing and production. They have courses suitable for beginners to advanced learners and cover various aspects of video editing software and techniques.

FutureLearn is a platform that collaborates with top UK universities and institutions to offer online courses. They have video editing courses that cover topics like Adobe Premiere Pro, Final Cut Pro, and video production skills.

While not based in the UK, Udemy is a global online learning marketplace with a vast selection of video editing courses.
Pro Tip
Customise your education section to emphasise qualifications aligned with your target role. Incorporate pertinent courses or standout projects to enhance your degree or professional training.
Key takeaways
Writing an effective video editor CV requires a delicate balance between showcasing key skills and how you can translate a vision into reality. By structuring your CV to include a targeted personal profile, work experience, and skills sections, you can present yourself as a strong candidate for the position.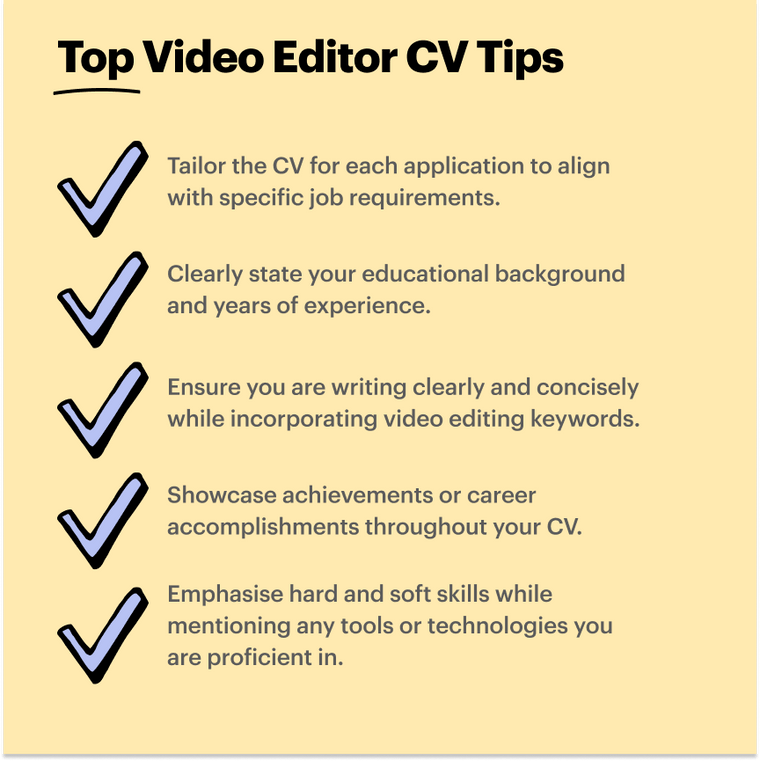 Next steps?
We provide a wide variety of modern CV templates and a vast collection of CV examples that can be customised to your preferences. If you lack experience or require expert guidance, explore our professional CV Writing Services.
For additional examples of professional CVs and various formats, explore the following options:
FAQ
How do I write a CV for a video editor?
Tailor your CV to showcase your video editing skills and experience. Include a personal profile, work history, technical skills, and a link to a portfolio of your work so recruiters or hiring managers can see it at first glance.
How to become a video editor?
Typically, by gaining relevant education or training, acquiring software skills, building a portfolio, and gaining experience through internships or entry-level positions. Check out our internship CV example for inspiration.
What does a video editor do?
They are responsible for assembling, cutting, and manipulating video footage to create a cohesive and visually appealing final product. They work on various video projects, including films, TV shows, commercials, and online content. 
How do you describe video editing skills on a CV?
Describe your video editing skills on your CV by listing specific software proficiency (e.g., Adobe Premiere Pro), techniques (e.g., colour correction), and any relevant certifications or courses you've completed. For example, BFI lists a variety of courses for 16 to 19-year-olds to develop skills and build a career in the film industry.
Do I need a CV as a video editor?
Having a CV is beneficial for job applications and networking. It helps showcase your skills, experience, and qualifications to potential employers or clients.
What is a professional video editor profile summary?
Also known as your personal profile, it is a brief section at the top of your CV highlighting your key qualifications, experience, and what makes you a strong candidate for video editing roles.
Land the interview for your dream job with CVMaker
Effortlessly create your professional CV within 10 minutes and download it whenever and wherever you want!
Create your CV
Increase your chances landing your dream job with CVMaker.