Cabin Crew CV
The Yale CV template effectively integrates essential skills and education to showcase Victoria's comprehensive knowledge, achievements, and professional growth in the cabin crew profession.
Start your CV
"Passionate and experienced Cabin Crew professional committed to upholding the aviation industry's highest standards of service and professionalism. Able to work alongside travel partners and colleagues to deliver exceptional customer service."
Victoria Bennett
- Cabin Crew Member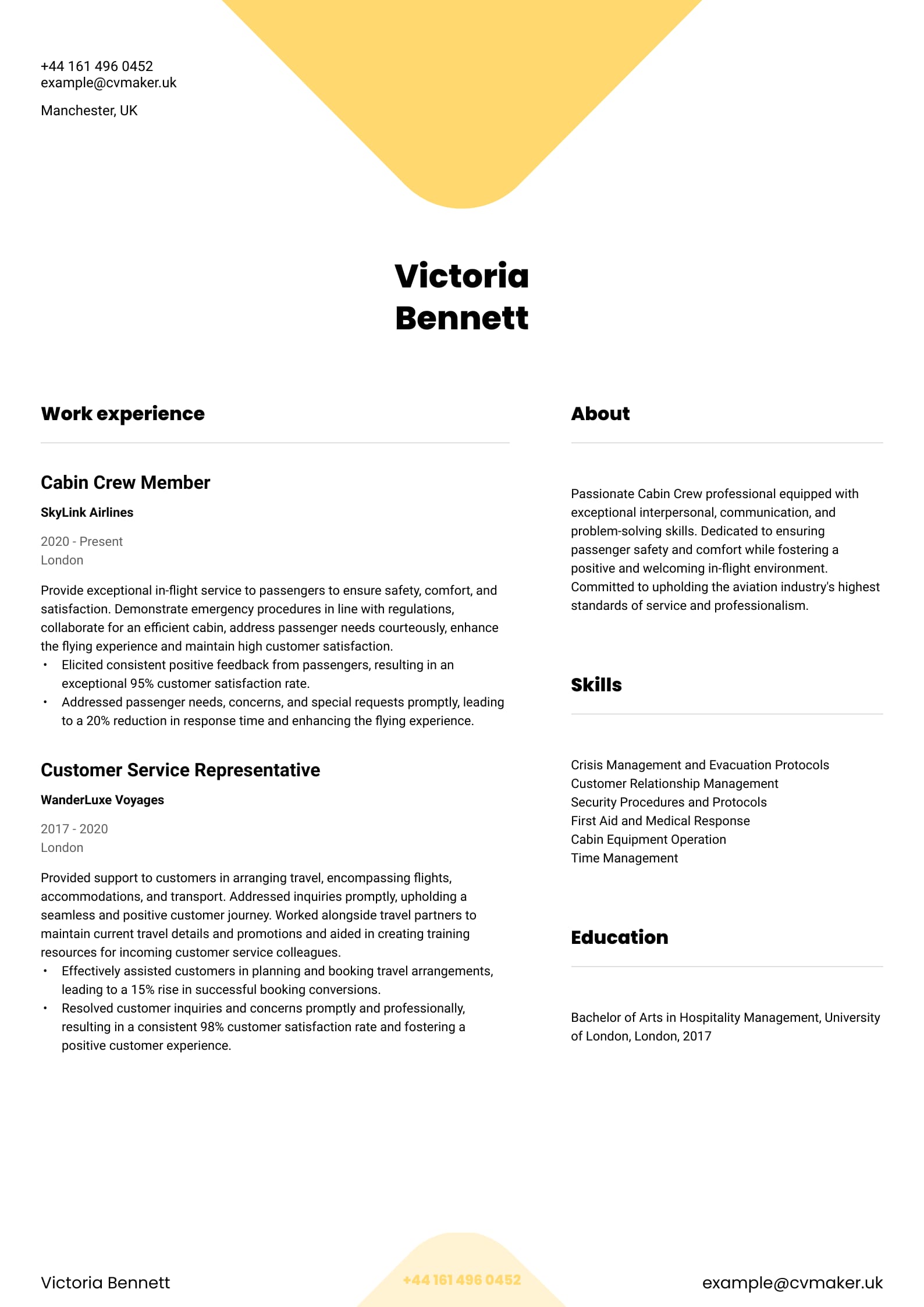 How to Craft a Cabin Crew CV: Writing Guide and Tips with Examples
In the highly competitive aviation industry, becoming a cabin crew member in the UK is well within reach. This guide shows you how to create a CV to help navigate the diverse career paths within the cabin crew profession, catering to every level of expertise. Suppose you're an experienced flyer aiming to advance your skills or are considering applying to an entry-level role; writing a good CV is crucial in securing an interview and launching your career.
Are you aware of application tracking systems (ATS)? Recruiters use this software to scan and read job applications. Ensure you use a professional ATS-friendly template to stand out to potential employers and get noticed by potential employers.
Refer to our career change CV guide for those interested in a similar career but who need help figuring out where to start. Alternatively, if you're experienced in this industry but want to take your career in aviation to new heights, read our guide on how to improve your CV.
Cabin Crew CV example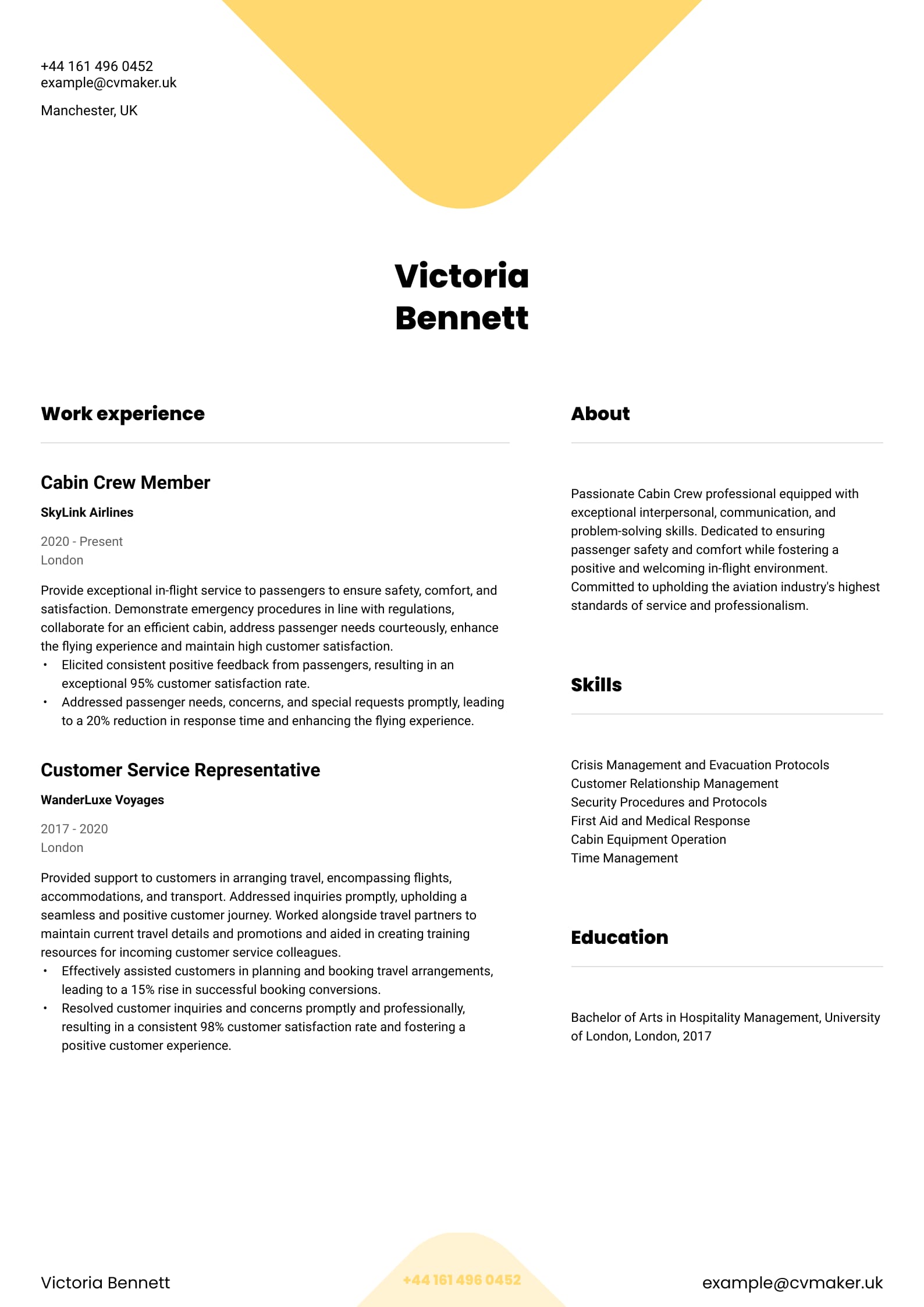 Download this Cabin Crew CV example in PDF
In this Cabin Crew CV sample, Victoria presents a strong foundation in the aviation and customer service industry, focusing on passenger safety and satisfaction. Her personal profile underscores her commitment to excellence, supported by relevant work history and noteworthy accomplishments. Their expertise in emergency procedures, customer service, and cabin equipment operation shines through. This Cabin Crew CV format integrates essential skills and education to showcase her comprehensive knowledge, achievements, and professional growth in the cabin crew profession.
What to include in a cabin crew CV?
To kick start the CV writing process, we suggest to write a comprehensive master CV encompassing all your essential skills and experiences. Then, tailor it to create job-specific versions with key sections aligned with the employer's requirements. Learn more about the CV writing process and where to start. An effective CV shows that you have read the job description carefully and included information that aligns with the airline's expectations.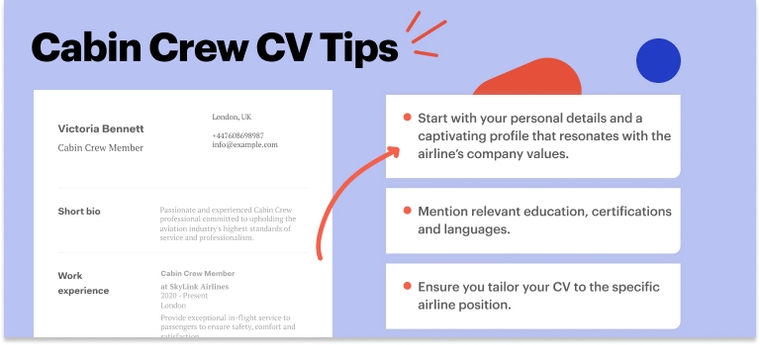 For example, in an Emirates cabin crew CV, you must include your height and physical fitness abilities, including swimming proficiency and medical certification. Specify any attestation, such as CCA or EASA, and detail your work experience, emphasising roles highlighting your customer service, safety awareness, and teamwork skills. 
For more information, explore the job profile of a cabin crew member.
Take your CV to new heights with your personal profile 
A well-crafted personal profile is your chance to create a strong first impression. It should convey your qualifications, career aspirations, personality, and standout qualities. Customise your personal profile to align with the specific role you're pursuing, whether it's an entry-level position or aiming for a supervisory role within the airline industry.
Ex-cabin crew CV personal profile example
Experienced cabin crew member, adept at ensuring passenger safety while building strong customer relationships. Exceptional first aid and medical response skills, with a calm demeanour during inflight medical emergencies. Renowned for impeccable time management, consistently delivering punctual and smooth flying experiences.
Flight attendant cabin crew CV personal profile example
A seasoned flight attendant with half a decade of cabin crew expertise. Committed to passenger well-being, comfort, and satisfaction, prioritising exceptional customer relations. Proficient in maintaining a secure inflight environment through adherence to security procedures and protocols. Extensive training in first aid and medical response, ensuring the ability to handle medical incidents confidently.
Cabin crew supervisor CV personal profile example 
Accomplished cabin crew supervisor with a proven track record of leading teams to provide exceptional service. Proficient in ensuring passenger safety through the implementation of security procedures and protocols. Skilled in crisis management and evacuation protocols, with five years of expertise. Highly trained in safety, fostering a secure and supportive in-flight environment.
Senior Cabin Crew member CV personal profile example 
Distinguished senior cabin crew member with nearly ten years in the aviation industry. Accomplished cabin crew supervisor skilled in regulatory compliance, enforcing safety protocols and leading teams to provide outstanding service. Proficient in French and Spanish with experience working with diverse customers on international flights. Excels in cabin equipment operation and employs excellent time management to provide passengers with a seamless flying experience.
For more tips on how to write a personal profile on a CV for a cabin crew job, read our article. 
What are the essential skills for a cabin crew CV? 
Your CV skills section is critical to showcase your relevant abilities and competencies relevant to your job targets. Include a combination of hard and soft skills to impress recruiters and demonstrate versatility. Soft skills involve personal traits from education or experience, while hard skills refer to job-specific technical abilities. 
To craft a CV with no experience, consider using a skills-based CV format emphasising transferable skills. If you are a student, include relevant coursework or knowledge and highlight language proficiencies or previous volunteer work to demonstrate suitability for your chosen role.
Soft skills

Hard Skills

Empathy

First aid and medical response

Patience

Cabin equipment operation

Cultural sensitivity

Regulatory compliance

Stress management

Language proficiency

Interpersonal skills

Aircraft systems knowledge

Leadership

Security protocols

Customer focus

Safety training

Multitasking

Navigation and aviation software
If you enjoy travelling or interacting with customers, explore related careers with similar skills, such as an Airline Customer Service Agent, Travel Agent or Resort Representative with the National Careers Service. 
If you need ideas, browse our article on what key CV skills to add for a flight attendant role.
Share your career journey 
In the work experience section of a flight attendant CV, start by listing your job titles, location and dates. Outline the essential responsibilities and duties of the role. Then, highlight your achievements or accomplishments in bullet points, such as exceptional service recognition, high customer satisfaction ratings, or successful emergency procedures. Use quantifiable results to demonstrate your impact to potential employers, further showcasing your abilities. 
Even if you're a recent school leaver or student with little to no work experience, completing a relevant internship or apprenticeship will benefit your CV. Alternatively, having a background in customer service or hospitality will demonstrate transferable skills and relevant industry knowledge. For those interested in other related sectors, explore other roles in aviation, such as marketing or sales.
Work experience examples
Cabin Service Manager | SkyHigh Airlines, London | 2018 - Present\ Oversee and manage all cabin service operations to create a safe, comfortable, and pleasant flying experience for passengers. Lead a team, provide guidance and ensure in-flight service delivery is efficient. Implement and monitor safety procedures and conduct regular training sessions to ensure regulatory compliance. Resolve passenger complaints and concerns, contributing to positive customer service.
Achieved and maintained a 98% customer satisfaction rate through efficient management of cabin service operations.

Spearheaded a team, ensuring a 20% reduction in response time.

Conducted regular safety training sessions, resulting in a 15% increase in compliance with industry safety standards and reduced safety-related incidents.
Cabin Crew | SkyJet Airlines, London | 2020 - Present\ Demonstrate skills and knowledge related to crew responsibilities and in-flight service. Continuously ensure passenger safety, comfort, and satisfaction by executing safety protocols, emergency procedures, and first aid. Consistently provide outstanding communication and problem-solving abilities, adeptly managing various in-flight scenarios. Collaborate seamlessly with the cabin crew team to guarantee the smooth operation of in-flight services, contributing to a positive flying experience for passengers.
Successfully managed safety protocols and emergency procedures, ensuring readiness for any in-flight situation.

Received consistent positive feedback from passengers, contributing to a remarkable 95% customer satisfaction rate.

Attended recurrent training sessions and earned a 98% certification exam success rate. 
Private Flight Attendant | Prestige Air Travels, London | 2018 - Present\ Leverage extensive training and expertise to provide exceptional customer service. Dedicated efforts to enhance high-profile clients' comfort and safety during private jet flights. Meticulously maintain the cleanliness and organisation of the aircraft's cabin, creating a luxurious and welcoming environment. Collaborate seamlessly with the flight crew and ground staff to ensure impeccable service delivery and passenger satisfaction on every flight.
Maintained a 98% client satisfaction rate by consistently providing personalised and attentive service.

Coordinated with diverse flight crews and ground personnel, resulting in a 20% reduction in service-related delays.

Contributed to a 25% improvement in the operational efficiency of the private jet through meticulous cabin preparation and service coordination.
Cabin crew CV with little to no work experience:
Cabin Crew Trainee | ABC Aviation Academy, London | 2021 - 2022\ Acquired essential skills and knowledge related to cabin crew responsibilities and delivering excellent in-flight service. Completed rigorous training in safety protocols, emergency procedures, and first aid. Demonstrated effective communication and problem-solving skills in simulated cabin scenarios. Worked collaboratively with peers to ensure the smooth operation of in-flight services.
Completed rigorous training in safety protocols, ensuring readiness for in-flight emergencies.

Earned training certifications in cabin crew safety and service standards.
For more information, refer to our article or learn how to list work experience for extra guidance in this section. 
Pro Tip
Pay attention to pre-qualifying questions in your cabin crew application. This initial screening process influences whether you get an interview. Align your responses with job requirements and skills on your CV.
Be memorable with your education section 
There are various ways to qualify for this type of role. Employers typically request two or more GCSEs in grades 9 to 3 (equivalent to A* to D) to start training or be accepted for entry-level roles.
Other industry requirements include completing and obtaining a valid Airside ID. Most airlines request you provide these additional sections at your own expense:
A UK Disclosure Barring Service (DBS) Check or Garda Vetting Check (GVC) when applying for Dublin.

A Cabin Crew Medical Report conducted by an authorised Aeromedical Examiner.

An Overseas Criminal Record Check, if applicable.
Learn more about applying directly for jobs with current UK members and refer to the UK Civil Aviation Authority for more information on airline requirements.
College courses: You can enrol in college courses or complete programs online, such as an NCFE level 2 certificate or Diploma in Air Cabin Crew. Alternatively, you can complete cabin crew modules in broader travel and tourism courses.  These programs provide hands-on aviation safety training, customer service, and crisis management skills. Search relevant courses on the National Careers website. 
Apprenticeships: Consider pursuing an advanced apprenticeship program which lasts 12 months and involves on-the-job training with formal instruction from a college or training provider. Eligibility usually requires 5 GCSEs in grades 9 to 4, including English and Maths. Refer to our guide on how to write an apprenticeship cabin crew CV for extra guidance.
Training programs: Candidates may need to complete specific training programs and attain relevant certifications. These certifications could include the CCA (Cabin Crew Attestation) and the EASA European Union Aviation Safety Agency qualifications, depending on the airline and its routes.
Examples of education
BTEC in Travel and Tourism, CVMaker College, UK, 2021.

Online Aviation Safety and Customer Service Course, AviationSkillsOnline, UK, 2023.

Cabin Crew Training School Certification, CabinCrewPro Academy, UK, 2019.

Flight Attendant Certificate of Demonstrated Proficiency, Federal Aviation Administration, UK, 2020.

Bachelor of Arts (BA) in Hospitality Management, University of Edinburgh, UK, 2019.

First Aid and CPR Certification, British Red Cross, UK, 2021.

Bachelor of Science – BSc (Hons) in Airline, Airport and Aviation Management, London Metropolitan University, UK, 2022.
For more information, refer to our article on how to master the CV education section.
Soar with additional courses and certificates 
In the dynamic aviation field, ongoing learning is crucial to success. Showcase your personal and professional development by adding relevant certificates and courses to your CV. These additional qualifications demonstrate your commitment to achieve your career goals and enhance your credentials.
When writing this section, research the job posting and airline's guidelines to ensure you include the most relevant qualifications on your cabin crew CV. Additionally, staying up-to-date with industry-specific certifications and training opportunities. Consider courses such as:
BTEC Level 2 Certificate/Diploma in Air Cabin Crew: This vocational qualification covers essential skills and knowledge required for cabin crew. Explore this qualification with City and Guilds here.

Safety and Emergency Procedures: Completion of rigorous training in safety protocols, including evacuation procedures.

In-Flight Service Excellence: Training in delivering exceptional in-flight service, including food and beverage service, passenger comfort, and conflict resolution. Explore the online customer service excellence with CPDUK online.

CPR and First Aid: Certification in life-saving techniques to ensure passenger safety during emergencies.
Read how to list courses and certificates on your CV for more guidance.
Elevate your CV with languages 
When writing your CV, highlight languages relevant to the airline's routes to showcase your skills and cultural awareness, especially for international flights. Prioritise languages that align with the airline's routes and destinations. 
Refer to our article to learn more about effectively showcasing your language skills on a CV.
Key takeaways 
Crafting a modern CV for your desired role is about showcasing your skills, qualifications, and passion for customer service. Prioritise tailoring your CV for specific roles, highlighting your unique strengths and relevant work experience. Remember to incorporate language skills and certifications that align with the airline's destinations. 
Next Steps? 
If you're ready to kickstart your career but need help writing a job-specific CV, our CV Writing Service can help you achieve your career goals. If you're unsure which job is best for you, explore our diverse CV examples and comprehensive career blog for practical advice and tips.
FAQ 
What qualifications do I need to be a cabin crew in the UK?
To become a qualified airline member in the UK, typically, you do not need specific qualifications. However, having GCSEs (or equivalent) in English and Maths is usually required. You'll also need to meet specific eligibility criteria, including being at least 18 years old and within a specific height range (usually between 5'2" to 6'3" without shoes). Additionally, passing a Cabin Crew Medical Report, demonstrating swimming ability, and obtaining a Cabin Crew Attestation (CCA) is essential.
Do I need cabin crew training?
You must undergo training, typically provided by the airline that hires you. The training covers various aspects of the role, including safety procedures, emergency protocols, customer service, and more. You'll complete this training after you've been hired and before you start working as a crew member. 
Can you apply for cabin crew with no experience? 
Yes, you can apply for positions and write an impressive CV even with little to no experience. To increase your chances of being shortlisted for an interview, emphasise your soft skills, such as communication, teamwork, and problem-solving. Consider taking additional courses or certifications related to your job targets to strengthen your CV and showcase your proficiency.
How do I become a cabin crew member?
Research airlines with job openings and consider their specific requirements. Craft a professional CV highlighting your qualifications, work experience and industry skills.  Submit your application through the airline's official website, attend interviews if shortlisted, and undergo training and assessments to obtain your Cabin Crew Attestation certificate to begin working.
Land the interview for your dream job with CVMaker
Effortlessly create your professional CV within 10 minutes and download it whenever and wherever you want!
Create your CV
Increase your chances landing your dream job with CVMaker.