Journalist CV
Maya has opted for the simple Wheaton template to display her creative prowess and ability to lead teams. She is actively seeking job opportunities to leverage her 10+ years of experience in delivering impactful news stories. She adeptly blends storytelling, editing, team management, and interviewing, and her career is marked by excellence in investigative journalism.
Start now
"Dedicated and seasoned Senior Journalist with over 10 years of experience in delivering compelling news stories to a diverse audience. Adept at on-the-spot reporting, conducting in-depth interviews, and producing engaging multimedia content. Natural leader with an excellent track record of leading teams and inspiring others while adhering to journalistic ethics."
Maya Anderson
- Journalist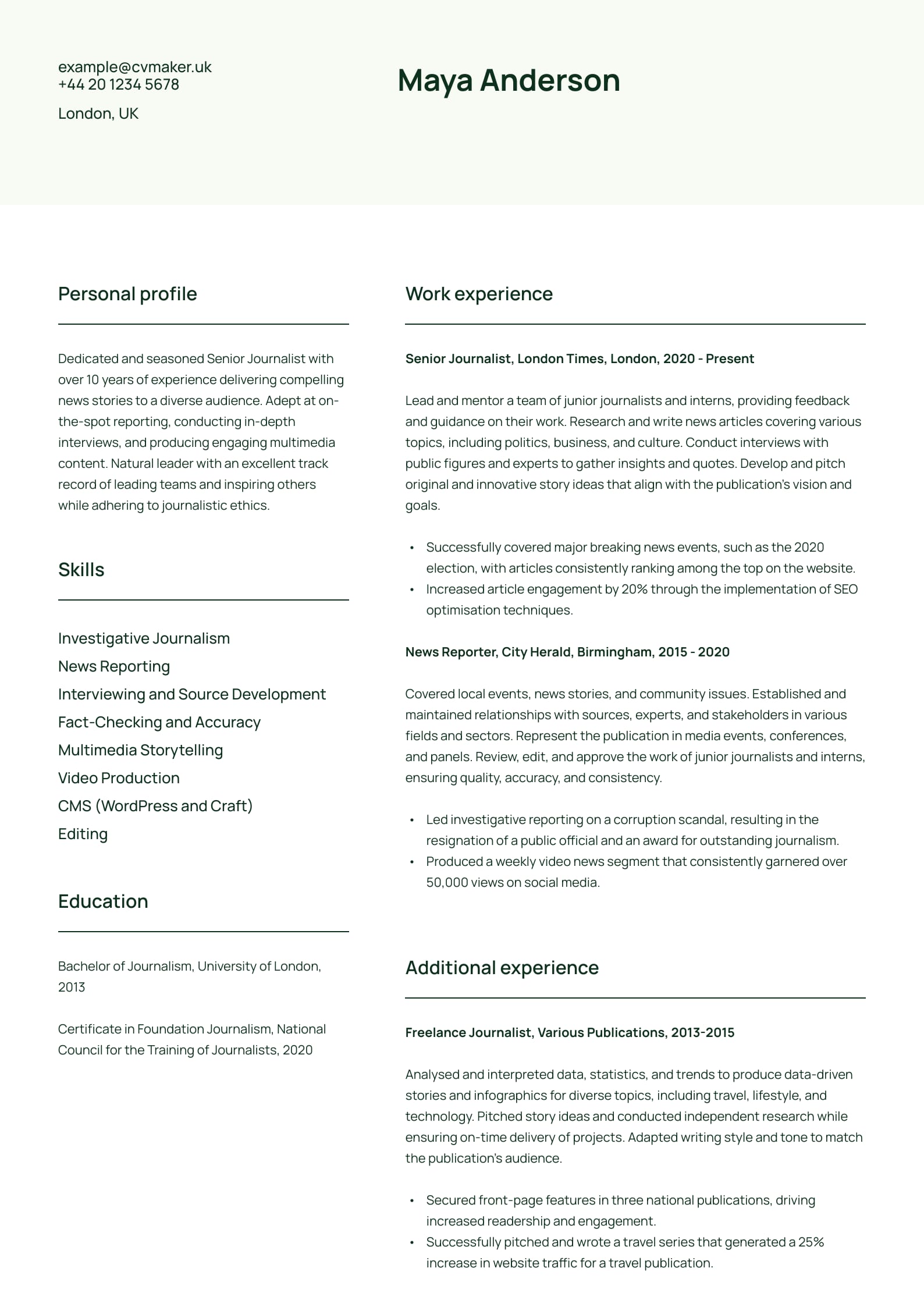 How to Write a Top-notch Journalist CV in 2023 (Free Guide with Examples)
In today's digital world, your journalist CV is your ticket to success in the media field and is the first document employers see upon receiving your application. It plays a pivotal role in showcasing your communication and writing skills, whether you are a student, an experienced professional, or seeking a career change. Journalists are the storytellers, researchers, interviewers, and fact-checkers who work under tight deadlines in fast-paced environments.
This article discusses how to create a simple CV that stands out and impresses recruiters. The key step to achieving this is making it applicant tracking system (ATS)-friendly. Doing so ensures you stay attuned to the latest industry trends and meet the job's requirements. Read our step-by-step guide and open doors to the UK job market in 2023 and beyond.
Journalist CV example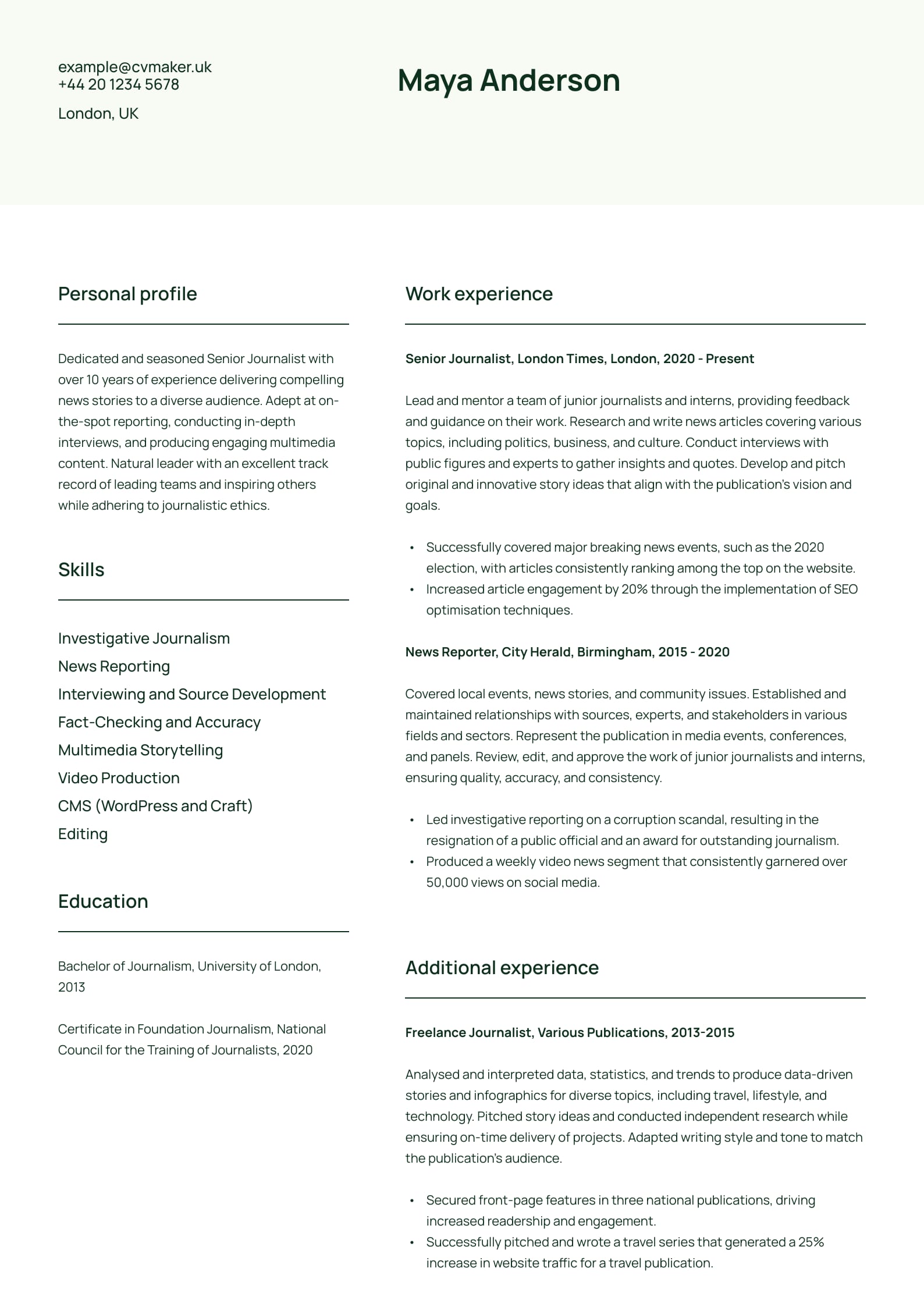 Download this journalist CV sample in PDF
Maya Anderson is an experienced London journalist with a proven track record of delivering impactful news stories to a wide audience. She excels in the art of on-the-spot reporting, conducting interviews, and producing multi-channel content. As evidenced in the work experience section, she has a natural aptitude for leadership. She boasts an impressive history of guiding journalistic teams while upholding the highest standards of ethical journalism.
What to include in a CV for a journalist?
Your CV is your first opportunity to make a positive impression on potential employers, so it's crucial to ensure it's comprehensive, well-written, and accurate. While a journalist's CV is no different from other professions, some industry-specific information only pertains to journalists. If your CV already has core sections, you can add a link to your portfolio, awards, or memberships. Knowing what to include can help you write a good CV.
Types of journalists:
News Reporter

Investigative Journalist

Feature Writer

Political Journalist

Science and Health Reporter

Business and Financial Journalist

Entertainment Journalist

Sports Reporter

Foreign Correspondent

Photojournalist.
Refer to the CV writing process article for more information on how to tailor your CV.
Pro Tip
When choosing sections for your CV, consider your specialisation within journalism. Doing so ensures it is relevant to a specific job while targeting the right keywords from a job post.
Showcase your personal profile on a journalist CV
As a journalism graduate, your personal profile should reflect your passion for storytelling, your commitment to factual and ethical reporting, and your versatility in adapting to the evolving media landscape. Highlight your ability to engage diverse audiences and your dedication to delivering accurate and engaging content that resonates with readers, viewers, or listeners.
Broadcast Journalist CV personal profile example
Experienced Broadcast Journalist with 7 years of experience, specialising in radio and television reporting. Proficient in delivering breaking news stories, conducting interviews, and producing engaging broadcasts. Proficient in live reporting, scriptwriting, and video editing. Adept at maintaining composure in high-pressure situations and adhering to ethical journalism standards to deliver accurate and compelling news content.
Freelance Journalist CV personal profile example
Versatile Freelance Journalist with 6 years of experience across various media outlets. Known for consistently producing high-quality articles, reports, and features on a wide range of topics. Effective communicator with a talent for adapting writing style and tone to meet client needs. Proven ability to meet tight deadlines and exceed client expectations while maintaining a commitment to journalistic integrity.
Multimedia Journalist CV personal profile example
Multimedia Journalist with 5 years of experience covering diverse news stories across multiple platforms. Strong foundation in reporting, photography, and video production skill set. Proficient in capturing and editing content to create engaging and informative news packages. Adept at working independently and as part of a team to deliver compelling and informative news to a wide audience.
Read the personal profile on a CV article for more inspiration.
Display key skills for a journalist CV
List your skills in areas such as research, writing, editing, and video production. Demonstrate your proficiency in using tools and software commonly utilised in journalism. These may include content management systems, video editing software, and data analysis tools.
Showcase your skills in meeting deadlines, adjusting to various writing styles, and maintaining accuracy and integrity in your work. Effective written and verbal communication skills are also essential in this section.
Visit the skills on a CV article to find out more.
Write an achievements-based work experience for a journalist CV
Emphasise your hands-on experience in journalism roles such as Broadcast Journalist, Magazine Journalist, or Newspaper Journalist. Showcase your ability to research, investigate, and report on a variety of topics relevant to your field. Highlight your achievements in delivering impactful news stories, features, or broadcasts.
Even if you have little to no experience, you can mention any internships or freelance work, allowing you to build your portfolio and demonstrate your writing, editing, and interviewing skills. Additionally, consider taking apprenticeships, part-time jobs, or other relevant hobbies and interests.
Refer to how to write a CV with no experience for more information.
Example of work experience for a journalist CV
Broadcast Journalist, London News Channel, London, UK, 2023-Present
Work closely with producers, camera crews, and editors to plan, script, and produce news segments. Write and present news scripts for live broadcasts and conduct on-the-ground interviews, ensuring clarity and engaged storytelling. Participate in live on-air reporting, including field reporting during significant events, providing real-time updates, and conducting interviews with on-site witnesses and experts.
Increased viewer engagement by 30% using infographics and video clips in news segments.

Assisted in launching the channel's main morning show, which led to a 40% increase in viewers in the first three months.

Implemented a data-driven approach to news reporting, resulting in a 15% increase in website traffic and online audience engagement.
See the work experience in a CV article to learn more.
Highlight education on a journalist CV
Detail your educational background, including your journalism degree, the university you attended, and graduation date. If you pursued specialised courses or certifications in journalism, mention them to demonstrate your dedication to the field. If relevant, include any awards or honours received during your academic journey. Your education section should reinforce your foundation in journalism principles and practices.
Examples of education for a journalist:
Bachelor of Arts in Journalism, University of London, London, UK, 2023
Master of Communication and Media Studies, University of Manchester, UK, 2022
Diploma in Broadcast Journalism, Cardiff University, Wales, UK, 2020
Pro Tip
Including your GPA is optional but can enhance your CV if you have the highest grades, especially if you're a recent graduate or changing careers.
Refer to the education on a CV article for more guidance.
Key takeaways
By utilising our top tips and a sprinkle of creativity, you can outrun the competition. This industry knowledge opens doors for your journalism career and prepares you for upcoming job interviews. Your success relies on creating a journalist CV tailored to specific roles, showcasing your relevant skills and career goals.
By learning to make an ATS-friendly CV and navigate the job market, you can eventually increase your chances of getting shortlisted for the interview. Your CV tells your story, helping you achieve your journalism goals and leaving a lasting impact on your writing.
Next steps?
If you're looking for a job, check out our CV templates and cover letter templates to impress at your next interview. Contact our CV Writing Services experts to get help proofreading and customising your CV for a specific job. For more resources, see the article on how to start a cover letter and how long should a cover letter be. 
FAQ
What is a personal profile for a journalist CV?
A personal profile, also known as a summary or personal statement, is a brief section at the top of your CV. It briefly overviews your journalist's skills, experience, and career goals in four to six lines. Think of it as your elevator pitch to catch your recruiter's attention.
How do I write a CV for a news reporter?
Focus on highlighting your relevant journalism experience, storytelling and research skills, and ability to stick to deadlines. Include details about your work relevant to news reporting, interviews, or other transferrable knowledge. Additionally, highlight your expertise in fact-checking and interviewing. 
See the writer and digital marketing articles for more examples.
What makes a good media CV?
A strong media CV showcases your skills and accomplishments effectively. It should include a clear summary, detailed work experience, relevant skills, and industry-specific qualifications or awards. Use action verbs and quantify your achievements where possible. Additionally, tailor your CV to the specific media job you're applying for to demonstrate your suitability.
See the modern CV article for more industry tips.
Can your journalist CV be 2 pages?
It's best to keep your CV short, ideally having one page or two pages. But it can be longer if you have a lot of relevant experience. Ensure that every detail on the CV directly relates to the job you're applying for. Avoid unnecessary information and focus on making each section impactful and concise.
See how long should a CV be for more details
What jobs can journalists do in the UK?
Beyond traditional journalism, the skillset of a journalist can also lead to careers in public relations, corporate communications, and content creation.
Journalists can pursue various roles, including but not limited to:
Digital Copywriter

Public Relations Officer

Market Researcher

Multimedia Specialist

Advertising Copywriter
Refer to Prospects or National Carees Service for more information. 
Can a journalist in the UK write a handwritten CV?
While you can technically write a CV by hand, it's not common practice in the UK. To make a professional document, start with a simple Word file and then add the pertinent details to a CV. This ensures your application is complete and meets the standard job's requirements.
Can journalists in the UK be compelled to reveal their sources?
The legal principle of "journalistic privilege" exists but is not absolute in the UK. Nevertheless, they have legal protections to safeguard their sources. In certain cases, journalists may face legal challenges to disclose sources, such as criminal investigations or national security concerns. Therefore, you need to be aware of legal rights and seek advice if you encounter potential source disclosure issues.
Land the interview for your dream job with CVMaker
Effortlessly create your professional CV within 10 minutes and download it whenever and wherever you want!
Create your CV
Increase your chances landing your dream job with CVMaker.