Videographer CV
This CV example features Borahan Mugheri, a seasoned videographer skilled in end-to-end video production. She uses the cutting-edge Erasmus template to display her vast experience and relevant tech skills such as Adobe Premiere Pro, Final Cut Pro. The two-column design makes her CV clear, appealing, and client-focused, showcasing quality work and creative flair.
Begin now
"Creative videographer with 5+ years of experience in all aspects of video production, from concept development and scriptwriting to shooting, editing, and post-production. Strong interpersonal skills for understanding client needs, providing updates, and managing project expectations."
Borahan Mugheri
- Videograher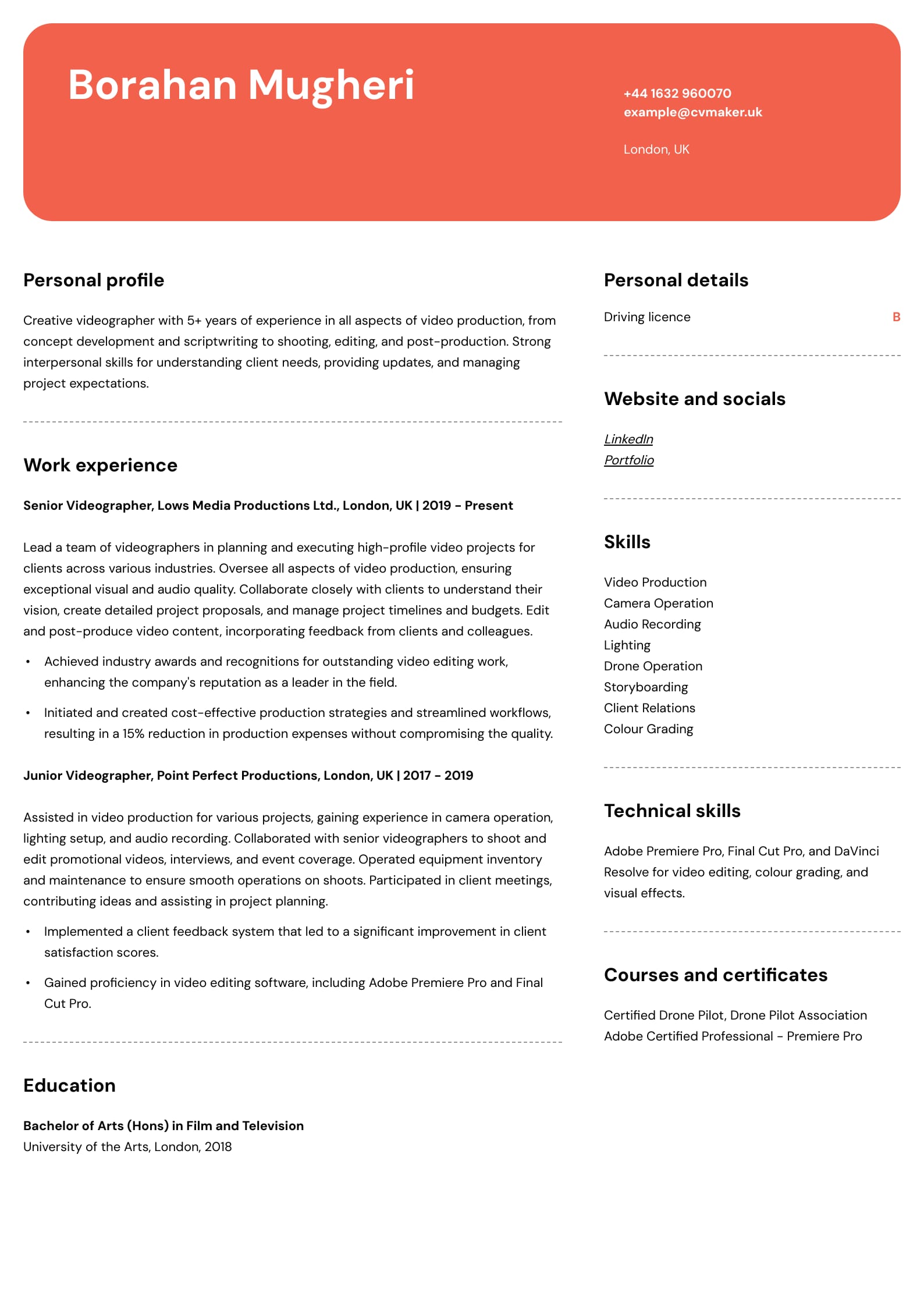 How to Create a Stunning Videographer CV in 2023 (Free Guide with Examples)
As a videographer, your talent goes beyond capturing moments – it's about weaving raw footage into captivating visual tales. Yet, in the competitive field, artistic prowess needs more than just a spotlight - it deserves an epic stage. That stage is your CV, the gateway to unlocking job opportunities in the UK job market. Imagine it as the key to landing that all-important job interview, where your creativity meets your dream career head-on.
Whether you're a graduate ready to ascend to new heights or a creative director, this guide is your companion to composing an applicant tracking systems (ATS)-friendly videographer CV tailored for specific jobs. See our extensive examples and tips to increase your chances of success when applying for the next job.
Ready to turn your passion into a powerful story? Let's start now!
Videographer CV example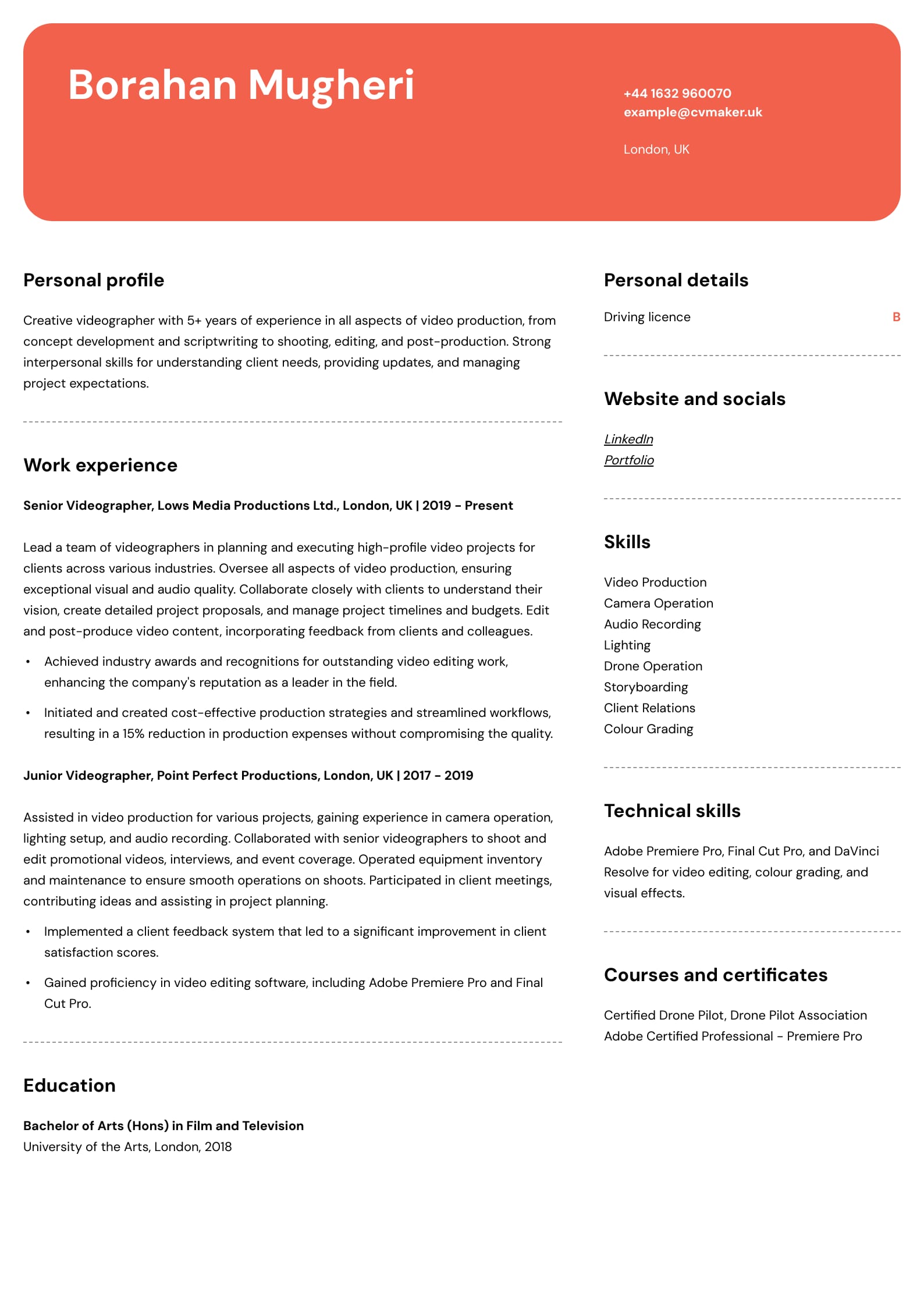 Download this videographer CV sample in PDF
This CV example features Borahan Mugheri, a seasoned videographer skilled in end-to-end video production. She uses the cutting-edge Erasmus template to display her vast experience and relevant tech skills (Adobe Premiere Pro, Final Cut Pro). The two-column design makes her CV clear, appealing, and client-focused, showcasing quality work and creative flair.
What to include in a videographer CV? 
Start by creating a concise personal profile showcasing your passion for visual storytelling. Highlight technical skills in editing software and camera operations, emphasising creativity and attention to detail. Include projects, awards, and notable clients in your work experience section.
Include relevant education and certifications to demonstrate your commitment to learn and improve yourself. Lastly, ensure that your CV reflects your unique strengths in the competitive field while tailored to a specific job.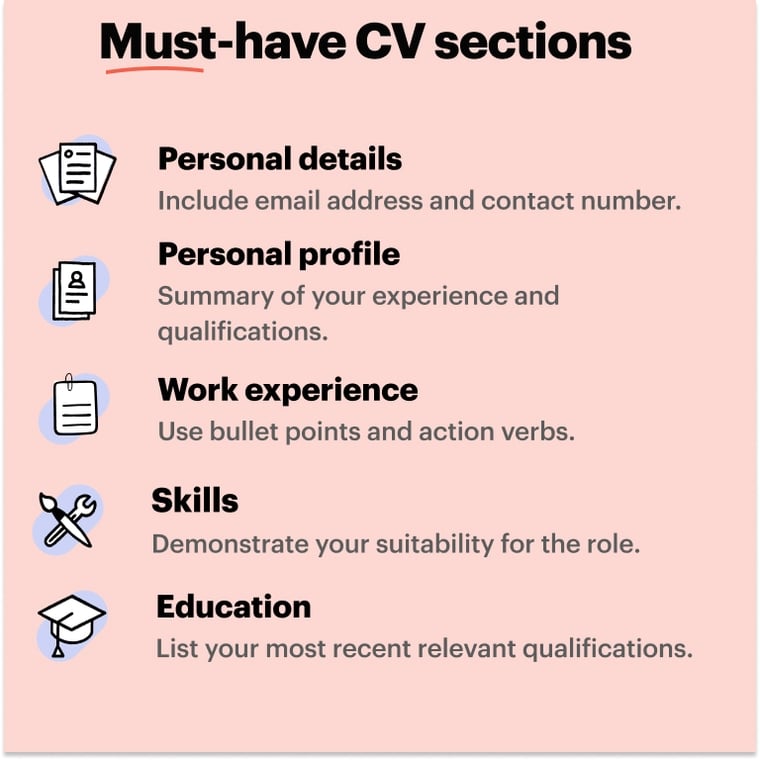 Explore career roles in the UK through resources such as Reed and National Careers Service for more insight into specific roles and bands.
Craft an eye-catching personal profile
A concise yet impactful personal profile, also known as a personal statement, highlights your passion for videography, unique style, and commitment to delivering exceptional results. Summarise your career goals, relevant work experience, and key soft skills in four to six lines to maximise your chances of success.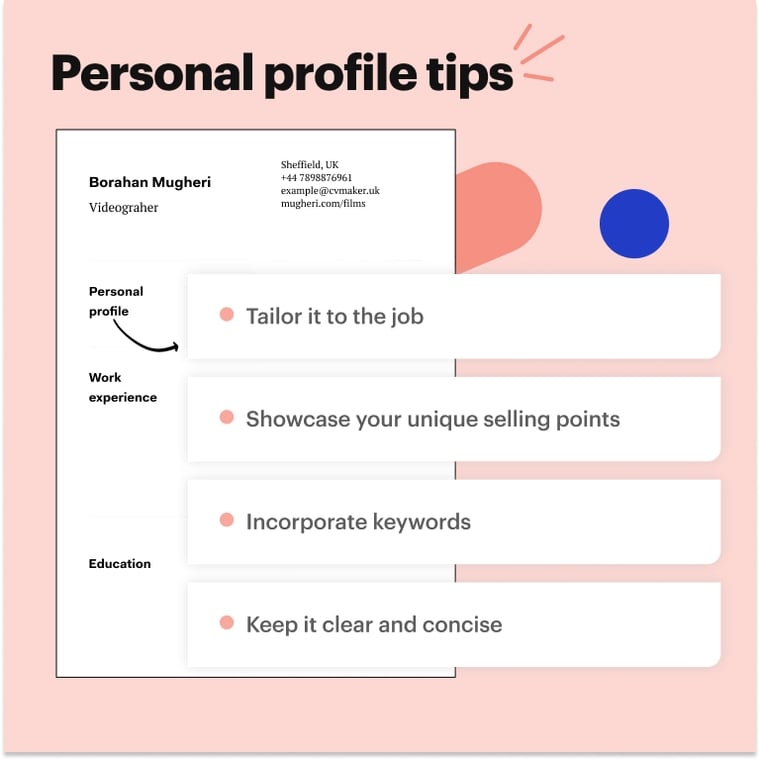 Examples of personal profiles for a videographer CV:
Senior Videographer CV personal profile example
Versatile Senior Videographer with over 5 years of experience in capturing moments that tell compelling stories. Proficient in various shooting styles, from cinematic to documentary. Skilled in editing and post-production, transforming raw footage into visually stunning narratives.
Junior Videographer CV personal profile example
Creative recent graduate with a BA in Film and Media Studies, specialising in videography. Skilled in planning, shooting, and editing short films and promotional videos for university projects. Proficient in Adobe Premiere Pro coupled with excellent organisational and time management skills, honed through coordinating multiple aspects of film projects, from pre-production to post-production.
See how to write a personal profile on a CV for more information.
Include a robust portfolio with your past projects
Your portfolio is a testament to your skills and creativity. Include a diverse selection of your best works, showcasing your versatility and adaptability. From wedding films to corporate videos, demonstrate your ability to tailor your skills to various genres. We suggest adding a link to your portfolio or website in a separate section titled 'Website & Socials'. Alternatively, you could add it in your personal details.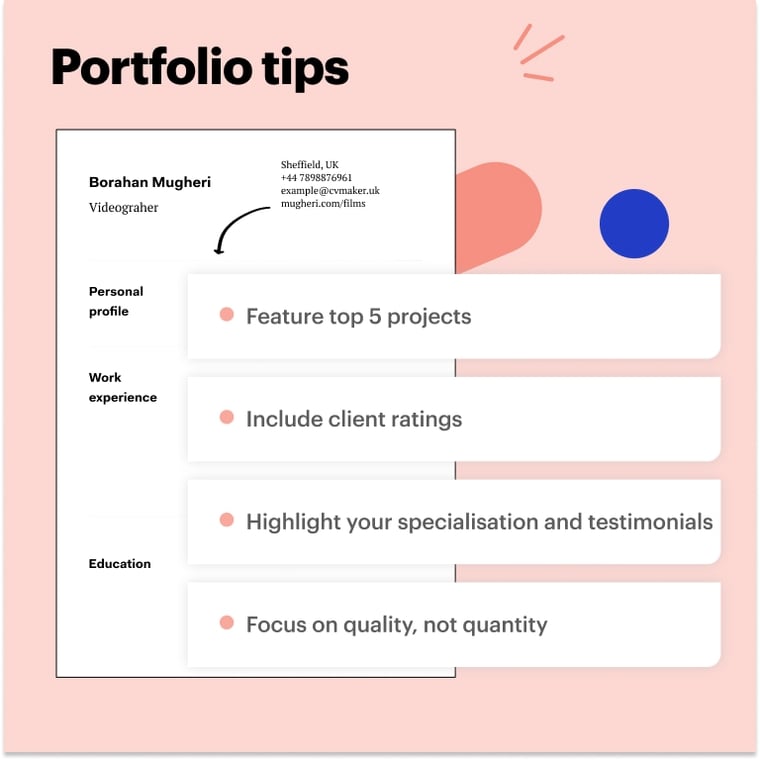 Emphasise your videographer skills
Videography demands a blend of technical expertise and soft skills. Highlight your proficiency in editing software, camera operations, and post-production techniques. Additionally, emphasise your communication skills, adaptability, and ability to work under pressure.
See the top skills employers look for in a CV article for more details.
Examples of skills for a videographer CV:
Soft skills

Hard skills

Communication

Camera Equipment

Adaptability

Video Editing

Time Management

Post-production Techniques

Creativity

Storyboarding

Problem-solving

Lighting
Technical proficiencies

Transferrable skills

Adobe Premiere Pro

Leadership

Final Cut Pro X

Project Management

DaVinci Resolve

Client Relationship

OBS Studio

Attentive

vMix

Branding Knowledge
See how to put skills on a CV to learn more.
Highlight your relevant work experience
Your work experience section should provide a clear overview of your professional journey. Highlight relevant projects, collaborations, and roles that have honed your videography skills. To gain a competitive edge over other candidates, ensure to differentiate between duties and achievements, with the latter written in bullet points.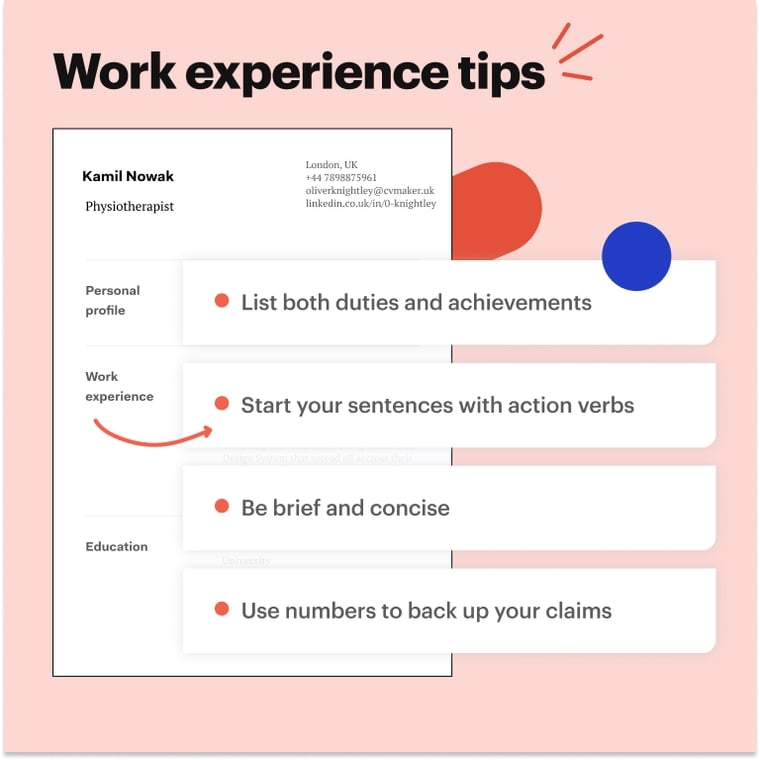 See how to write work experience on a CV for more details.
Examples of work experience for a videograher CV:
Junior Videographer, BrightView Media Productions, 2020-Presnt
Assist in shooting and editing promotional videos for diverse clients, ensuring adherence to quality and creativity standards. Collaborate closely with senior videographers and clients to understand project requirements and contribute innovative ideas. Support post-production processes, including basic editing, sound adjustments, and graphics incorporation.
Increased client satisfaction ratings by 20% through effective storytelling and innovative editing techniques in promotional videos.

Improved team efficiency, contributing to a 15% increase in project completion rates for 30+ projects.

Boosted online presence for DEF Foundation with a video garnering 50,000+ views, increasing engagement by 40%.
Senior Videographer, FilmCraft Studios, 2020-2023
Led videography team, guiding camera operations, lighting setups, and post-production processes to maintain high-quality output. Managed video equipment inventory, reducing repair costs by 40% through regular maintenance schedules and proper handling. Collaborated with the marketing department, creating promotional videos for film releases and high-profile clients.
Streamlined workflow, reducing production time by 25%, resulting in a 15% increase in annual project completion.

Won Best Short Film award at a regional film festival, enhancing the studio's reputation and attracting high-profile clients.

Achieved a 95% client satisfaction rate, measured through post-project surveys, ensuring exceptional service and quality work.
Freelance Videographer and Editor, Upwork, 2015-2019
Collaborated with diverse clients, capturing stories and creating impactful web, social media, and broadcast promotional videos. Utilised advanced editing software to enhance video and audio quality, ensuring seamless transitions and optimal sound levels. Maintained client relationships, providing timely updates and delivering final videos suitable for various platforms.
Expanded client base by 50% within the first year, driven by positive referrals and online reviews.

Generated 1 million+ views on a social media ad campaign, resulting in a 70% increase in product sales.

Achieved a 95% client satisfaction rate on Upwork, showcasing exceptional service and high-quality work.
See our designer and artist CV example for more inspiration.
Incorporate recent education and qualifications 
Your educational background and any relevant certifications or training add credibility to your CV. Whether you pursued formal education in film or gained expertise through specialised courses, showcase your commitment to continuous learning.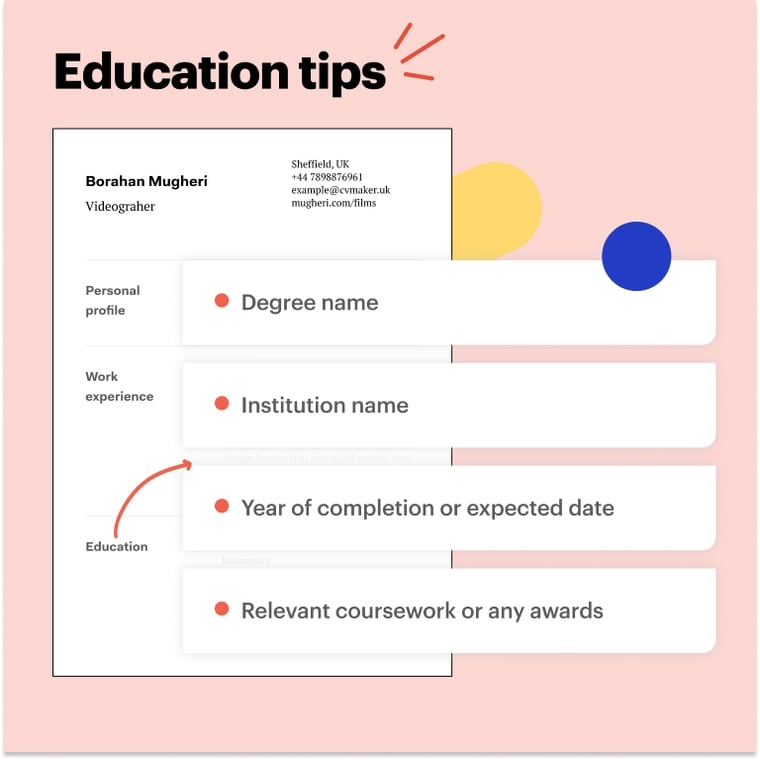 Examples of education for a videographer:
Level 3 Diploma and Extended Diploma in Creative Media Production and Technology, UAL

Level 3  Film and Television Production, Barnsley College

Level 3 Media, Broadcast and Production, T Level 

Bachelor of Arts in Digital Film Production, University of the Arts London

Video Production Apprenticeship, National Film and Television School.
The popular pathway to enter this field is completing a bachelor's degree or integrated master's in film or related subjects, such as media studies. Additionally, consider internships or apprenticeship programs to help increase your chances of landing your dream job.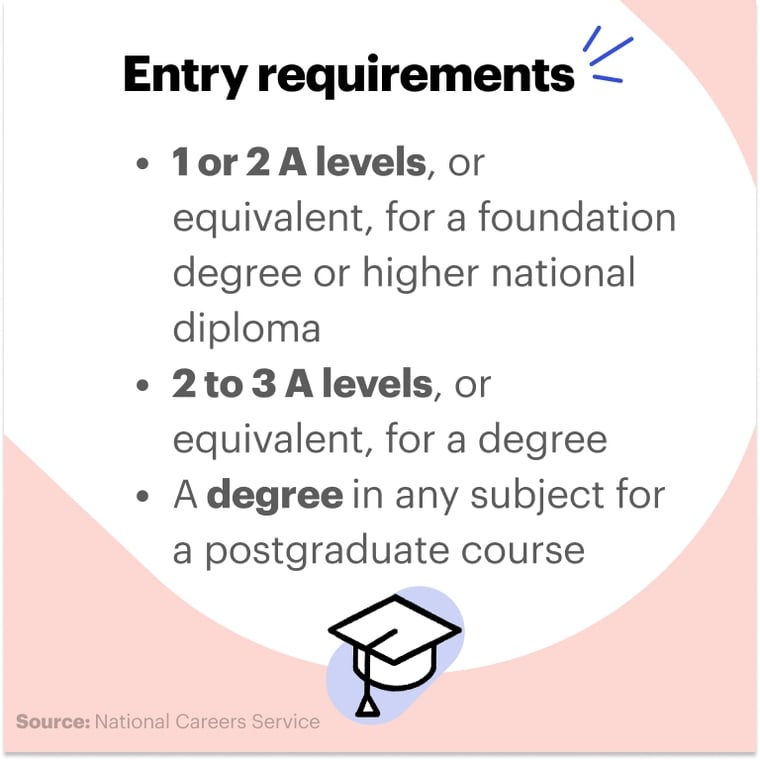 Refer to how to arrange education on a CV for more information.
Key takeaways
Dedicating time to craft a master and job-specific CV can significantly improve your job prospects. Whether you're a video editor, film producer, or digital marketing specialist, effectively showcasing your skills and achievements is key to unlocking exciting video industry opportunities.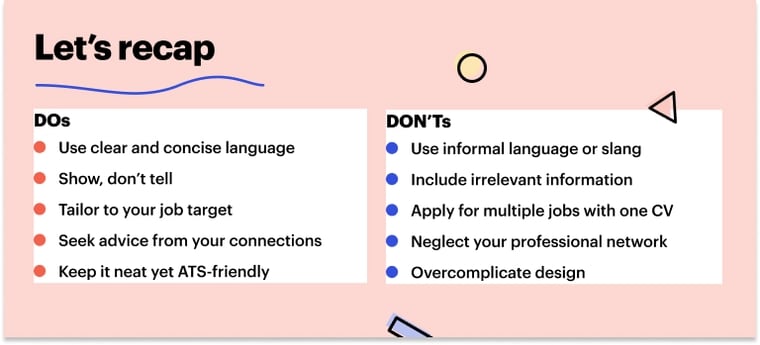 Next steps?
To help you create an up-to-latest-standards CV, don't forget to explore our services below:
FAQ
What is a videographer CV?
This career document aims to showcase your skills, relevant work experience, and qualifications. Think of it as a tool for recruiters or hiring managers to demonstrate your expertise in capturing and editing video content. As a videographer, you're not merely a camera operator; you're a visual storyteller, aiming to capture the essence of moments and transform them into captivating narratives.
Videographers use the footage for:
Wedding Videos

Documentaries

Training Videos

Commercials

TV Shows.
How to become a videographer?
Consider pursuing formal education in film, cinematography, or a related field. Gain relevant education or training, acquire technical skills in editing software and camera operations, build a diverse portfolio, and consider internships or entry-level positions to gain practical experience.
For more entry requirements, please consult the National Career Service for jobs such as video editor or TV/film producer.
How to write a videographer CV with no experience?
Use a skills-based CV instead of a chronological format. Begin with a strong personal profile, emphasising your passion and creativity. Highlight the expertise in software like Adobe Premiere Pro and demonstrate any related coursework or projects. Emphasise transferable skills such as communication and attention to detail gained from other experiences.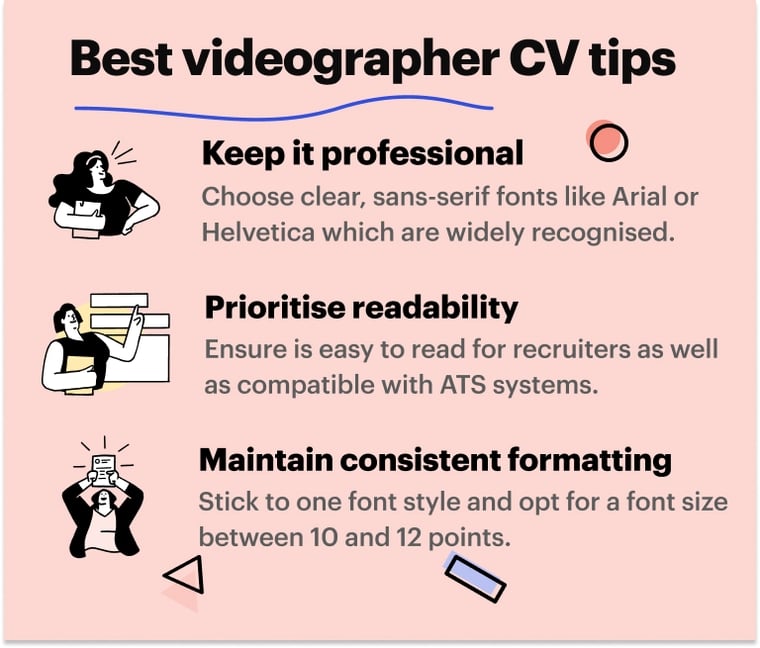 See how to write a CV with no experience article for more information.
How do I write a freelance videographer CV?
Highlight key skills and projects. Start with a concise profile showcasing your expertise. Emphasise video editing skills such as Adobe Premiere Pro or DaVinci Resolve and detail projects you've worked on to show your ability to adapt. Unlike a regular CV, this type of CV focuses more on achievements, testimonials, and client ratings to demonstrate your credibility in the competitive market.
What does a videographer do on a CV?
A good CV should highlight your skills in capturing, editing, and producing videos using sections such as personal profile, portfolio, skills, work experience, and education.
Capture Footage: Record high-quality video footage using various cameras and equipment.

Post-Production: Edit video content, add special effects, and enhance audio for a final product.

Storyboarding: Plan and visualise scenes, ensuring a cohesive and engaging narrative flow.

Client Interaction: Collaborate closely with clients to understand their vision, provide updates, and incorporate feedback.

Maintain equipment: Ensure cameras, lenses, microphones, and other equipment are well-maintained and ready for use on shoots.
How do you spell videographer?
It is spelt as "videographer" in the UK without spaces or extra letters.
Land the interview for your dream job with CVMaker
Effortlessly create your professional CV within 10 minutes and download it whenever and wherever you want!
Create your CV
Increase your chances landing your dream job with CVMaker.