Translator CV
Harry Evans, a translator proficient in French-English and Spanish-English, presents his skills using the Wheaton CV template. His clear education, diverse experience, and software proficiency make his CV effective and easy to understand.
Start now
"Enthusiastic and detail-orientated multilingual translator with a demonstrated track record in translating diverse types of media, seeking an internship. Quick learner with demonstrated communication skills in different multicultural and professional settings."
Harry Evans
- Translator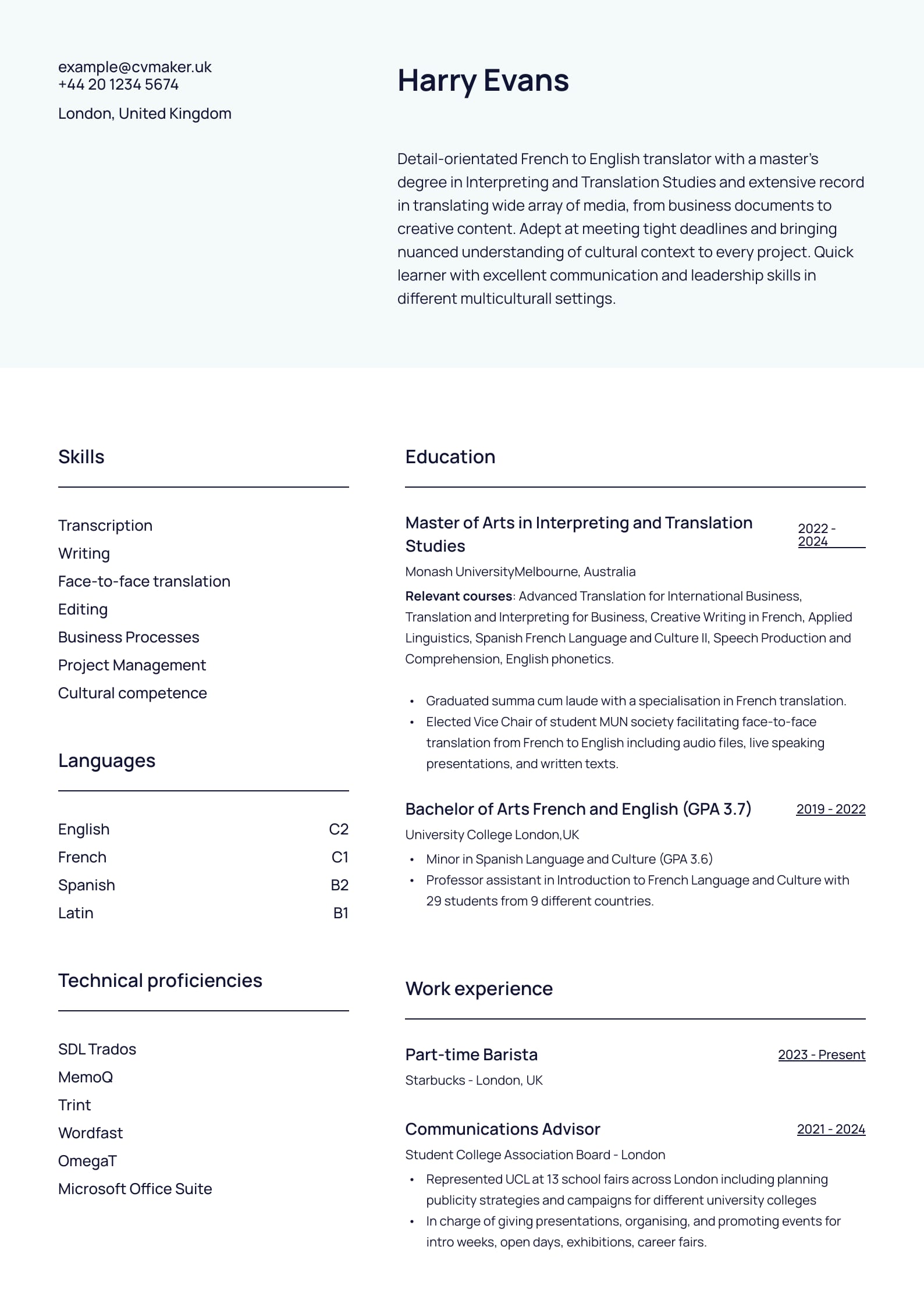 How to Craft a Captivating Translator CV in 2023 (Step-by-Step Guide with Examples)
If you're passsionate about learning new languages and fosterung meaningful connections with others, a career in translation may be a perfect fit for you. In today's market, the demand for proficient translators is still high due to technological advances such as ChatGPT or Microsoft Translator. However, there is still a need for human talent to make this transition smooth. The key to this translation dilemma is an ATS-friendly CV, allowing you to easily improve your application and increase your chances of success.
Types of translators in the UK:
Literary Translator

Legal Translator

Medical Translator

Technical Translator

Business Translator

Website and Software Translator

Freelance Translator or Interpreter

Educational Translator.
Whether you're an intern, undergraduate, or seasoned professional, we equip you with the practical tips and examples to help you succeed in your job search. Choose a CV template and learn how to navigate the fierce UK job market and create a captivating CV that not only showcases your language proficincies but also grabs recruiter's attention.
See how to present your language skills on a CV for more details. 
Translator CV example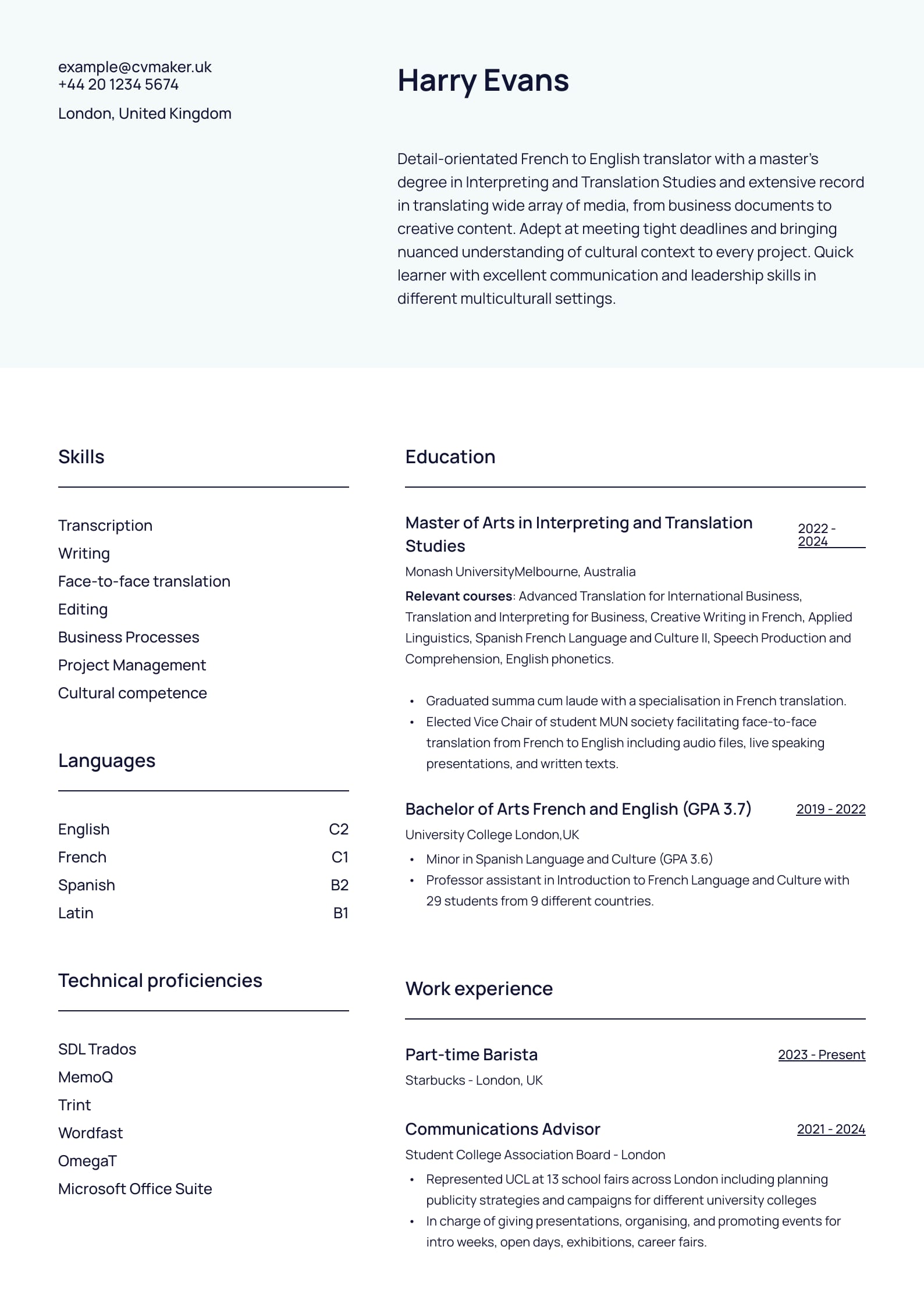 Download this Translator CV example in PDF
This modern CV sample features Harry Evans, an aspiring translator, seeking for his first role. He strategically combines the education and skills sections to effectively present his strenghts and expertise. He's a strong communicator with innate leadership qualities who strives for the best results.
What to include in a CV for a translator?
An effective application in the UK includes including key sections, such as personal details, personal profile, education, work experience, and skills. To boost your CV further, include a robust portfolio with notable achievements. Ensure your translator or intepreter CV is  tailored to each job, emphasising your key language expertise.
Additionally, take a look into National Career Services jobs for UK-specific requirements.
Showcase your talents in a personal profile 
Crafting your translator CV personal profile is crucial. Condense your career goals to align with the company's goals, emphasising relevant language proficiencies, ability to communicate, and soft skills such as creativity and adaptability. Concisely state goals, such as seeking to apply leadership skills to manage others or enhancing brand engagement. Remember, to keep it concise and avoid personal pronouns to add a professional touch to your CV.
Legal Translator CV personal profile example
Accomplished Legal Translator with 7 years of experience specialising in translating complex legal documents. Proficient in translating contracts, court transcripts, and legislative texts while maintaining confidentiality and precision. Skilled in research and terminology management, ensuring the appropriate legal terminology. Adept at collaborating with legal professionals and clients to ensure seamless communication across languages and legal systems.
Medical Translator CV personal profile example
Dedicated Medical Translator with 5 years of expertise in translating medical documents and research papers. Proficient in translating patient records, medical reports, and clinical trial documentation. Skilled in using medical glossaries and reference materials to ensure precise translation of medical terminology. Adept at collaborating with healthcare professionals and researchers to facilitate international medical communication and research collaboration.
Technical Translator CV personal profile example
Versatile Technical Translator with 6 years of experience translating technical documents in the engineering and IT sectors. Proficient in working with user manuals, technical specifications, and software documentation while maintaining technical accuracy and clarity. Skilled in using CAT tools and terminology databases to ensure consistency in technical terminology across translations. Adept at collaborating with engineers and developers to understand complex technical concepts and provide linguistically precise translations for a global audience.
Refer to how to write a personal profile article for more details.
Quantify your work experience
Structure your work experience section effectively by listing roles in reverse chronological order, including official titles, company names, and employment years. Ensure to highlight measurable achievements on a CV as well as daily duties from your relevant positions.
Work experience achievements:
Freelance Translator, Upwork, 2022-Present
Translated legal contracts, technical manuals, marketing materials, and medical documents with industry-specific requirements Used translation tools such as SDL Trados and Memsource to ensure consistentcy and tone of voice across different projects. Collaborated with international clients, adapting communication styles for effective project management and client satisfaction.
Translated and delivered 70+ articles for a multilingual travel blog, increasing website traffic by 50% within six months.

Developed a content translation strategy, leading to a 25% rise in social media engagement on platforms like Instagram and TikTok.

Created translation style guides resulting in a 40% boost in affiliate marketing revenue.
Translation Editor, The Linguistic Gazette, London, UK, 2019-2023
Edited translated articles for coherence and adherence to editorial guidelines. Collaborated with experts to understand complex topics, ensuring accurate representation in translated content. Researched industry-specific terminology and trends for high-quality, relevant articles in fields like technology and business.
Translated and published 200+ articles, maintaining linguistic precision and meeting tight deadlines.

Implemented an efficient translation tracking system, speeding up manuscript processing and ensuring language accuracy.

Initiated a feedback loop with authors, enhancing translation quality and reader engagement.
Technical Translator, TechSolutions Inc., Cardiff, Wales, 2018-2022
Translated software manuals, user guides, and product specifications with clarity and precision. Collaborated with developers to understand software functionalities, ensuring precise translation of technical terms and jargon. Provided professional advice during product localisation, meeting cultural and linguistic expectations of the target audience.
Led workshops on effective translation practices, improving language quality for stakeholders.

Increased user engagement with translated technical content by 30% through precise language usage.

Streamlined translation processes, reducing review cycles by 25% and ensuring a 48-hour turnaround time.
For more information, including duties, please see how to write a work experience article.
Arrange your education section concisely 
Becoming a skilled translator doesn't always require specific qualifications; it's a craft honed through practice and dedication. Strengthen your translator CV by showcasing relevant training and hands-on experience.
Examples of education for a translator CV:
Master of Arts in Translation Studies, University of Edinburgh, 2023-Present

Bachelor of Arts in Linguistics, University of Oxford, 2023

Diploma in Professional Translation, Cardiff University, Wales, UK, 2022
Furthermore, mention any specialised courses or awards to demonstrate your specialised expertise. While optional, including grades or academic accomplishments can also enhance your CV, especially if you've excelled in your studies.
Refer to the academic CV or how to write CV education section artcle for more details. 
Identify key skills effectively 
Translators, like writers and journalists, rely on unique skills that bridge languages and cultures. Showcase your expertise by balancing soft, hard, technical proficiencies, as well as transferable skills:
Soft skills

Hard skills

Cultural Competence

Transcription

Attentive

Proofreading

Communication

Translation services

Time management

Research

Project Management

Customer Service
Technical proficiencies

Transferrable skills

SDL Trados, MemoQ, Wordfast

Project Management

WordPress, Drupal, Joomla

Customer Service

Aegisub, Subtitle Edit, Subtitle Workshop

Problem-solving

VeraCrypt, BitLocker, FileVault

Team Collaboration

MultiTerm, TshwaneLex, Wordbee

Cultural Competence
Key takeaways
Optimise your translator CV by implementing expert tips and a touch of creativity. Tailor your CV for specific roles, emphasising key skills and career goals. Quantify translation achievements and maintain a polished, error-free document. By keeping the best CV font and ATS-friendly design you can significantly increase your chances of securing job interviews, helping you excel in the competitive translation industry.
DOs
Quantify and emphasise measurable achievements.

Personalise your CV for each job application.

Show, don't tell.
DON'Ts
Overwhelm with excessive details.

Include outdated or generic information.

Overlook meticulous proofreading and editing.
Next steps?
To help you creating outstanding career documents, head over to our CV Writing Services. Our ready-to-use CV and cover letter builder provide over 20 professional templates to create an eye-catching CV. To accompany your CV, you could also include other career documents such as letter of interest or cover letter. To learn more, see the article on how to start your cover letter. Take the next step towards your successful career now!
FAQ
How do you write a translator CV with no experience?
Focus on your education and transferrable skills, or consider a skills-based CV. Highlight on-job training, volunteering, internships, and a strong portfolio. Emphasise your ability to research, write, and report effectively through relevant projects.
Refer to how to write a CV with no experience for more information.
What is the average salary for a translator in the UK?
According to Talent, the average salary in the UK is £27,500 per year or £14.10 per hour. Entry-level roles begin at £23,500 yearly, while experienced professionals can earn up to £37,069 per year. On the other hand, the average hourly pay is £14.95 per hour with the average base salary of £28,115, according to Indeed. Ensure to double check your sources before deciding on your expected salary to help you stay ahead of competition.
What do employers look for in a translator CV?
UK employers seek strong qualifications and relevant experience coupled with several language proficiencies, and specialised training in a specific branch of translation. You could also include a portfolio showcasing translation skills, accuracy, and cultural understanding is essential. Lastly, add certifications, career accomplishments, or references to help you stand out from a pool of applicants.
How do you translate a CV into English or German?
To translate a CV into English or German, you need to fluent in one of these languages. If not, we suggest you look for a translator who can help assist with the CV writing process. 
English to French translator

English to German translator

English to Spanish translator

English to Italian translator

Or multilingual translator.
See the French CV example for more inspiration.
How do I write a good translator CV?
The writing process of a CV is more straightforward than you think. Emphasise language proficiency, specialised training, and relevant experience. Showcase on-job training, internships, and a strong portfolio displaying specific translation skills, attention to detail, and cultural competence. Highlight research, writing, and additional technical proficicencies or IT skills through relevant projects.
For more details, refer to our writing guide on how to write a good CV.
Land the interview for your dream job with CVMaker
Effortlessly create your professional CV within 10 minutes and download it whenever and wherever you want!
Create your CV
Increase your chances landing your dream job with CVMaker.