French CV
Oliver is an experienced bilingual (French and English) Customer Support professional who thrives in delivering exceptional service and building strong customer relationships. His CV effectively showcases his relevant experiences and skills, emphasising his outstanding interpersonal and communication abilities.
Create your CV
"Représentant expérimenté du service à la clientèle avec une solide expérience dans le traitement des demandes des clients. Capacité démontrée à résoudre les problèmes rapidement et efficacement. Capable de travailler de manière autonome et en équipe pour atteindre les objectifs fixés. Excellentes compétences en communication verbale et écrite, ainsi que de bonnes compétences en informatique."
Oliver Taylor
- Spécialiste du service à la clientèle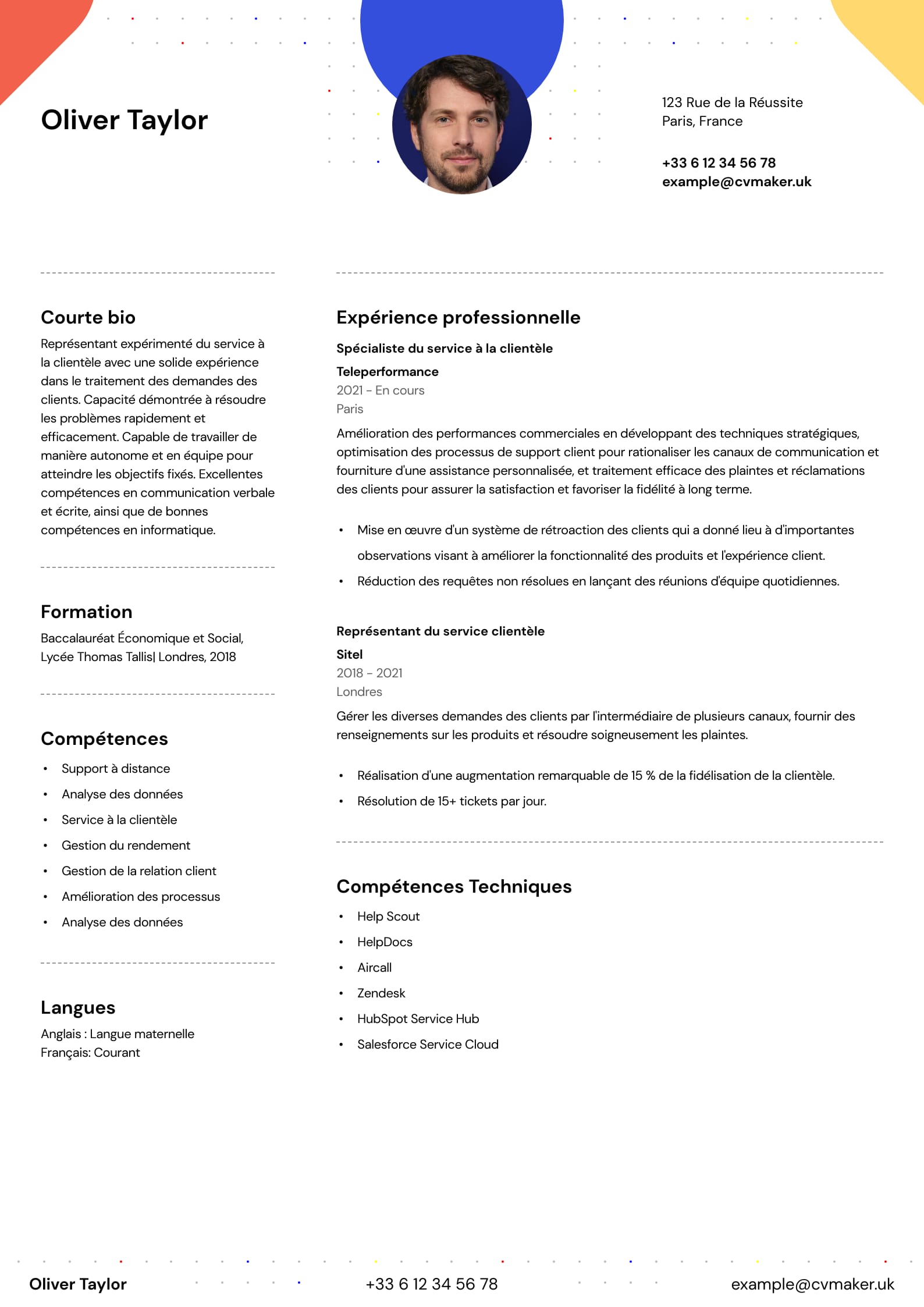 How to Write a French CV in 2023
Suppose you are pursuing job opportunities in French-speaking countries like France or Canada or applying to a company with a strong international focus. In that case, you must provide a Curriculum Vitae (CV) in French.
While translating a CV from one language to another is possible, the safer and more reliable strategy is to start from scratch. Depending on your job market and the country you're applying for, there are different requirements in the content and format of your French CV. This article goes through all the essential steps you need to follow before creating your Applicant Tracking System (ATS) en Français, and in this case, for the French job market.
French CV example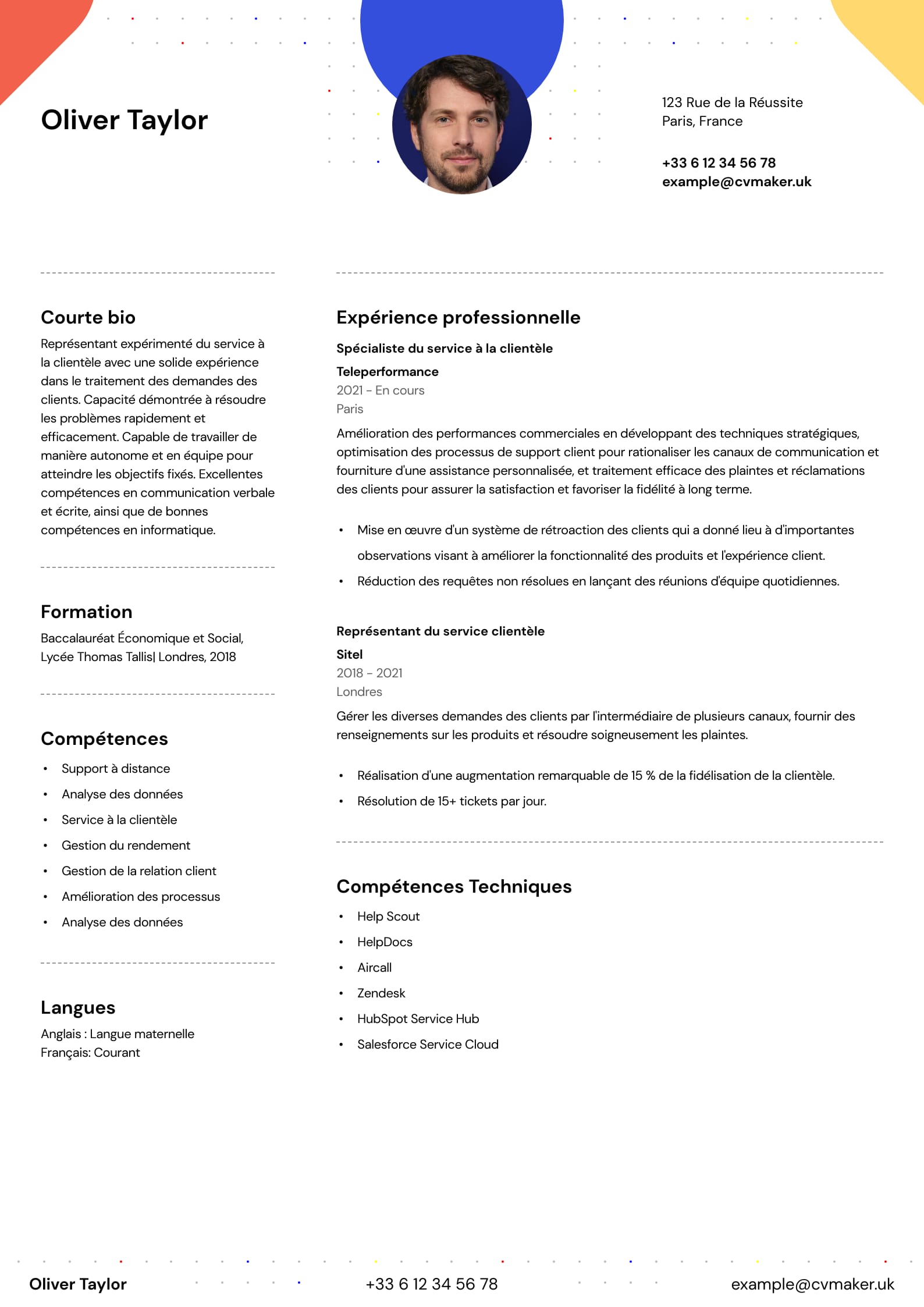 Download this French CV sample in PDF.
Oliver is an experienced bilingual (French and English) Customer Support professional who thrives in delivering exceptional service and building strong customer relationships. His CV effectively showcases his relevant experiences and skills, emphasising his outstanding interpersonal and communication abilities. The Hopkins template presents Oliver's expertise in a clear, concise, and organised manner, highlighting his customer-centric approach and unwavering dedication to ensuring customer satisfaction.
Refer to our english version of a customer service CV example for more inspiration.
The CV writing process: Where to start?
To secure an interview, your CV must be well-structured and tailored to a specific job. By doing so, you increase your chances of selection. It's important to understand the two main stages of the CV writing process: creating a master CV and then customising it for each job application. To learn more about each section of a CV, refer to the article on how to write a good CV
Master CV
A master French CV is a go-to document that logs your career and academic history. It details your skills, achievements, education, and other relevant certifications. Use it as a reference point for creating a job-specific CV and cover letters. Any additional irrelevant information can be further elaborated upon during your job interview. An up-to-date master CV is useful for any career you may want to pursue.
Job-specific CV
A job-specific French CV is a shortened and customised version of your master CV. Unlike a master CV that accounts for all your experiences, a job-specific CV only focuses on one job position. Begin by researching the company culture and looking up specific requirements from a job description. Then, list recurring keywords and information that aligns with your desired position.
What to include in a CV in French?
How to write a personal profile on a French CV 
When writing a personal profile, or une phrase d'accroche in French, it needs to be placed at the top, below your personal information. While not common in France, including a profile summary can give your CV an edge. Keep it concise, no more than six sentences, focusing on specific soft skills and career goals. Make it unique to stand out from other candidates.
Examples of personal profiles for a CV in French
Exemple de profil personnel de CV de directeur commercial
Chef des ventes avec plus de 15 ans d'expérience dans l'atteinte des objectifs de vente et leader dans le développement et la mise en œuvre de nouveaux processus de vente. Leader influent, habile à déléguer, former et coacher des équipes interfonctionnelles axées sur la performance. Expérience démontrée dans la création de partenariats commerciaux précieux avec un succès avéré dans la mise en œuvre de stratégies efficaces de fidélisation de la clientèle.
Exemple de profil d'un gérant de magasin de vente au détail
Professionnel de la vente au détail ambitieux et consciencieux, avec un succès et une expérience éprouvés dans l'amélioration du chiffre d'affaires et de la productivité des magasins. Bonne connaissance de la formation du personnel, de l'encadrement et du développement d'équipes axées sur la performance. Excellentes compétences en communication et en relations interpersonnelles, avec une capacité éprouvée à conduire l'amélioration continue des processus.
Exemple de profil personnel de CV d'enseignant
Éducateur dévoué et ingénieux avec une expérience professionnelle dans l'application de théories d'apprentissage hybrides et d'une pédagogie basée sur la recherche pour stimuler la réussite des élèves dans des environnements d'apprentissage en ligne et en classe. Compétences dans l'enseignement aux étudiants issus de divers horizons, avec un succès avéré dans l'élaboration de plans de cours créatifs, engageants et solides pour atteindre la satisfaction des étudiants.
Exemple de profil personnel de CV de représentant du service à la clientèle
Professionnel du service clientèle motivé et axé sur les détails, avec 10 années d'expérience, dirigeant des petites et grandes équipes dans des environnements dynamiques. Parcours de succès dans le coaching, la motivation et l'orientation des membres de l'équipe pour atteindre les objectifs professionnels et personnels. Capable d'optimiser les processus internes en transformant les connaissances en actions stratégiques, grâce à de solides compétences en résolution de problèmes, communication et relations interpersonnelles.
Exemple de profil personnel de CV de Graphiste
Professionnel de la conception graphique établi avec plus de 15 ans d'expérience dans des postes de direction au sein d'environnements commerciaux dynamiques. Leader dynamique avec un parcours éprouvé en matière de motivation et de gestion d'équipes pour respecter les délais tout en garantissant la qualité, la cohérence et l'alignement de la marque. Connaissances expertes dans l'association de la créativité et de la technologie pour concevoir et développer des solutions imprimées et web pour des clients allant des start-ups aux entreprises du Fortune 500.
Exemple de profil personnel de CV de Chef de projet
Professionnel axé sur les objectifs et innovant avec plus de cinq ans d'expérience en gestion de projets. Autonome, polyvalent et créatif, avec une solide expérience dans la recherche de l'excellence du service pour atteindre le succès organisationnel, tout en donnant la priorité à plusieurs projets dans des industries en évolution rapide. Leader collaboratif qui tire parti des stratégies de marketing émergentes et des méthodologies avant-gardistes pour réaliser des projets ciblés sur les consommateurs, opportuns et respectant le budget.
Exemple de profil personnel de CV Étudiant
Étudiant en troisième année de psychologie des affaires, spécialisé en ressources humaines (RH), prêt à exploiter de solides compétences en administration pour développer une carrière dans les RH. Excellentes compétences en gestion du temps, en communication et en relations humaines, avec une capacité éprouvée à établir et renforcer les liens entre différents départements. Connaissance du droit du travail et des pratiques RH essentielles, avec une solide compréhension du recrutement, de la conformité et des opérations commerciales.
What skills should you put on a CV for French jobs?
When applying for jobs in the UK, France, or other French-speaking countries, emphasising skills directly relevant to the specific position you seek is essential. Here are some key skills in French that are frequently sought after by employers. Alternatively, refer to our article on what skills to put on a CV.
Exemples de soft skills pour un CV Français:
Communication - communication

Gestion du temps - time management

Adaptabilité - adaptability

Résolution de problème - problem solving

Compétences organisationnelles - organisational skills

Attention au détail - attention to detail

Initiative - initiative

Direction - leadership.
Exemples de compétences techniques pour un CV Français:
Formation et développement - training and development

Analyse des données - data analysis

Gestion de projet - project management

Planification stratégique - strategic planning

Étude de marché - market research

Analyse financière - financial analysis

Conception graphique - graphic design.
Pro Tip
Remember to tailor your skills section to match the requirements of the specific job you're applying for. Consider the job description and highlight the skills that align with the position to make your CV stand out to potential employers.
How to write work experience on a CV in French
Whether you are a seasoned professional or just kickstarting your career, presenting your work experience effectively on a French CV is crucial. Instead of simply listing your responsibilities, focus on highlighting your achievements. When including your job history, ensure that it is relevant and impactful. If you have had short-term or unrelated roles, consider omitting them from your CV. If you have little to no work experience, consider using a skills-based layout and highlight your transferable skills. Refer to our graduate, school-leaver, or internship CV example for inspiration.
Examples of work experience on a French CV
Exemple d'expérience professionnelle en service à la clientèle
Chef d'équipe du service à la clientèle | Greenfield Insurance Services, Southampton | 2016 - Present
Diriger, motiver et gérer une équipe de 15 représentants du service à la clientèle afin de fournir une assistance efficace en matière d'assurance à court terme aux clients. Surveiller quotidiennement les performances de l'équipe et produire des rapports quotidiens, hebdomadaires et mensuels pour la haute direction. Assurer la liaison avec les parties prenantes internes pour résoudre efficacement les problèmes et assister à des séances de stratégie afin de suivre les progrès et la vision de l'entreprise.
Dispensé une formation d'équipe qui a remonté le moral de l'équipe et amélioré les scores de satisfaction client de 70 %.

Réduction des requêtes non résolues en organisant des réunions d'équipe quotidiennes.

A reçu le prix annuel d'excellence du service client de Greenfield en 2019 et 2020.
Exemple d'expérience de travail de développeur de logiciels
Android Developer, MSC Group, UK | 2015 - 2022
Assistance aux développeurs de logiciels seniors à différentes étapes du cycle de vie du développement logiciel, de la collecte des exigences et des spécifications à la création d'une application Android. Tests effectués pour garantir un déploiement précis et ponctuel en utilisant les API Java, Android Studio, MySQL et Restful. Collaboration avec des équipes interfonctionnelles pour produire des rapports et fournir de l'aide en matière de codage, de conception et de mise en page des applications selon les spécifications de l'entreprise ou du client.
API personnalisée co-développée à l'aide de plug-ins YouTube et de créateurs de vidéos.

Création de liens GitHub et connexion des membres/clients du groupe tout en gérant toutes les communications.
Exemple d'expérience de travail de responsable marketing
Responsable Marketing, Cyanca, UK | 2018 - Present
Superviser une équipe marketing de six personnes, diriger la planification stratégique et gérer un budget marketing à six chiffres. Concevoir des campagnes marketing du concept à la réalisation, y compris l'analyse des tendances, les rapports et l'amélioration continue des processus. Diriger les engagements des parties prenantes avec des partenaires marketing primés dans le cadre d'événements de contenu, de relations publiques et de marketing numérique.
Exécution de plans marketing stratégiques pour attirer des clients potentiels.

Résegmentation du marché existant grâce à une planification stratégique et garantie de la livraison des projets dans les délais et dans les limites du budget.
How to list education on a French CV
In France, recruiters place significant emphasis on education when reviewing CVs. While professional experience is usually a must-have, education continues to hold a fundamental role. When listing your educational background, include the following details:
Mention the name of the educational institution you attended.

Provide the exact title of the degrees or certifications you have obtained.

If applicable, include any rankings or honours of awards you gained and provide the equivalent French equivalent if necessary.
Exemple de formation sur un CV Français
Master en Pharmacie, University College London, UK, En cours
Baccalauréat en Pharmacie, University of Manchester, UK, 2022
Key takeaways
A well-crafted Curriculum Vitae (CV) in French is essential to showcase your professional experience and achievements. The CV should include relevant sections that are sought after by employers.
Here are some essential tips for crafting an impactful French CV:
Choose a clear and well-organised layout, including a professional photo.

Utilise clear and persuasive language in writing your CV.

Employ professional language that is easy to comprehend, avoiding slang.

Remember to include a well-written cover letter alongside your CV.

Refrain from using personal pronouns such as 'I', 'me', or 'us' in your CV.

Tailor your CV to match the specific requirements of each job application.

Incorporate relevant keywords and sections directly related to the desired position.

Regularly update your CV, ensuring it is error-free.

Include only current and accurate information in your CV.
Next Steps?
If you need help writing your CV in French or want to create one from scratch, we are here to help you. With our intuitive CV Builder, you can choose from one of the 20 professional CV templates to create a modern CV. Alternatively, check out our CV Writing Services for help writing your professional career documents.
FAQ
How to translate your English to French?
At CVMaker, we can help you write your CV in English and translate the CV into French. With expert CV writers, we have this service that considers not only language but also cultural differences between countries to produce a suitable CV.
If you have already produced your English CV through CVMaker, translating the CV into French will be very easy. To do this, you must go to "My CV" and then choose to "duplicate" the English CV. You can then transform the duplicate by applying a French format to it ("Personal Data" then select "French"). Headers and titles will be translated automatically. You will have to translate the content.
How to write a good CV in French?
Most English CVs will not include a photo, marital status, or nationality. You could let the recruiter know if you are single to highlight your availability/flexibility in France. The amount of personal information to include on a CV generally depends on the position you are applying for. At a minimum, you must include the following information:
Nom et prénom - first and last name

Numéro de téléphone  - phone number

Adresse e-mail  -email address

Localisation - loaction.
Depending on the characteristics you want to highlight for the position, you can add:
Genre - gender

État civil - marital status

Permis de conduire - drivers license

Site Web - website

Profil LinkedIn - LinkedIn profile.
What is the best format for a CV/résumé in French?
Despite its reduced format of one page, the CV in French must be uncluttered and have a light graphic. This can be a real challenge if you have a lot of experience. Use a direct and very factual style to help make the page less cluttered. Remove any spelling, grammar or conjugation errors from your CV. Use simple sentence structures to make sure you do everything correctly. If necessary, have someone proofread your CV for you.
How many pages should a French CV be?
In most English-speaking countries, it is recommended that your CV spans one to two sides of an A4 page. However, in France, a CV is typically shorter than a standard UK CV, ideally limited to just one page, but it can extend to two pages if needed. Unlike a comprehensive account of your education and work history, a CV/résumé in French should focus on including relevant previous jobs and skills that align with the position you are applying for.
Do you need a photo on a CV in French?
While several English-speaking countries like the United Kingdom and the United States have laws prohibiting employers from requesting a photo, the practice differs in France and many other European countries. In France, including a professional-looking, passport-sized headshot at the top of your CV is common and encouraged.
Is a resume called curriculum vitae in France?
When seeking employment in a French-speaking country, having your resume (CV) in French is important, as it involves more than a mere translation. Understanding the distinction between the terms used in French and English is crucial. In French, 'résumé' means a summary, whereas CV is a comprehensive document outlining qualifications and experience.
Should your CV be in French or English? 
If you're applying for jobs in France, then ideally, a CV written in French should be submitted. However, if you are applying abroad to an international company, a CV in English will suffice.
How to explain the French Brevet National Diploma (Le Diplôme National du Brevet des Collèges or DNB) on a CV?
English schools in the UK follow GCSE in Year 10 and take A-levels in Year 13. French schools sit the Brevet des Collèges in Year 10 and the Baccalauréat in Year 13. The main differences between the GCSE and the Brevet are that the French exam evaluates all the subjects studied.
How to say "fluent in French" on a CV?
Consider including a language skills section on your CV or placing a native French speaker within your personal profile, as this will be the first section that recruiters or hiring managers will read.
Land the interview for your dream job with CVMaker
Effortlessly create your professional CV within 10 minutes and download it whenever and wherever you want!
Create your CV
Increase your chances landing your dream job with CVMaker.