Career
>
How to Write a Resignation Letter in 2023 (Tips and Examples)
How to Write a Resignation Letter in 2023 (Tips and Examples)
Career
· September 14 2023
· 4 min read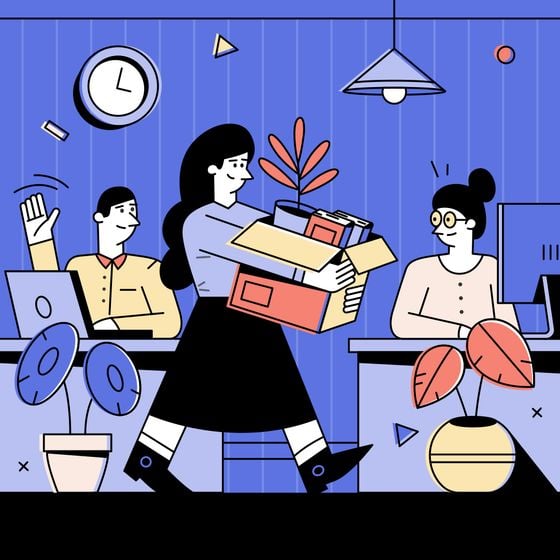 From personal circumstances to lack of career development, employees leave their positions for a variety of reasons. The Great Resignation in the UK, which peaked in Q2 2022 with a record of 442K but lowered to 335K in Q2 2023, strongly impacted the UK job market, leaving many unnoticed and stuck. In light of these trends, it is crucial to handle your departure professionally and respectfully.
Whether you are seeking a career change or looking for a new job, this article walks you through the steps to write a professional letter, ensuring a smooth transition during your departure. Our tips and resignation samples below enable you to navigate this legal process effectively, leaving a positive impression as you progress in your career.
What is a resignation letter
A letter of resignation is a crucial step in leaving a job, as it formally expresses your intention to end employment with your current employer. While it may feel ceremonial, this document serves as an official record of your departure. Acting as a bridge between you and your soon-to-be-former employer, it not only informs them of your decision to quit but also leaves a lasting impression of your professionalism.
Before leaving the company, ensure to negotiate salary to expand your options.
How to write a letter of resignation 
To start with, keep your resignation letter brief and concise. Though it's not always necessary to state your reason for leaving, providing at least two weeks' notice is crucial, as is standard in the UK. Lastly, ensure you are aware of your legal obligations and company policies, as they differ from one company to another.
Addressing your manager by name makes your writing more personalised and shows respect.

Including the current date provides a reference point for the letter.

Including your personal details ensures your employer can easily reach you if needed.

Explicitly state you are resigning to clarify that this is a formal notice.

Specify the end date that is in line with your contractual notice period.

Thank your employer for expressing gratitude for the provided opportunities.

Signature gives a professional touch to your letter.
Pro Tip
While being honest and expressing yourself freely is crucial, it's generally best to save any negative or critical feedback for an exit interview. Doing so ensures a positive reference and maintains professional relationships.
Resignation letter templates
Short resignation letter
Dear [Hiring Manager's name],
I'm writing to inform you of my resignation from [Job title] position at [Company name]. In accordance with the period of notice agreed within my contract, my last day will be [DD/MM/YYYY]. 
I would like to thank you and the team for all the opportunities within the employment period. I have greatly enjoyed working with all of you. However, it's time to move on due to my career goals.
Sincerely,
[Full name]
[Job title]
[Your address]
[City, Post Code]
[Email address]
[Phone number]
Simple resignation letter
[Your Address]
[City, Post Code]
[Your Email Address]
[Your Phone Number]
[Date]
Dear [Hiring Manager's name]
Please accept this message as notification that I am leaving my position with [Company name] effective [Date]. I appreciate the opportunities I have been given at your company and your professional guidance and support. I wish you all the best.
If I can be of assistance during this transition, please let me know.
Best regards,
[Full name]
Professional resignation letter
Dear [Supervisor's Name],
I am writing to formally resign from my role as [Job Title] at [Company Name]. My last working day will be [Last Working Day, DD/MM/YYYY], per the notice period outlined in my contract.
I want to express my gratitude for the experiences and growth I've gained during my time at [Company Name]. It has been a pleasure working with you and the team. However, I believe it's the right moment to seek new challenges aligned with my career aspirations.
I am committed to ensuring a smooth transition of my responsibilities. Please let me know how I can assist during this period, whether training my replacement or documenting any essential processes or projects. I want to ensure that the team and the company can continue without interruption.
Thank you for your understanding, and I look forward to completing my remaining tasks and ensuring an easy transition.
Best regards,
[Full Name]
Key takeaways 
Keep your resignation letter concise, respectful, and professional, as that's your key to success. Take control of your future, make informed decisions, and embark on the next chapter of your professional life with optimism and determination. Lastly, take the time to connect with coworkers before leaving to solidify existing relationships and show your appreciation for the time you worked together. Best luck in your future career, and may these tips help you resign smoothly.
Next Steps?
If you're looking for a new job, explore one of our CV templates to help you get started. Connect with our CV Writing Service to receive professional career advice and help you fix all the inconsistencies. Lastly, complement your CV with a cover letter to ensure your application is complete to help you stand out from others.
FAQ
What to include in a resignation letter?
Before you start writing it, it's worth taking a moment to consider the overall tone and message you wish to get across. Your resignation letter should strike a balance between professionalism and gratitude, expressing your reasons for leaving while maintaining a positive and respectful tone.
Salutation

Intention to resign

Departure date

Reason for leaving (optional)

Gratitude for the opportunity

Offer to assist in the transition

Contact information.
Is a two-week notice required in the UK?
The required notice period depends on how long you have worked for a company. If the employee has been with the employer for longer than a month, but less than two years, they must give at least one week's notice. However, if the employee has been employed continuously for two years or more, they must give at least two weeks' notice. 
Additionally, for each additional year of service, the employee must provide an extra week's notice, up to a maximum of 12 weeks. For example, someone who has worked for four years would have a minimum statutory notice period of four weeks.
Why do you need a resignation letter?
A resignation letter is a formal document that acts as proof of your intention to resign and the notice period you agreed to serve. Additionally, a resignation letter is a professional and respectful way to document your departure, ensuring that it is handled with grace.
Record-keeping (paper trail)

Customary to do so

Avoid awkwardness. 
See how to write a good CV and start a cover letter to learn more.
How to choose the right format?
Adhere to professional standards and follow specific guidelines your organisation sets. A clear and concise format ensures you get your message across more.
Start creating your CV
Create a professional CV quick and easy with our advanced CV Builder
+ Create CV
Updated September 14 2023
Written by
The CVMaker platform offers a complete career platform for jobseekers with handy tools and valuable information. Are you ready for the next step in your career? Start here today!
Related articles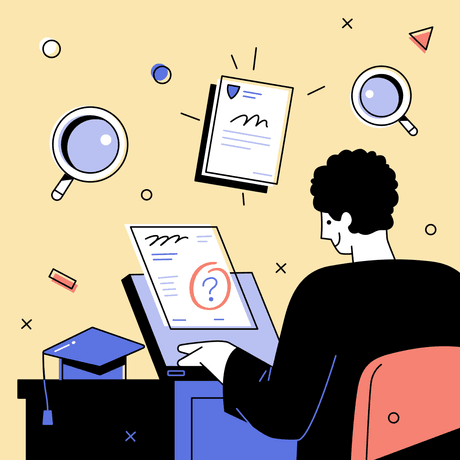 CV
· Sep 20 2023
· 5 min read
How to Write a CV with No Experience in 2023 (Examples and Tips)
Job interview
· Aug 17 2023
· 3 min read
How to prepare for video interviews with tips and examples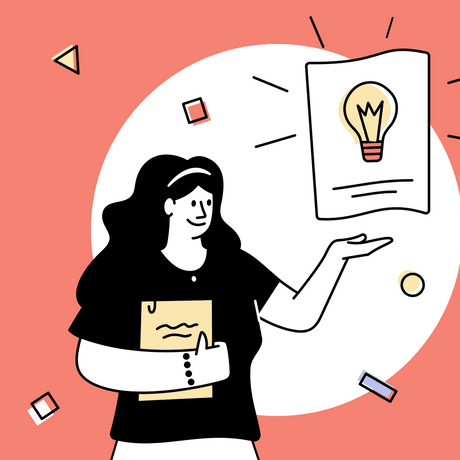 CV
· Sep 07 2023
· 7 min read
How to improve your CV with examples and tips
Land the interview for your dream job with CVMaker
Effortlessly create your professional CV within 10 minutes and download it whenever and wherever you want!
Create your CV
Increase your chances landing your dream job with CVMaker.