CV
>
How to create a modern CV with tips and examples
How to create a modern CV with tips and examples
CV
· January 18 2023
· 6 min read
In today's modern world, you need a modern CV. Are you still trying to figure out what that means? Well, in simple terms, less is more. With recruiters on the hunt for the best candidates and automated technology solutions constantly evolving,  your CV needs to be brief and to the point by avoiding extensive details and visuals. Aim for at least two pages with core sections and relevant information prioritised. 
When writing a CV, consider CVMaker's professional yet modern CV templates. To help you with your job search, we have designed an intuitive CV and Cover Letter Builder where you can select, populate, customise, and download an editable modern CV template. Want to know what the main focus of your CV should be? Read on for more modern CV tips and examples.
What is a modern CV?
When modernising your CV, essentially, you are updating it with a clean design and modern template that is well structured and lists your information concisely. Although conventional CV formats might look disinteresting or outdated, most employers still prefer candidates to have simple and easy-to-read CVs. 
It is not a modern CV if it includes all your information, such as skills, experience, and qualifications, in one document. Remember, too much content or a graphics-heavy CV tends to fail automated technology solutions as they become unreadable. Refer to our article on how to write a good CV, which discusses various sections within a CV with tips and examples. 
How to write a modern CV
A modern approach to CV writing means adhering to a classic CV structure while using a strategic approach to writing each section. A good CV should include key sections relevant to your career goals while being personal so that you don't sound too generic. Since there is no one way to write a CV, especially a modern one, we have summarised a few tips to ensure your CV is up to the latest industry standard. 
Follow an ATS-friendly design: ensure your CV is formatted in a way that is easy for applicant tracking systems(ATS) to read and comprehend. Recruiters use this software to scan your CV for specific keywords that will show whether you're qualified for a role. 

Apply the correct layout: although there are different layouts and formats, the most standard and safe approach is to list your experiences in reverse chronological order, your recent or current experience first. 

Choose a modern CV template: whenever you update or create a new CV, make sure to choose an editable modern CV template. It must be visually appealing and aligned with your personal branding and career aspirations. 
What are the different types of modern CV templates?
Depending on your experience and the industry you're interested in, modern CV templates can vary from person to person and from job to job. What is the best layout and format for a modern CV? You can utilise different strategies and ways to display your information on a CV to align with your career goals and the specific types of roles you're targeting. Overall, there are four main types of modern CVs you need to be familiar with:
Chronological CV
The most common type of CV you will come across in the UK and the global job market. It uses a reverse chronological approach, with the most recent experience listed first. Work experience is the core section of your chronological CV, which draws most of your recruiter's attention. 
Skills-based CV
Unlike a chronological CV, a skills-based, also known as a functional CV, focuses on your skills and accomplishments rather than career experience. It's a less common way to compile a CV, but it's gaining more popularity due to its non-sequential ordering. It's an excellent opportunity for applicants who are new to the industry and lack relevant work experience.
Combination CV layout
A hybrid or a combination CV incorporates elements from both chronological and skills-based CV formats. It gives you greater flexibility for the placement of CV sections, allowing you to balance work experience and skills. Most people would still opt for a chronological CV, but this option could be a good alternative for experienced candidates who need to stand out from a sea of applicants. In this type of CV, the skills-based section usually goes on the first page and a summarised work experience on the second.
Master CV
Although it's the least known type of CV, we strongly recommend using it before you create your job-specific CV. Essentially, it is a log of all your career and education history accumulated over the years. It includes everything you have achieved with all the details and dates. You can think of it as your personal portfolio but for job applications. Beware that this type of CV is only used as a reference tool for creating multiple job-specific CVs but not for sending job applications. 
Pro Tip
Always update your master CV regularly to avoid excluding important information.
What to include in a modern CV 
A CV has many components, but when it comes to content, we recommend carefully writing each section with relevant skills and showcasing why you are the right person for the job. The contents of a good CV should always be relevant or tailored to the type of job you are targeting, regardless of your template or layout. In the end, the goal with a CV is to land the interview where you then elaborate on your goals, education, and key achievements.
Tips on what not to put on a modern CV:
Elaborate font styles or graphics. 

Avoid using an outdated template that is difficult to read, update, or share.

Exclude irrelevant or too much information that could be overwhelming, such as all your skills, hobbies, interests, or volunteering experience. 

Misleading or inaccurate information you cannot back up within an interview.

Avoid unnecessary personal information and instead only include your name, surname, location, and LinkedIn or other websites if relevant. 

Spelling, punctuation, and grammatical errors. 
Modern CV template examples UK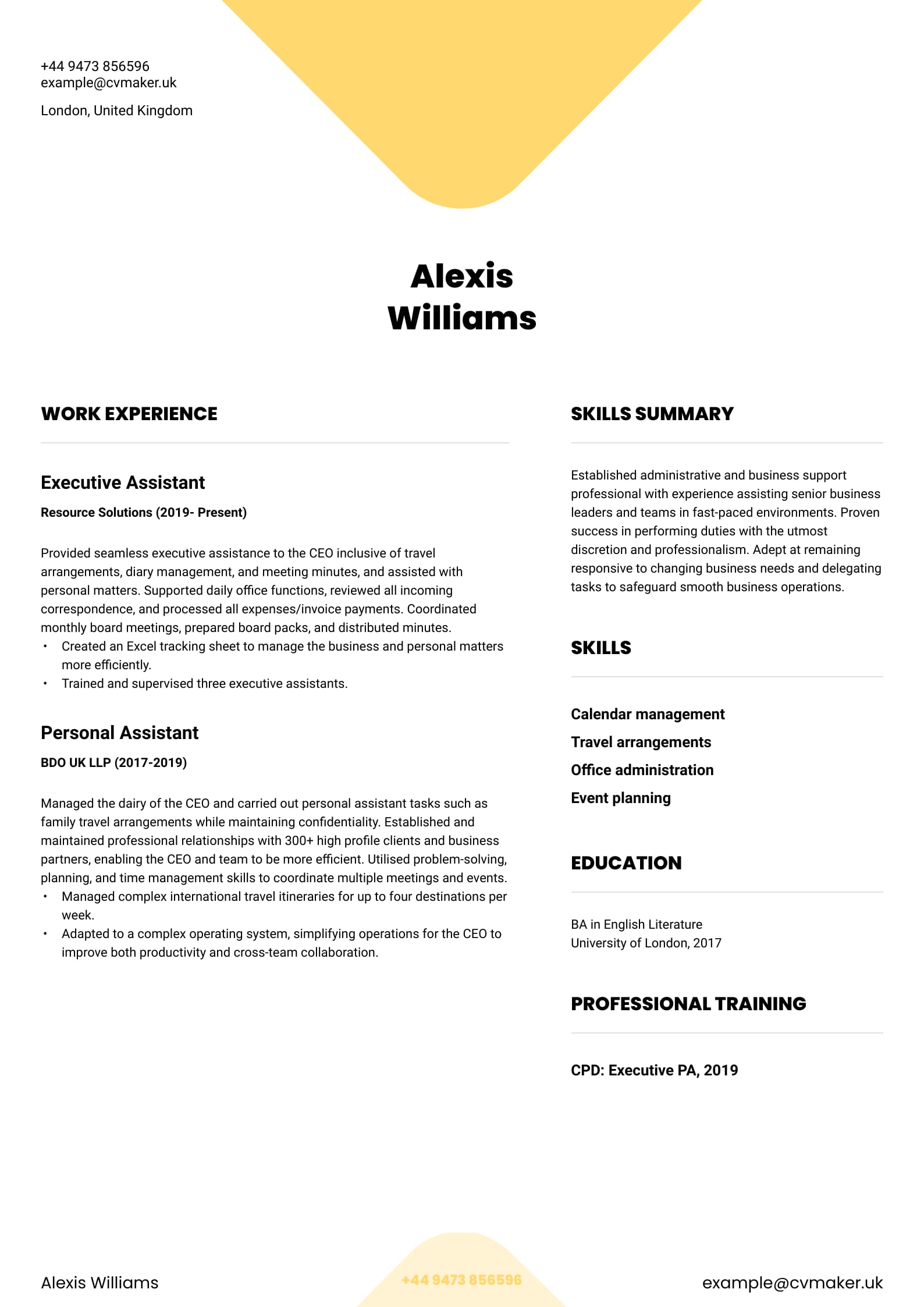 Download this CV example in PDF - Simple CV
In this CV example, Alexis Williams is an Executive Assistant with over five years of relevant work experience in senior roles. The summary and work experience section shows strong supervision and planning skills gained from previous positions and professional training. Although this CV appears short and straightforward, it makes this candidate stand out from others.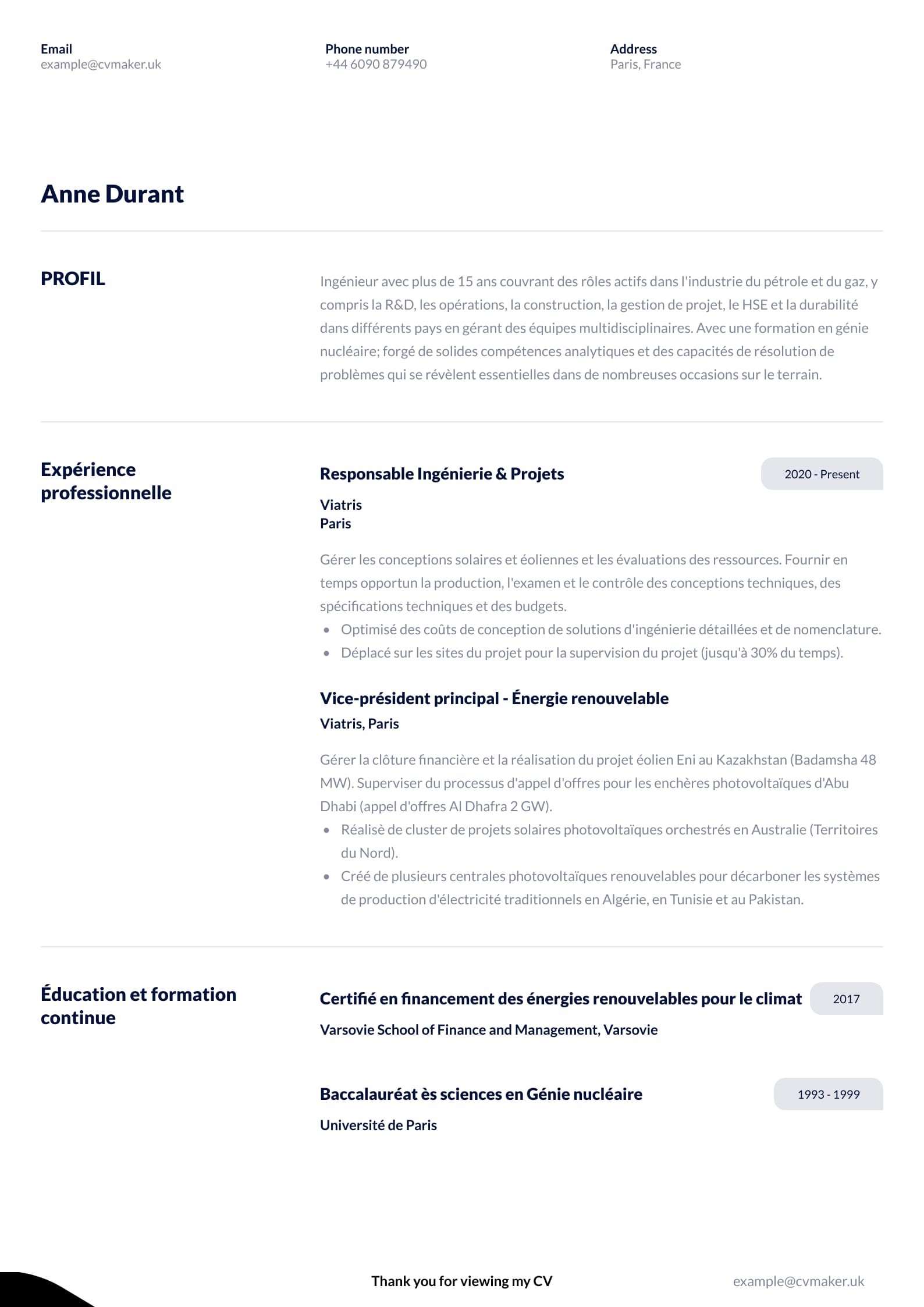 Download this CV example in PDF - French CV
This French CV example shows Anne Durant, a senior engineer with over 15 years of work experience in the oil and gas industry. She uses a reverse chronological modern template to highlight her qualifications and recent jobs. You can notice that it mainly focuses on accomplishments and hard skills gained from past job positions. Anne's personal profile section draws the recruiter's attention to 15 years of work experience in different industries across different countries and soft skills such as analytical thinking and problem solving.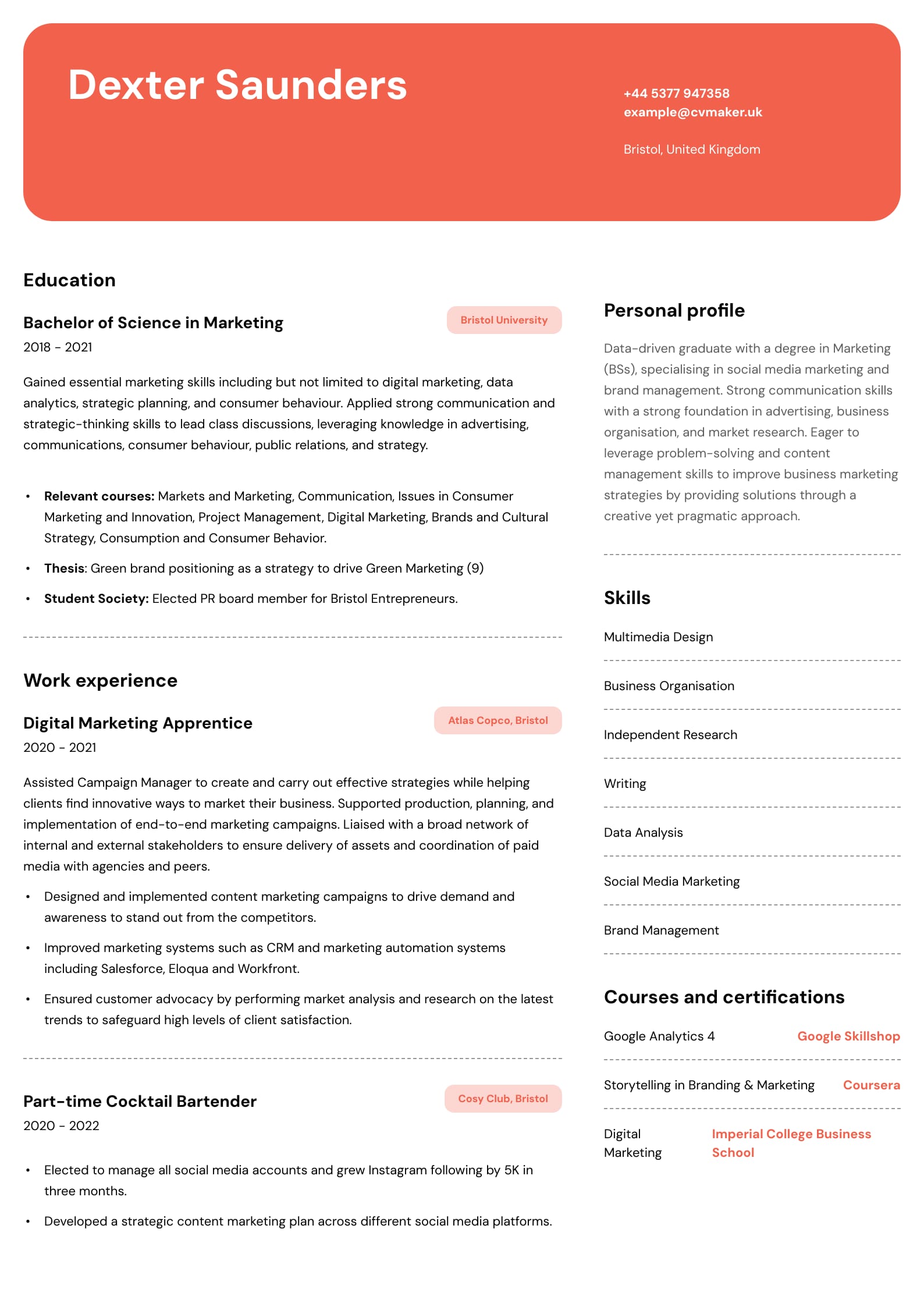 Download this CV example in PDF - Graduate CV
In this graduate CV example, Dexter Saunders is a university graduate with a BSc in Marketing looking for a new job as a Junior Digital Marketing Assistant. During his studies, he gained relevant knowledge and skills in consumer behaviour, communications, and brand strategy. Education and additional experience are two core sections of Dexter's CV. It is an effective tactic that showcases transferable skills to recruiters and how they could be applied in a corporate setting.
Key takeaways
A good CV follows some cornerstone principles and strategies to make yourself noticeable in the job market. While it's true you should make it tech-savvy with the use of eye-catching colour combinations, it should not be the main focus of a CV.  
The key ingredients of a modern CV can be summarised as ATS-friendly design, keyword-centred, and the use of personal branding and appropriate CV format. While there is no universal way to craft a modern CV, our CVMaker tips and guide will give you that nudge over other candidates. 
Next steps? 
Check out our intuitive and professional CV Builder that aligns with UK standards. With this, we provide 20+ professional CV and Cover Letter templates to simplify the entire process, making it easier for you to write, manage, and download your modern CV. Alternatively, reach out to one of our expert CV Writers to assist you in creating content for any industry or position.
Here are some additional tips on how to write a modern CV:
Follow an easy-to-read CV layout and format.

Incorporate relevant keywords throughout your CV. 

Include a personal profile that mentions your top soft skills, level of experience, and career goals.

Structure your work experience to clearly show what you did versus what you achieved.

Include relevant education, qualifications, and achievements to make your CV stand out.

List skills pertinent to the jobs you are applying for and elaborate on technical skills if required.
Start creating your CV
Create a professional CV quick and easy with our advanced CV Builder
+ Create CV
Written by
The CVMaker platform offers a complete career platform for jobseekers with handy tools and valuable information. Are you ready for the next step in your career? Create your CV now
Land the interview for your dream job with CVMaker
Effortlessly create your professional CV within 10 minutes and download it whenever and wherever you want!
Create your CV
Increase your chances landing your dream job with CVMaker.