Vet CV
Dedicated and compassionate veterinary surgeon with over 10 years of experience providing exceptional animal care. Deep-rooted passion for animal welfare, coupled with extensive knowledge and skills, enabling a high level of care and treatment for all animals under supervision.
Start now
"This CV example features Sally Harrison, an established veterinarian with 10 years of proven success in providing exceptional animal care. She has opted for the two-column Erasmus template to clearly and concisely show her career growth, areas of expertise, and education."
Sally Harrison
- Vet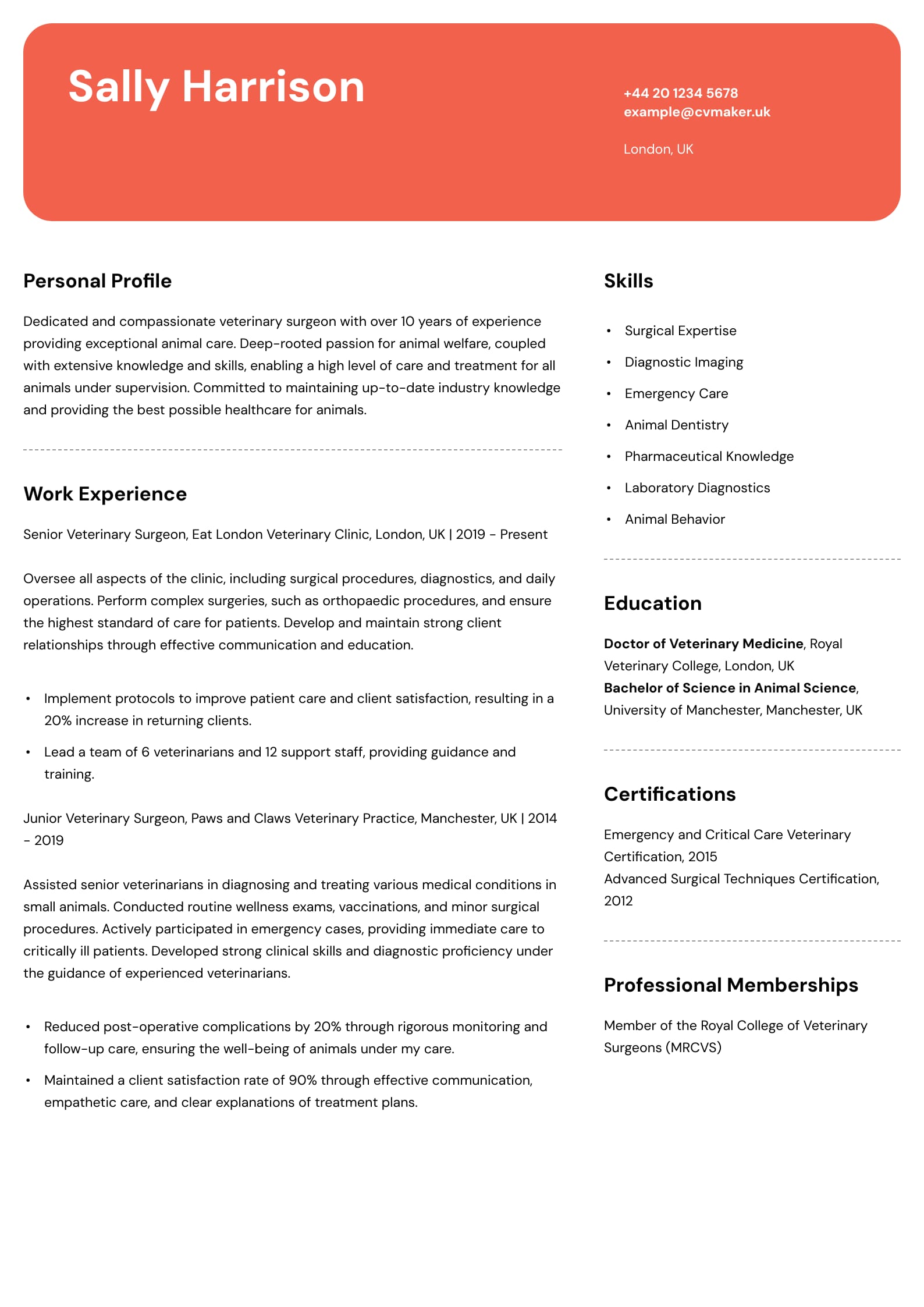 How to Write a Vet CV (Guide with Examples)
Across the United Kingdom and globally, the role of a veterinarian is universally esteemed and indispensable. These dedicated professionals are entrusted with the health and well-being of our beloved pets, livestock, and even the occasional exotic animal. A veterinarian's work goes beyond mere medical expertise; it involves compassion, empathy, and a deep commitment to the welfare of animals. 
For aspiring veterinarians seeking to embark on a fulfilling career, one of the first and most critical steps is the creation of a compelling CV. It is your initial presentation to potential employers, highlighting your qualifications, experience, and dedication to the profession.
In this article, we delve into the essential elements of a modern CV that can make you a promising candidate in the competitive field of applied animal science and veterinary medicine.
Vet CV example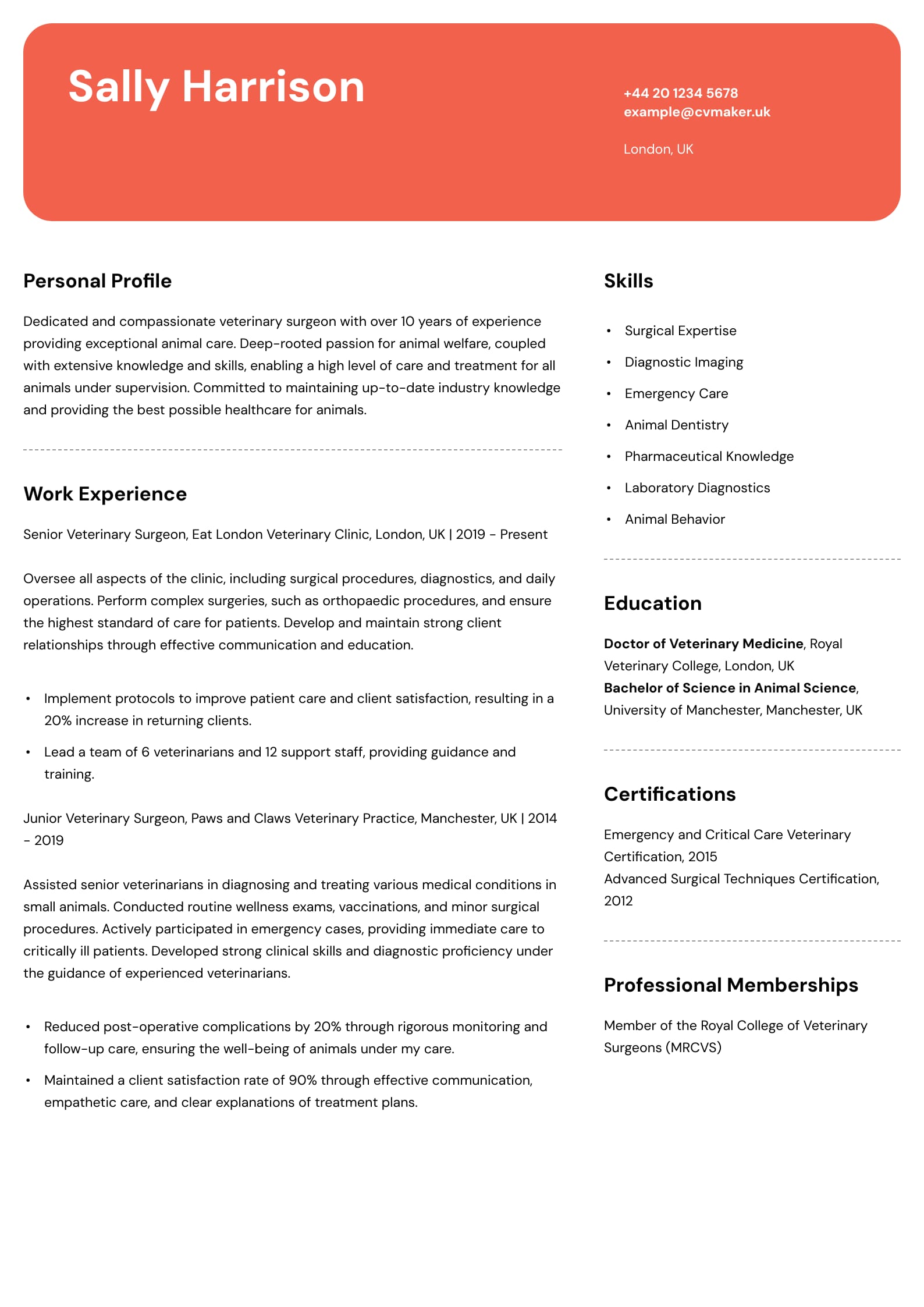 Download this sample of a veterinarian CV in PDF
This CV example features Sally Harrison, an established veterinarian with 10 years of proven success in providing exceptional animal care. She has opted for the two-column Erasmus template to clearly and concisely show her career growth, areas of expertise, and education.
Refer to master CV versus job-specific CV for more tips.
We provide various CV templates that can be customised to your preferences. For more information, check out our extensive list of CV examples for inspiration. If you need expert guidance or lack experience, consider our professional CV Writing Services. Alternatively, see below:
What to include in a vet CV? 
A veterinarian, often simply referred to as a vet, is a highly-trained professional who specialises in the diagnosis, treatment, and care of animals. Beyond this, vets also engage in preventative healthcare measures, educate pet owners, and sometimes participate in research to advance the field.
These qualities should readily appear in your CV as recruiters and hiring managers seek the ideal candidate. Remember, your CV opens doors and is the key to new opportunities. For detailed guidance on crafting an effective CV, explore our comprehensive article that covers optimising your CV for applicant tracking systems (ATS).
Your journey towards a good vet CV should commence with the essentials: your name, contact information, LinkedIn profile, and current location. Let's dive in and unravel the secrets to capturing the attention of potential employers and landing more interviews!
Refer to our article on how to make your CV ATS-friendly.
Showcase your vet soft skills in a personal profile
This section serves as a brief overview of your background, skills, and career goals. Remember that career paths in veterinary medicine or animal sciences can be highly demanding, and many professionals move between different roles and specialities throughout their careers. This includes but is not limited to:
Veterinary Technician

Horse Trainer

Animal Nutritionist

Veterinarian Assistant

Veterinary Radiologist

Zookeeper

Animal Breeder

Wildlife Conservationist

Biologist.
For more information, refer to how to write a good personal profile.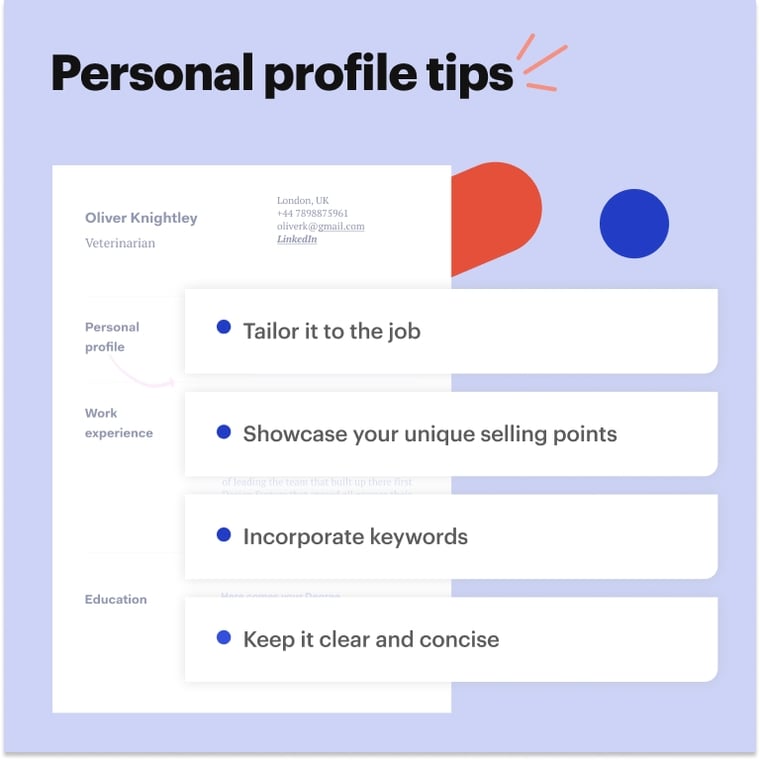 Veterinary Surgeon CV Personal Profile Example
Experienced veterinary surgeon dedicated to providing top-notch care for animals with 10+ years of proven success. Proficient in medical diagnosis, surgical procedures, and preventive healthcare. Committed to staying updated with the latest industry advancements and maintaining a strong rapport with pet owners.
Veterinary Assistant CV Personal Profile Example
Enthusiastic veterinary assistant with a passion for animal welfare. Skilled in providing support to veterinary professionals, handling animals, and maintaining clinic operations. Excellent communicator with a caring attitude toward both animals and their owners.
Wildlife Vet CV Personal Profile Example
Wildlife veterinarian with a strong conservation mindset. Specialised in the treatment and rehabilitation of wild animals. Committed to preserving biodiversity and actively engaged in fieldwork to protect endangered species.
Vet Student CV Personal Profile Example
Aspiring veterinary student eager to embark on a career in animal healthcare. Enthusiastic learner with a strong academic background in biological sciences. Driven to gain hands-on experience and contribute to improving animal health and welfare.
Pro Tip
Tailoring your CV to the specific vet position you're targeting will maximise its impact and relevance. Include soft skills from the job description to make your CV stand out.
Boost your CV with the best vet skills
Besides being highly skilled in veterinary medicine and animal nutrition, a good vet should have a strong work ethic, high emotional intelligence, communication skills, and empathy. We recommend creating or strategically incorporating different sections to showcase this on a CV. By doing this, you provide potential employers with insights into your areas of expertise and qualifications while ensuring it is ATS-friendly.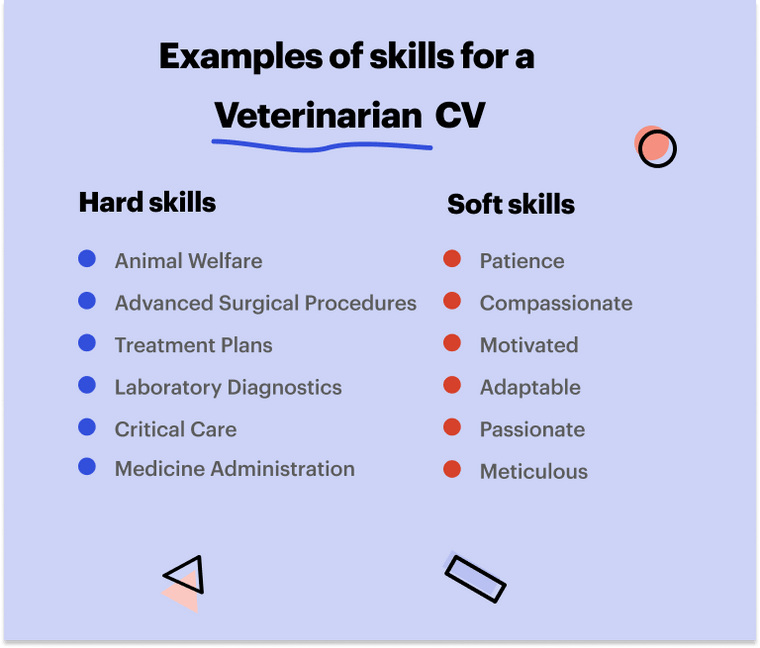 For more information, refer to what skills to put on a CV.
Include relevant veterinarian experience
Whether you started your career as an assistant, student, or hoping to find a different role, writing your experience in just a few lines is always challenging. Nonetheless, we recommend being strategic when writing this section. One way is to list your key day-to-day duties, followed by a few key achievements.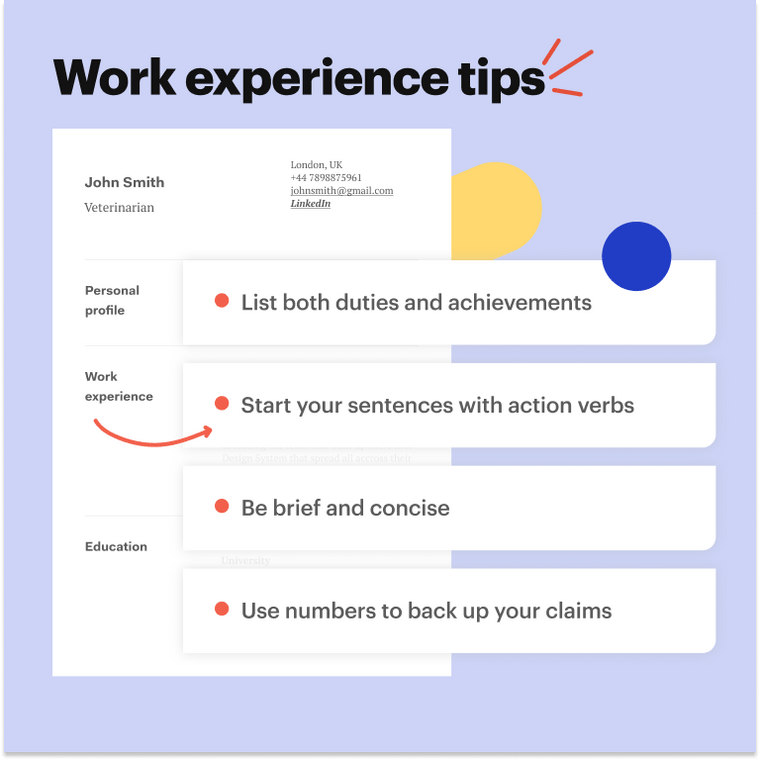 In the end, the goal is to provide a brief overview of your responsibilities and contributions in the form of achievements. For additional guidance, see our example below or refer to our articles on how to write work experience on a CV or how to list achievements on a CV.
Veterinarian Graduate, Belfast Animal Hospital, Ireland  | 2022 - 2023
Assisted senior veterinarians in diagnosing and treating a variety of animal cases. Administered vaccinations and medications, maintaining detailed records for each animal. Educated pet owners on health, nutrition, and preventive care. Collaborated with a team of veterinary professionals to deliver exceptional service.
Achieved a 15% increase in vaccination compliance among pet owners by implementing a proactive reminder system, resulting in better disease prevention and animal health.

Implemented a digital record-keeping system, reducing record retrieval time by 30% and enhancing clinic efficiency.
Vet Nurse, Paws and Claws Veterinary Clinic, London |  2020 - Present
Provide comprehensive animal nursing care, including monitoring vital signs, administering medications, and wound dressing. Assist veterinarians in surgeries, ensuring proper equipment sterilisation and patient preparation. Maintain a clean and organised environment, ensuring the safety and comfort of animals and staff.
Educated more than 100 pet owners on pet health and preventative care, leading to a 20% increase in client compliance with recommended treatments and protocols.

Received two team recognition awards for maintaining a consistently clean and organised clinic environment, improving the overall patient and staff experience.
Student/Volunteer Animal Care Assistant, Happy Tails Animal Shelter, Birmingham |  2020 - Present
Support daily care and well-being of shelter animals, including feeding, grooming, and exercise. Collaborate with veterinary staff to administer treatments and medication as directed. Assist in organising adoption events and helped prospective pet owners find suitable animals. Maintain accurate records and contributed to creating a safe and clean environment for animals awaiting adoption.
Improved shelter animals' overall health and well-being by implementing a customised feeding and exercise program, resulting in a 15% increase in their overall vitality and adoption rates.

Played a vital role in organising and executing 25+ successful adoption events, placing 100+ animals into loving homes and reducing shelter overcrowding.
If you are a student with little to no experience, refer to our article on how to write a CV with no experience.
For additional CV examples or job-related scenarios, explore the following options:
List veterinarian education or certifications
If you are seeking to specialise, a degree is required. The highest form of qualification to becoming a vet is a Doctor of Veterinary Medicine degree. If you are looking for alternative careers that do not require a degree, look into becoming a veterinary nurse, zookeeper, or wildlife safari tour guide. For more information, refer to how to write education on a CV.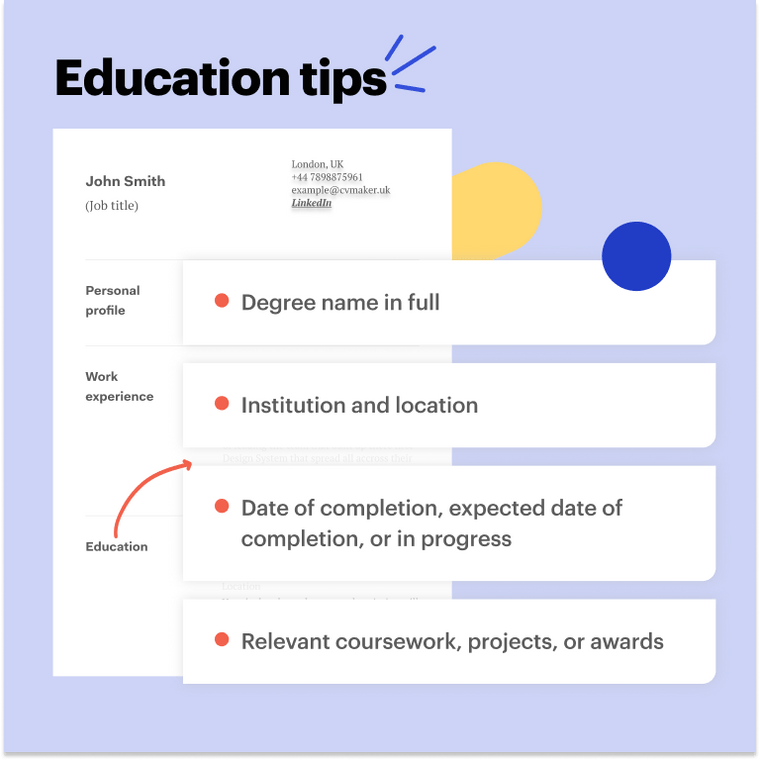 Explore available courses and certifications for veterinarians in the UK:
Pro Tip
Emphasise qualifications aligned with your target role by incorporating relevant courses or projects to enhance your degree or professional training.
Key takeaways
Writing a CV can be time-consuming and stressful, especially if you're a recent student entering the workforce or changing careers. This guide provided key insight and expert advice on landing your dream job with a great CV! Let's break it down into five key points.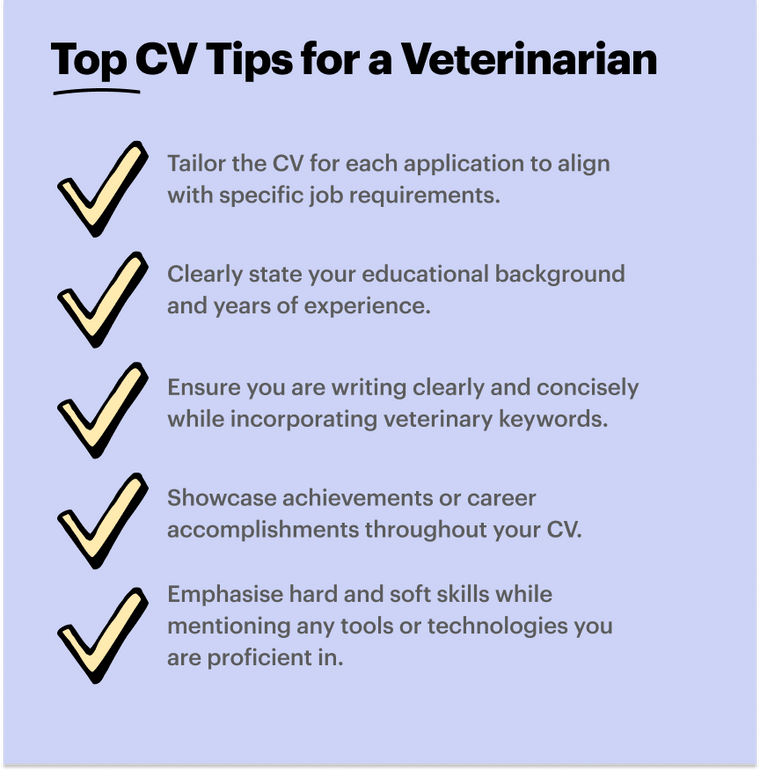 For different CV formats or templates, consider the following:
FAQ
How much does a vet earn in the UK?
In the UK, the earnings of a vet can vary depending on factors such as experience and location, but on average, a veterinarian can earn around £30,000 to £60,000 per year. For more information, check out the article by The UKCAT people.
Is a vet a doctor in the UK?
Yes, in the UK, a vet is called a "veterinary surgeon" and holds the Doctor of Veterinary Medicine (DVM) title.
What is the role of a vet in the UK?
It primarily involves the diagnosis, treatment, and care of animals. Furthermore, it includes conducting medical examinations, performing surgeries, prescribing medications, and advising on animal health and welfare.
What are vets called in England?
In England and the rest of the UK, veterinarians are commonly called vets or veterinary surgeons.
How do you qualify as a vet in the UK?
Individuals typically need to complete a Bachelor of Veterinary Medicine and Surgery (BVMS) or a similar degree accredited by the Royal College of Veterinary Surgeons (RCVS). After completing the degree, they must undergo practical training and pass the RCVS membership examinations.
How long is vet school in the UK?
Vet school in the UK typically takes about 5 to 6 years to complete, including the undergraduate degree program and the required practical training and examinations. For more information, refer to National Careers Service or look for apprenticeships.
Land the interview for your dream job with CVMaker
Effortlessly create your professional CV within 10 minutes and download it whenever and wherever you want!
Create your CV
Increase your chances landing your dream job with CVMaker.