Roadside Assistance Mechanic
Roadside Assistance Mechanic
Hafsa selected the Duke Cover Letter template, targeting mechanic roles.
Create your Cover Letter
"I was excited to see your job listing for a Roadside Assistance Mechanic on hellojobs.co.uk. After reading the job post, I strongly believe that I would be a valuable addition to the team. "
Hafsa Fawaz
- Roadside Assistance Mechanic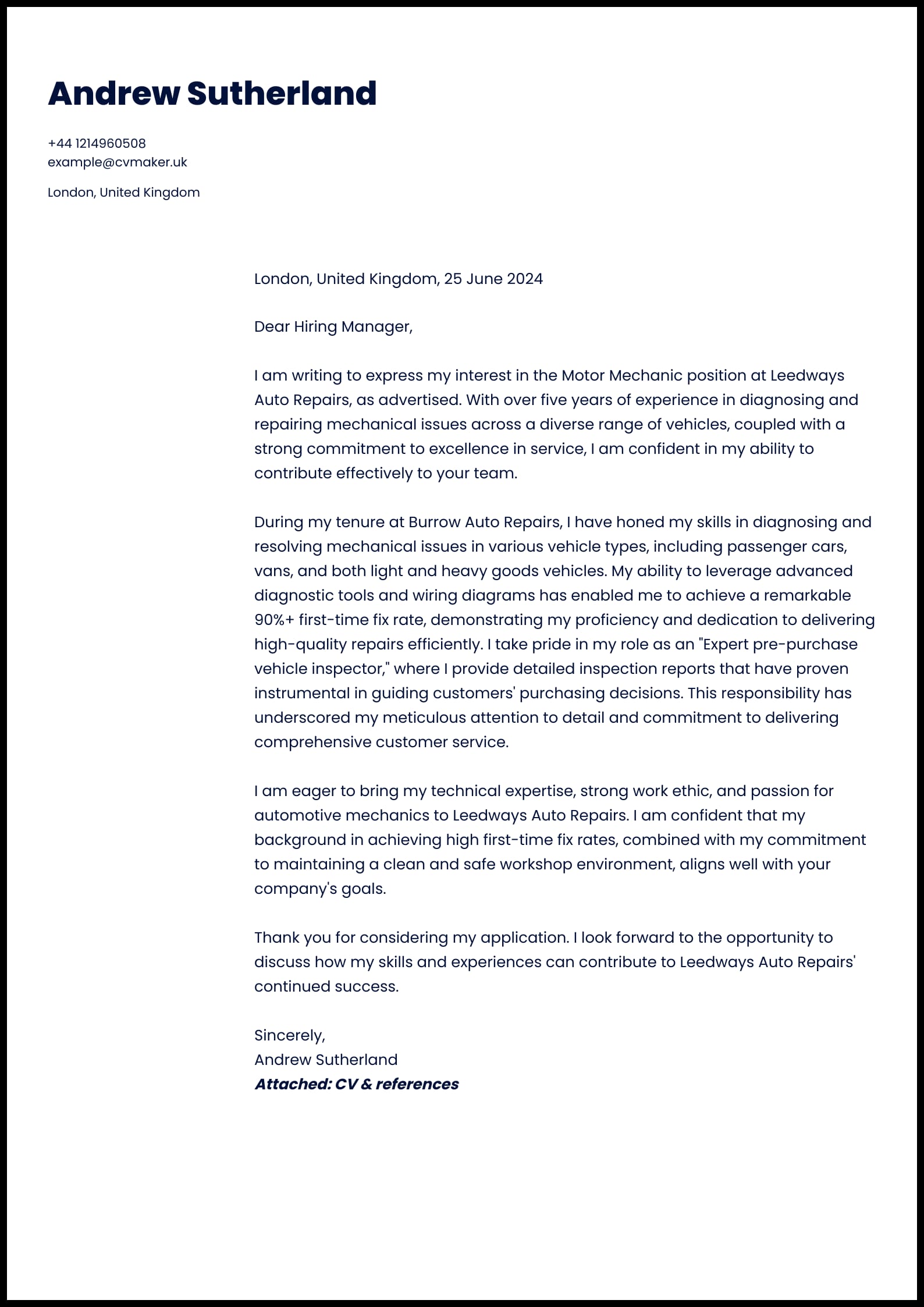 Mechanic Cover Letter tips
Are you looking for new opportunities for further professional development in vehicle repair, Roadside Assistance Mechanic? Do you need support and tips on how to write a cover letter? Then you might just have landed on the right page. Consider our cover letter tips for applying for a job as a Roadside Assistant Mechanic. When writing your cover letter, try to use the terminology and relevant skills that the company specify in the job post, showing you took the time to read the job description. 
For example, is it a young company with a fresh and informal tone? Then you can use a conversational but modest tone in your cover letter. If the company maintains a business-like manner on its website, it is a good idea to write in a neutral and businesslike tone. 
Tips on how to write a cover letter for a Mechanic
Technical aptitude, customer service, and problem-solving skills are some of the top qualities of a mechanic and perhaps the most important. Describe clear examples in your cover letter that show your relevant hard skills while drawing attention to other soft skills, such as attention to detail, interpersonal skills, work ethic, and the ability to work under pressure. Always be honest and never exaggerate about your knowledge and skills. 
How to structure a Cover Letter?
Cover letters are divided into an introduction, body, and conclusion. In the introduction, you refer to a vacancy or to any telephone conversation you have had. In the middle section of your open cover letter, you will discuss what you have to offer the company. Describe your degrees, skills and any relevant career highlights here. In the concluding paragraph, thank the reader for their time, write that you are looking forward to feedback, and refer to your enclosed CV.
What to include in a Mechanic Cover Letter?
As a mechanic or service technician, you will probably spend a lot of time talking and interacting with others daily hard behind or on the scene to solve customer problems. Try to keep your cover letter short and concise by including two to a maximum of three necessary and relevant skills, and save the rest for a possible introductory meeting or interview. In addition, the following points are essential:
Accentuate your communication skills.

Ask yourself how you can contribute positively to the company and mention this in your cover letter.

Explain why you want this job and what motivates you to work for the specific company. 

Afterwards, have a close friend or family member go through the cover letter again.
Land the interview for your dream job with CVMaker
Effortlessly create your professional CV within 10 minutes and download it whenever and wherever you want!
Create your CV
Increase your chances landing your dream job with CVMaker.