Job interview
>
The Ultimate Guide to Excelling in Skype Interviews
The Ultimate Guide to Excelling in Skype Interviews
Job interview
· September 22 2023
· 6 min read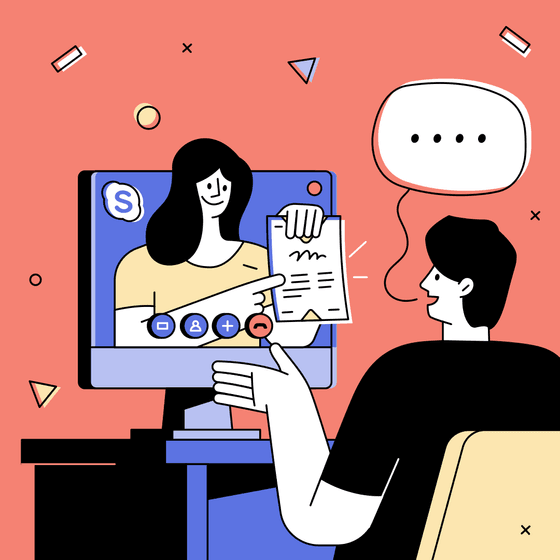 What is a Skype interview?
Instead of a telephone interview, companies increasingly use video format. Skype is the app most commonly used for job interviews. Visual contact can be an advantage for applicants, but it can also be a disadvantage. It depends on how you prepare for it and how you ultimately present yourself in conversation. Read our ultimate guide to ace a Skype job interview.
Good reasons for an online interview
A Skype interview often precedes the classic interview in the personnel selection process. It saves the applicant travel time and company travel expenses. A company often arranges a phone or Skype call to determine whether an applicant should be considered for further selection. Another reason may be that a candidate cannot attend it personally due to organisational or scheduling reasons. These could include the following: you are on holiday, studying abroad, have a broken leg or need to take care of your children.
Typically the interviewer is keen to find out whether the candidate is suitable for the job and has the right motivation, goals, and values that match the brand personality. The applicant is also welcome to voice their ideas or ask follow-up questions. Suppose your interests, qualifications, and career goals align with the company's needs. In that case, an interviewer might consider moving further with the recruitment and selection process.
How to prepare for a Skype interview?
A Skype interview is usually structured similarly to a conventional job interview. Firstly, the manager starts with an introduction and names the interview's structure and goal. As an applicant, you should, in any case, be prepared to provide a brief presentation of yourself. Do thorough research on a specific job post and company of your choice.
It is essential to be aware of what the advertised position is about and what you can expect from a role in the company to answer the personnel manager's questions adequately. In the interview, you should be able to show interest in the job. Research the company beforehand or maybe even with future colleagues about discussion points such as the working environment.
Regarding content, preparing for Skype, a telephone, or a classic interview. is advisable
There are also some unique features of a Skype interview. For example, you don't have to wait for a surprise call in an online interview. The appointment is usually made in advance by email or phone. Even if the Skype interview usually only lasts about 30 minutes, you should plan for at least an hour.
Personal presentation is vital. Concerning the application documents, one of the managers' first looks is the candidate's application photo. Even experienced recruiters are not immune to being influenced when they judge the applicant. It is not just a question of whether someone looks attractive or personable but how applicants present themselves. In particular, in jobs with managerial tasks or positions with external impact, appearance is an important feature when evaluating a candidate for the first time. You have to be aware of this during a Skype interview.
Tips for a Skype interview
Although personnel managers always say they want authentic applicants, they prefer professionalism to authenticity. It is, therefore, important not only to make a pleasant and competent impression but also to approach the interview professionally. Here are tips for the preparation and implementation of the Skype interview:
Quality: how good is the internet connection?
Make sure the connection quality is good. To do this, close all apps irrelevant to the Skype conversation. In addition, you should not download anything during the conversation. It would be best if no one else is currently using the home network so that you can fully use the bandwidth. Make sure that you are not disturbed and that your surroundings are calm. Check that the technology (internet connection, image, sound) works properly by doing a test run with a friend.
Speaking of the background, it should look neat, neither sterile nor messy. You shouldn't necessarily be able to see the bed, laundry basket, or movie poster. Plants and a bookshelf achieve a significantly better effect. Select a suitable location, such as your desk. It must be a quiet place where the roommate, the partner or the cat does not run through the picture in the background.
Check lighting conditions
Optimal lighting is important so you do not get the impression that you would rather hide. Too dark lighting conditions make it more difficult for the recruiter to get an idea of you. Excessively bright light also has an unpleasant effect on the viewer. Avoid direct light from the front and choose a side light source instead. Natural light works best. It is, therefore, advisable to position the PC and webcam in a bright room with windows and daylight. Incidentally, the window or the lamp should not be directly behind you. This way, you'll avoid shadows on your face.
Keep a distance of about one metre from the camera. If you slide too close towards the camera, it looks disadvantageous.
During the interview, you can also see yourself on the screen in the corner. Take a look now and then to see if you have a good posture but don't keep staring at yourself. Turn off the small picture if you find it too distracting.
Switch off your mobile phone and eliminate other possible noise as much as possible. It's also a good idea to shut the window if you expect noise outside, such as road traffic or playgrounds.
Dress appropriately
The outfit can vary depending on a job, position and company, but with a plain, long-sleeved shirt or blouse and plain trousers, you are almost always on the safe side. Male applicants are well received in a suit or at least in a shirt and jeans look. Being well-dressed can indicate your professionalism and effort in preparing for an interview.
It's also a good idea to think about the right hairstyle and be generally well-groomed. Also, remember that you have fewer options to convince the employer via Skype, so your clothes are an opportunity to stage yourself.
Pay attention to your body language
The interviewer will be able to observe gestures, facial expressions and posture during a Skype interview. Have good body tension instead of lounging in the desk chair. Don't forget to smile.
Don't be shy!
A Skype conversation tends to suit shy people. You are still in your familiar environment even if you have switched on the webcam. Secondly, you might feel more secure than in a strange conference room or office. This security may help you to feel a little more comfortable. Use the opportunity to try to make a lasting positive impression.
Speak clearly
This saying may be justified in many areas of life. However, it is out of place during the interview. Pay attention to clear pronunciation and speak slowly and understandably. Your message should not be misunderstood and should reach the conversation partner as it is meant to. The worse the internet connection, the more important this point is.
Show interest
If you hadn't been interested in this job, you probably wouldn't have applied. Now you have to make it clear to HR that you are interested in the post. Show that you don't only want to test your market value but are also willing to work for this company.
Motivation: Why are you applying?
The HR specialist is primarily interested in your skills. Besides, you also have to expect to be asked about your motivation for the application. Why do you want to work in this company? What motivates you? You could expand on this point even if it doesn't come up.
Cheatsheet: Record the most important points
It is beneficial to take a few notes right before the interview. Write down everything you want to mention. Record the key points that speak for you. Make a note of a few key data about the company so that you are not entirely without ideas when asked about it. Add valuable information, such as upcoming appointments, to your cheat sheet during the conversation.
Final preparation
Do you suffer from stage fright? Then the right preparation is all the more important for you. Learn relaxation techniques, get a herbal sedative for emergencies, and go to bed early enough in the evening before the interview. Before the conversation, you could clear your head with a walk or sports activity. Special breathing exercises may also help you.
Check the webcam
It's best to position the webcam at the top of your screen. Your face should be visible in the image section. Please do not use colour or frame effects. They look a bit unprofessional and are unsuitable for this occasion.
Why should the interviewer pick you?
Why you? Expect to hear the question, 'why should we hire you?' Emphasise that you have deliberately chosen the advertised position and why you are interested in it. 'Because I am looking for a job' is certainly not the answer the recruiter wants to hear.
Don't use slang
Many high school graduates and younger students often use Skype for private conversations or chats. Keep a formal tone if there is a certain sympathy between you and the HR manager and the job interview is going well. Professionalism and distance are part of the remote conversation and the classic employment interview.
Goal: What do you want to achieve?
Shortly before the interview begins, make yourself aware of the goal you are pursuing. What do you have to do for it, and what needs to be raised? One of the most critical steps to success is visualising your goals and making them aware.
Start creating your CV
Create a professional CV quick and easy with our advanced CV Builder
+ Create CV
Updated September 22 2023
Written by
The CVMaker platform offers a complete career platform for jobseekers with handy tools and valuable information. Are you ready for the next step in your career? Start here today!
Related articles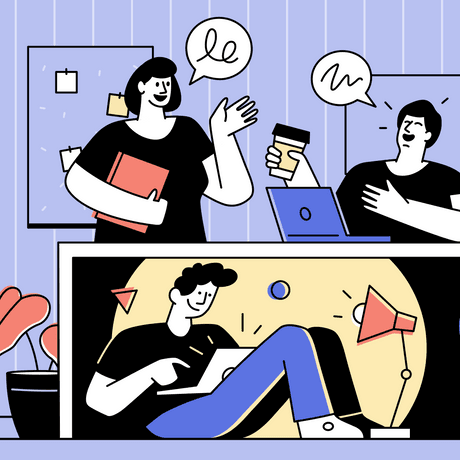 Job interview
· Sep 22 2023
· 4 min read
Calm Your Pre-Interview Nerves: Tips Tailored for Introverts
Job interview
· Oct 25 2023
· 3 min read
How to Ace Video Interviews: Expert Tips and Examples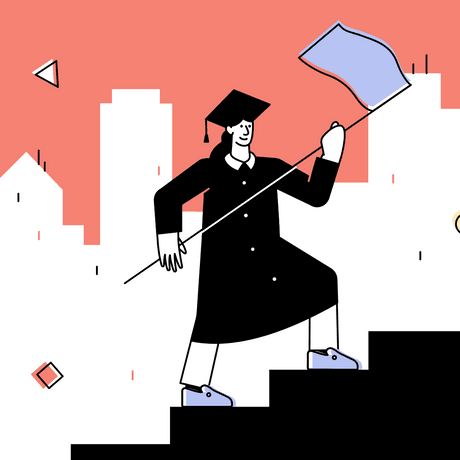 Career
· Sep 22 2023
· 8 min read
Career Advice for Recent Graduates Entering the Workforce
Land the interview for your dream job with CVMaker
Effortlessly create your professional CV within 10 minutes and download it whenever and wherever you want!
Create your CV
Increase your chances landing your dream job with CVMaker.